NCAA Tournament 2012: Syracuse Orange vs. Wisconsin Badgers Sweet 16 Preview
March 19, 2012

Gregory Shamus/Getty Images
When
Thursday, March 22nd, 7:15 p.m.
Storyline
The Syracuse Orange and Wisconsin Badgers will meet in Boston to determine who will continue on to the Elite Eight in a game that many saw coming but are now not sure what to think of.
When the news of Fab Melo's ineligibility dropped almost a week ago, the Badgers were a team circled to knock off the Orange. 
The thing is, so were the Kansas State Wildcats, whom the Orange defeated by 16 points in their Round of 32 game. The Badgers got to the Sweet 16 by defeating a tough Vanderbilt team coming off a huge win in the SEC tournament against Kentucky.
Both of these teams are going to be ready to go after some rest, but what are the coaches going to be focusing on this week? What players need to be ready to go?
Here are three of the biggest keys to this great game.
What defense will Wisconsin use?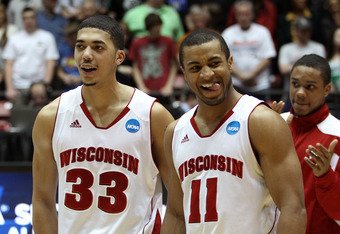 Christian Petersen/Getty Images
It seems like such a silly question, but this could be the most fundamental reason the Badgers win or lose. Big East teams, as well as UNC-Asheville, used zone looks against Syracuse that worked to a degree. Kansas State, on the other hand, stuck to its relentless man-to-man defense. 
As Scoop Jardine said in the postgame press conference, "We see man, and our eyes light up." The Orange half-court and transition offense work best when the athleticism of Syracuse can be matched up against man.
Wisconsin has gotten to this point thanks to its relentless defense that dictates the flow of the game. 
Will the Badgers change their defensive look or stick with their bread and butter? Either option could result in a huge win or gamble that failed. 
Will C.J. Fair "make" the trip?
Unlike Fab Melo, Fair is not suspended, but as of now, he is having about the same impact as the ineligible Syracuse center. The Orange got by UNCA with luck and superior size. They got by Kansas State with amazing defensive performances by Rakeem Christmas and James Southerland.
In this game, the Orange cannot afford to be without Fair for another game. The Orange need depth in the frontcourt as they essentially play the entire second half with Baye Keita and Fair on the bench. Fair is a tremendous asset with his ability to step out and make jumpers, as well as a decent post-up game.
If Fair shows up and plays well, then the Orange will have the depth in the frontcourt necessary to combat the grinding defense Wisconsin plays.
Watch for the Runs

Wisconsin and Syracuse are going to be clashing extremely different styles in this game. The key is going to be which team can turn this style into points when on a run. Against Kansas State, the Orange utilized two major runs in each half to put away the Wildcats.
Wisconsin is not going to be a team to score 10 in the blink of an eye, but its defense can lead to a 10-0 over four or five minutes of play.
These kinds of runs by either team could put one far enough ahead to end the game early or, like what Syracuse did to K-State, match each other and prevent the game from getting out of hand. 
Prediction
There are already some out there saying that Wisconsin is not going to fare well against the Orange and I tend to agree. I think that early on, the game will tough and defense will be key. If the Orange stay out of foul trouble, I think the second half is theirs for the taking. 
Wisconsin will stick to its man defense and in the second half, while Scoop Jardine and Dion Waiters will thrive and be able to drive to lane for kick-outs or layups.
Meanwhile, Wisconsin will suffer from a much tighter 2-3 zone. It will be close, but Syracuse ekes it out in the end. 
Syracuse 65, Wisconsin 62