NCAA Scores 2012: Shaka Smart's Defense Will Push VCU Rams to Sweet 16
March 17, 2012

Jonathan Ferrey/Getty Images
Shaka Smart's defensive mind, mixed in with hot three-point shooting, pushed the Virginia Commonwealth Rams to the Final Four one season ago.
It could happen again in 2012.
VCU's run to bust your bracket will continue by defeating Indiana on Saturday night.
Smart's Rams get after you defensively for three-fourths of the court, making opponents play faster than they want to play. It's how VCU wins games.
Smart is eager to prove just how great of a coach he is in college basketball. Similar to Brad Stevens last season when he took his Butler team to back-to-back NCAA Championship games, Smart wants to take his team to back-to-back Final Fours.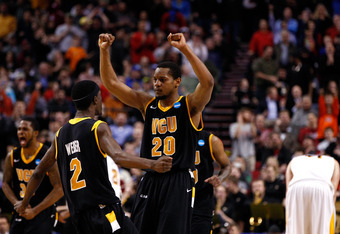 Jonathan Ferrey/Getty Images
VCU recorded 371 steals this season, which is a boatload.
Bradford Burgess, Juvonte Reddic, Troy Daniels, Briante Weber, Rob Brandenburg and Darius Theus each have 39 or more steals this season. 
Indiana is going to have major issues with VCU's pressure on Saturday. Verdell Jones is out for the season. Not having another guard capable of helping with the press will hurt the Hoosiers. 
The Hoosiers have 433 turnovers on the season; Indiana is capable of getting pressured into turnovers.
Advantage: Rams. 
Cody Zeller underneath is going to be an issue for the Rams, but if they can get him into foul trouble, attempt to tire him out by running the floor and double him as soon as he touches the ball, they should find success. 
Smart will have his kids ready to go against the Hoosiers. They play tough, gritty basketball that is compatible with a one-game elimination style tournament. 
VCU will get it done.
Prediction: VCU 74, Indiana 72