North Carolina vs. Creighton: TV Schedule, Live Stream, Spread Info and More
March 17, 2012

Streeter Lecka/Getty Images
The 29-5 Creighton Bluejays come into the third round with a chip on their shoulder, going up against arguably the most talented team in basketball in the No. 1 seed in the Midwest Regional, the North Carolina Tar Heels.
Despite the absence of star player John Henson in this contest, who is averaging just over 13 points and 10 rebounds per game in his junior season, the Tar Heels are expected to come out and dominate their competition.
The No. 8 seed Bluejays will have to rely on their top-notch offense to carry them in this one, which ranks among the top 10 nationally in several offensive categories. Doug McDermott leads the charge for this team, averaging a team-best 23.2 points per game this season.
As deep and athletic a team as the ACC top-dog Tar Heels are, this will be a contest for the ages in Greensboro, North Carolina.
Listed is everything you need to know about the highly anticipated North Carolina/Creighton matchup.
Where: Greensboro Coliseum Complex in Greensboro, N.C.
When: Sunday, March 18, at 5:15 p.m. ET
Watch: CBS
Listen: KXXSP 590 AM (Creighton) and ESPN 99.9 FM (UNC)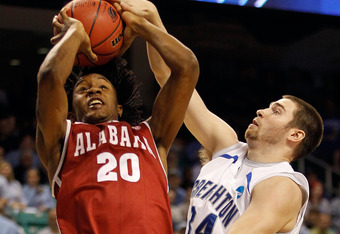 Streeter Lecka/Getty Images
Betting Line: UNC -9.5 (5Dimes)
The key injuries in this contest
UNC: John Henson (questionable, wrist)
Creighton: none being reported
What's at Stake?
For the North Carolina Tar Heels, a loss would tarnish what was one of the team's better seasons since bringing in young talents John Henson and Tyler Zeller.
It would be a loss that will tarnish their chances at making a run for years to come, as the end of this season marks the end of the Kendall Marshall and Harrison Barnes era in North Carolina.
As for the Creighton Bluejays, they play in this one with nothing to lose. With a chip on their shoulder and hopes they can make a contest out of this one, it is a win-win situation for this team. There will be anything but pressure on Creighton's plate in this one.
What They're Saying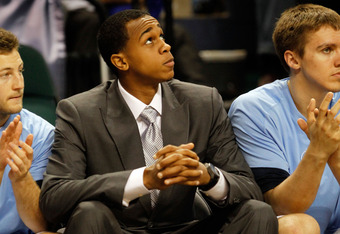 Streeter Lecka/Getty Images
According to ESPN.com's Robbi Pickeral and the Tar Heel Times, John Henson could possibly be set to go in this third round contest against Creighton, according to UNC coach Roy Williams.
I would think that if you had asked me yesterday, I would have said it's a little less than 50-50 that he was going to play today. And now, if it continues, I would say it's a little better than 50-50 that he would play Sunday. But if he still feels the same way, I won't play him.

 
Most Important Player To Watch
The answer is clear in this one: UNC point guard Kendall Marshall will be the player to watch in round three.
Marshall, known for his ability to pass the ball and get teammates promising looks from the field, has began to take the scoring load into his own hands and knock down jumpers as well.
If Marshall is able to continue to impose his will offensively and give UNC the boosts it needs to make runs, this team will be near impossible for any team in the country to beat. Expect Creighton to struggle with this matchup at the PG spot.
Key Matchup: Marshall vs. Doug McDermott
Doug McDermott is the type of player that imposes Creighton's high-octane, top-notch offense in a contest.
Although not in the same manner, Marshall is also the floor general when out on the court, setting the pace for this team in each outing.
Whichever of these two players can set the tempo of the game to their liking in this one will likely have their teams sitting in a spot in round four.
Prediction
North Carolina 78, Creighton 71