NIT 2012: Updated Bracket and Schedule for March 17
March 17, 2012

Chris Trotman/Getty Images
While the NCAA Tournament is the cream of the crop, the 2012 NIT Tournament has some of the best matchups you could ever imagine from the teams that barely missed the big dance.
The NIT bracket is ready to be busted.  As we look at the schedule, today could easily be the day that has the majority of fans ripping up their office pool bracket in frustration.
As much as fans will be watching all of the NCAA action, there is no reason not to put the televised NIT games into you TV rotation. The games will be just as good, but with far less fanfare.
NIT Tournament bracket here.
| MATCHUP | DATE, TIME | NETWORK |
| --- | --- | --- |
|  No. 1 Seton Hall vs. No. 4 UMass |  March 17, 11 a.m. ET |  ESPN |
|  No. 3 Drexel vs. No. 7 UNI |  March 18, 11 a.m. ET |  ESPN |
|  No. 4 Nevada vs. No. 8 Bucknell |  March 18, 3 p.m. ET |  ESPNU |
|  No. 3 Oregon vs. No. 7 Iowa |  March 18, 5 p.m. ET |  ESPNU |
|  No. 1 Tennessee vs. No. 4 Middle Tennessee |  March 19, 7 p.m. ET |  ESPN |
|  No. 2 Miami vs. No. 6 Minnesota |  March 19, 9 p.m. ET |  ESPN |
|  No. 3 Stanford vs. No. 7 Illinois State |  March 19, 11:30 p.m. ET |  ESPN2 |
Saturday's Matchup: (5) Massachusetts at (1) Seton Hall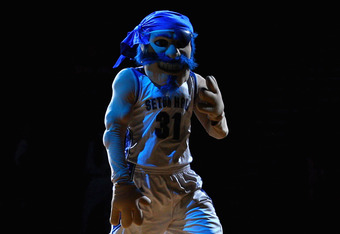 Chris Chambers/Getty Images
When the Seton Hall Pirates and the Massachusetts Minutemen meet up for their Sweet 16 battle on Saturday, they will be the only NIT game. The will also be televised on ESPN so the focus and reputation of the NIT is on the line.
With the NIT game starting before the NCAA Tournament gets back underway, all of the March Madness fans will be giving the NIT a chance. They won't be disappointed when Seton Hall puts on a show and steals a late victory.
Best Matchup of the Weekend: (7) Northern Iowa at (3) Drexel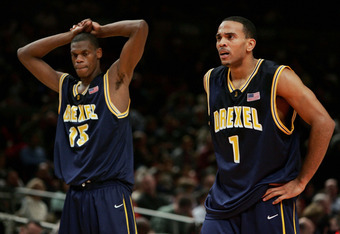 Nick Laham/Getty Images
As good as Seton Hall vs. Massachusetts will be, there is no weekend game we are looking forward to more than Drexel vs. Northern Iowa on Sunday afternoon. While Northern Iowa is a tough team, Drexel is looking for redemption after being pushed aside by the NCAA committee.
While the Panthers are a solid team, the Dragons are ready to get back to playing basketball and back to winning games. Expect Drexel's superior rebounding to be a key factor in this matchup.
Check back for more on the NCAA basketball as it comes, and check out Bleacher Report's College Basketball Page to get your fill of college basketball.