WWE: Now off Suspension, What Is the Future for Evan Bourne?
March 17, 2012

My very first wrestling article on this site was about Evan Bourne and the push he was being given at the time.
Since then, my career has been more successful than Bourne's, mainly because that push never amounted to anything. Now, Bourne is set to be released from his suspension due to his second Wellness Policy violation.
In November of last year, WWE announced a 30-day suspension for Evan Bourne, whose real name is Matt Korklan. Korklan's 30 days would take up the entire month of November, which prevented him from being involved in Survivor Series. Korklan was still recognized as one half of the WWE Tag Team Champions throughout the suspension.
On Dec. 3, Bourne was officially back in the ring as one half of Air Boom, alongside Kofi Kingston. Kingston was not punished because of Korklan's incident, but seemed to keep busy anyway. When Bourne was back, there was no explanation for it.
Air Boom was back and the resurgence of the tag team division seemed to be back right along with it. Emerging from the ashes was Epico and Primo, who seemed like a formidable team that would help Air Boom improve the division as a whole. That all seemed to be ruined about a month later.
On Jan. 15, at a house show, Epico and Primo shocked the wrestling world and became WWE Tag Team Champions. Air Boom was no longer the tag team to beat.
They were now the tag team that was beaten. The following night on RAW saw their rematch clause get put into effect and Air Boom still couldn't get it done.
The following day, on Jan. 17, it was announced by WWE that Korklan was being suspended once again for violating the Wellness Policy. Exactly 11 weeks after the first announcement, Evan Bourne was a two-time offender.
That suspension is over today. With WrestleMania being 15 days away, Bourne could be back as recently as Monday night on RAW, perhaps to insert himself into Team Teddy for that big tag team match at WrestleMania.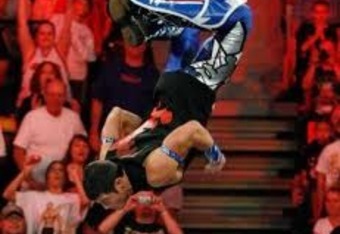 But what will be the fate of Bourne? It's not like we can really recall the last two-time offender of the policy. Many violators were not in the slot that Bourne was in. Will Bourne get his chance back? Will he ever even sniff the main event again?
What about Kofi Kingston, who has been spared from this ordeal? Kofi didn't do anything wrong, but sometimes a tag team partner will suffer for their partner's mistakes.
Kingston has bounced back nicely. even aligning with R-Truth. Does Air Boom rise again or will Kofi stay with R-Truth over reforming his team with Bourne?
You would have to imagine that WWE will keep a stern eye on Bourne from here on out. One more violation of the policy and he is done for good. There are some out there who have been let go and never hired back for less.
What's to say that Bourne would ever be coming back to WWE? Besides, bringing back a three-time offender of the policy will not look good for the business model, which got a lot of positive press for having the policy in place before major sports leagues did.
Since the first two offenses came so quickly and without warning, every time you see Evan Bourne from here on out could be the last time. Who knows? WWE may just part ways with Bourne now and leave the door open for returning down the line, if he can clean up his act.
Anything is really possible, but there is one person who is really in charge of what can happen. That guy is Evan Bourne.