Isaiah Canaan: 5 NCAA Tournament Predictions for Murray State Star
March 15, 2012

Isaiah Canaan is Murray State's best player, and he will do well in the NCAA Tournament.
Here are five tournament predictions for Canaan after his Racers defeated Colorado State, 58-41, in the opening round of the NCAA Tournament. 
Canaan Will Score at Least 20 Points in Remaining Tourney Games
Canaan is not only the Racers' best player, he is one of the best in the nation.
A finalist for the John Wooden Award and Bob Cousy Award, Canaan can have a good case to win it if he gets Murray State far in this tournament.
He is a great scorer who averages 19 points a game. Now, the Colorado State Golden Rams held Canaan to 15 points on 4-of-13 shooting, but Murray State needs Canaan to shoot better and score more against teams like Marquette in order to keep dancing.

Canaan Will Hit More Threes in the Following Games

Partly why Canaan was named Ohio Valley Conference Player of the Year and is a finalist for a couple national awards rests on his three-point shooting.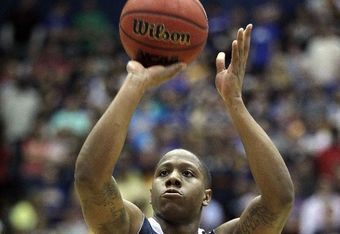 Canaan was an impressive 47.3 percent (95-of-201) from beyond the arc, ranking fourth nationally in percentage and 11th in threes made per game (3.1).
The 6'0", 193-pound junior was 1-of-6 from three-point land against Colorado State, but should drill more threes in the following games.
Canaan Gets Three Steals in Second-Round Game
Canaan can get hot on the defensive end and steal in bunches. The crafty guard has five games this season where he has three or more steals.
The following game against Marquette/BYU will be the biggest of Canaan's career, so he will be driven to give it his all on both ends of the court.
Canaan Will Lead the Racers to the Sweet 16
Murray State will face most likely Marquette in the Round of 32, and he will lead the Racers to a thrilling upset to advance to the Sweet 16.
The Racers have made the NCAA Tournament 15 times and beat Vanderbilt 66-65 in the opening round. They also took eventual national runner-up Butler to the limit in a 54-52 loss the next game.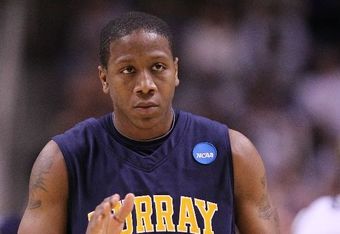 What Murray State brings is tenacious defense, allowing opponents to score less than 60 points 15 times this year.
A tough defense led by experienced players like Canaan can overcome a really talented Marquette squad.
Canaan Almost Leads Upset In Sweet 16
The Murray State Racers and Canaan are good, but will not do well against the No. 2 Missouri Tigers in the Sweet 16 game.  
The Tigers have five players who average double figures while scoring 80.3 points per game (sixth) and shooting 50.4 percent from the field (third). Senior guard Marcus Denmon leading the way with 17.6 points a game.  
Murray State averages 74.2 points per game (40th) and have the defense to keep it close, but Missouri just has too much fire power to lose.