NCAA Tournament 2012: 4 Teams That Will Coast to Elite 8
March 15, 2012

Ethan Miller/Getty Images
The real NCAA tournament begins today with the round of 64 in full swing. Although the saying is that everyone always has a chance, that is not the reality. Some teams are simply happy to be there, and other teams will be disappointed with nothing less than a championship. There's a fine line between the two groups.
Of course, there are also many teams with ridiculously high ceilings as well as potentially fatal flaws. With the vast majority of teams falling into this category, this leaves a lot of uncertainty as to who will advance. That's part of what makes March so fun, the guessing as to who will advance and who won't.
Like many other hopeful basketball fans, I have spent hours pondering how the tournament will play out. Now, I'm going to talk about four teams that have a solid chance of advancing to the Elite Eight. Since this is March Madness we're talking about, I've picked two teams that are somewhat expected to advance far and two teams that are more surprising picks.
UNLV Rebels 
Although they are the No. 6 seed in a brutal South region, I like UNLV to emerge as a sleeper team this tournament. The Rebels (26-8, 9-5 MWC) were tested throughout their regular season and emerged with victories over such ranked teams as North Carolina and San Diego State.
Even though they suffered a close loss to New Mexico in the MWC semifinals, UNLV has most of the pieces in place for a deep playoff run. 
Still, I won't deny that going on a run in the South region is going to be extremely hard. First, UNLV has to take down Colorado, which has won four straight and are also the Pac-12 champions.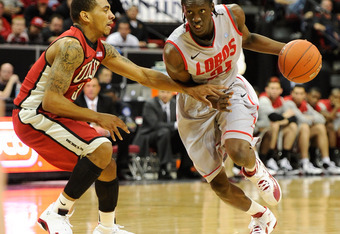 Ethan Miller/Getty Images
Beyond that should the chalk hold out, UNLV will be taking on Baylor for a Sweet 16 berth, and then Duke for an Elite Eight berth. Both teams are difficult matchups for UNLV, yet I feel that the Rebels can contend with them, thanks to their experience in a tough league and their explosive offense.
This offense is at its best when they are running the ball up and down at the speed that they want to go, forcing other teams to play fast.
The offensive fireworks will need to explode for UNLV to have a substantial tournament run. Superstars like scoring forward Mike Moser will have to continue his average of 14 points per game with contributions from guards Chase Stanback and Anthony Marshall who each have over 400 points for the season.
I feel that UNLV will at least make it to the Sweet 16, especially if someone can do them a favor and knock out Baylor or Duke. Once in the Elite Eight, UNLV will likely draw Kentucky and have to play the game of their lives to advance. With UNLV's offense, I have to like their chances. 
Michigan State Spartans 
It's almost a given that every year at least one No. 1 seed will make it to the Final Four. Last year was only the third time since seeding began in 1979 that the Final Four had no No. 1 seeds. This year, I think all of the No. 1 seeds have a very good chance of making it to the Elite Eight, if not further. 
One No. 1 seed that I particularly have confidence in is Michigan State (27-7, 13-5 Big Ten). I will agree that their road to the Elite Eight is difficult, but this team should have the firepower to get there. They have already shown with their Big Ten tournament run that they can play with anyone, taking down both Wisconsin and Ohio State.
Streeter Lecka/Getty Images
Another thing in Michigan State's favor is their previous tournament experience. In both 2009 and 2010, Tom Izzo was able to coach his team to back-to-back Final Fours. They did it by winning ugly and coming together as a team, something I think could happen again this season.
It's going to be a difficult road for them as they have Missouri as their region's No. 2 seed and Marquette as their region's No. 3 seed, both title contenders in their own right. Before reaching the Elite Eight, Michigan State would likely have to face dark-horse teams like Memphis and Louisville.
Lots of experts seem to be down on the Spartans, with a good number of them having Michigan State failing to reach the Final Four. I think Izzo has proved time and time again that it's dangerous to root against him, so I find this disrespect baffling.
For one thing, Michigan State opens their tournament in Columbus, Ohio, which is so close to their campus that it's almost like a home game. The Spartans are also a very resilient team with seven victories over ranked teams, five of which were on the road. This is also a team that overcame some serious adversity winning fifteen games after losing their first two.
Michigan State also still has some players with valuable Final Four experience. This includes one of their leaders, senior forward Draymond Green, who was around for both Final Fours. Named the Big Ten Player of the Year, Green should play a big role in the Spartans title hopes. 
Florida State Seminoles 
The ACC Champion Florida State Seminoles are coming into the tournament hot, after beating Duke and North Carolina in successive ACC Tournament games. At 24-9 and 12-4 in the ACC, Florida State has taken care of business when they needed to against conference rivals. However, they are going to need a sustained tournament run to prove the ACC tournament wasn't a fluke and they are for real.
Their victories over Duke and North Carolina are huge, since those are two of the best teams in college basketball. By beating them Florida State has shown they can beat anyone. 
The Seminoles offense is known for having good big men and guards that can help drive the ball to the hoop. They also have a brutal defense that dictates the pace of games. This includes players like senior forward Bernard James, who has averaged over 14 blocks over his last five games.
Florida State will certainly have a difficult job in the East region. They've got teams like Ohio State and Cincinnati that they would have to beat to reach the Elite Eight. Nevertheless, I like their chances and think that the Seminoles will get to the Elite Eight, where Syracuse, the weakest No. 1 seed in the field will likely be waiting for them.
Georgetown Hoyas
Even as a No. 3 seed, Georgetown seems to be getting overlooked. In fact, there's a good number of people, that seem to have Georgetown getting knocked out in the first round by No. 14 Belmont. However, I feel this is a disservice to a good team that has a chance at getting to the Elite Eight.
There are several reasons why I see Georgetown going far in the tournament. They are a long, athletic team with the size to play big as well as the speed to run with smaller lineups. They also have a very solid Big East record at 12-6 in the conference and 22-7 overall.
Their defense is another reason I'm excited about their postseason chances. The Hoyas held 18 opponents to 60 points or less this season, which is pretty impressive. Even though this is a young team with lots of freshmen and sophomores, they've shown some tremendous maturity and have really come together over the last few weeks.
Finally, their resume is not too shabby. They've got win against eight teams, with five of them coming against Top 25 teams. This includes a huge upset against North Carolina that shows they can beat anyone.
Georgetown will need to dispose of Belmont, as well as likely North Carolina State and Kansas to reach the Elite Eight. The first two rounds shouldn't be enormous challenges, although Kansas will be a hard one to beat. Still, I think the Hoyas should get this far and maybe even get the shocking Final Four berth that no one besides them saw coming.