Claude Giroux Giving Philadelphia Flyers a Lift
March 15, 2012

Jeff Gross/Getty Images
While one look at his numbers doesn't quite tell you the whole story when it comes to Claude Giroux, it certainly shows you why Philadelphia's All-Star forward is one of the game's very best.
In this instance, the statistics don't lie.
Two 100-point seasons during his time in the Quebec Major Junior Hockey League (QMJHL), a 51-point outburst in the 2007-08 QMJHL playoffs, coupled with a 34-point performance in 33 games with the Philadelphia Phantoms of the American Hockey League in 2008-09. 
It's a big reason Giroux was a coveted prized-prospect and deemed a potential superstar when he hit the NHL ranks.
Now, in his fourth season, the 24 year old right-winger truly is at the top of his game.
"I've been really fortunate to find myself in a great situation in Philadelphia," said the Flyers 22nd overall selection in the 2006 NHL Entry Draft. "I felt very comfortable right from the start with the guys we have here and I've been given the chance to contribute."
Giroux grew up playing hockey in his hometown of Hearst, Ontario, a town of just over 5,000 people, located about 600 miles north of Toronto.
He skated in Bantam A for the Hearst Lumber Kings in 2001–02, eventually moving to Orléans, Ontario in the summer of 2002, where he played Major Bantam and Minor Midget AA for the Cumberland Barons in the 2002–03 and 2003–04 campaigns.
In spite of his lofty numbers with the Barons (99 points in 87 games), Giroux was overlooked in the 2005 Ontario Hockey League Entry Draft, eventually leading him to suit up for the Gatineau Olympiques of the QMJHL.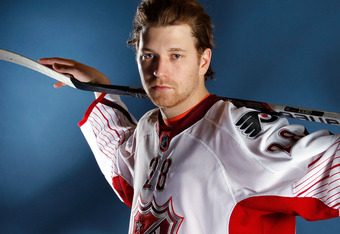 Gregory Shamus/Getty Images
"There are always ups and downs when you play hockey, even from game to game," said Giroux, who was a key contributor in helping Gatineau take the QMJHL Playoff crown while being honoured with the Guy Lafleur Trophy as MVP in the QMJHL Playoffs with 17 goals and 34 assists, a franchise record. "You work hard all the time to realize your dream of being in the NHL. You just focus on getting better every game and every year. That's what I tried to do."
Giroux, who scored his first NHL goal against the Florida Panthers in a 3–2 loss on January 27, 2009, has done that and much more.
This season, Giroux, who played in his second consecutive All-Star Game in January, (where he scored a goal assisted by fellow Flyer Scott Hartnell), has been simply stellar.
He's already surpassed his previous NHL career-best points total (76 in 2010-11), averaging well over a point per game, despite missing four games in December.
On his current pace, the 5'11", 175-pounder could crack the 100-point plateau and reach 30 goals.
Giroux, however, is in pursuit of a different goal.
"Just like everyone, I want to win a Stanley Cup," said the forward, who helped lead Team Canada to a gold medal at the 2008 World Junior Championships in the Czech Republic. "That's the one thing I want to focus on, working together with my teammates to bring a championship to Philadelphia."
Giroux, who had 21 points in 23 post-season games in 2009-10, when the Flyers lost in six games to the Chicago Blackhawks in the Cup Finals, will no doubt be looked upon as key for the Flyers in the post-season.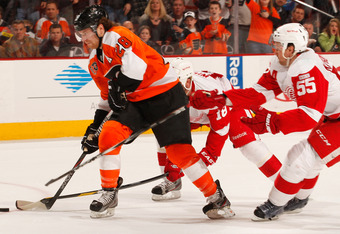 Rob Carr/Getty Images
In 2010-11, Giroux recorded 12 points in 11 games, but Philadelphia bowed out to the eventual Cup champions, the Boston Bruins, in four games in their Eastern Conference semifinal set.
"When you get so close, it's tough not to win, but it also makes you want to win that much more," said Giroux, who has 38 points in 40 NHL playoff appearances. "We are very motivated to get back and take another shot."
As for what pushes Giroux night in and night out, it's simply a motivation to be the best he can be.
"You're not always going to score and there are moments where things don't always go your way, but no matter what, you have to give everything you have in practice and in games," offered Giroux. "You can always learn something new and you can always improve and that's what I look to do."
While he's only 270-plus games into his NHL career, his numbers, accompanied by a winning attitude, suggest things will only get better for Philadelphia's top-shelf talent.
Related Content
Video: Meet the World's Toughest Directors, Player's Playbook
CBC Hockey Night in Canada/NHLPA Player Poll Results