NCAA Tournament 2012 Bracket: Underdogs That Will Pull off Upsets
March 15, 2012

Jamie Squire/Getty Images
Picking upsets in the NCAA tournament is fun. They happen every year, and if you are smart and have the right information, you will be able to correctly pick an upset like Davidson over Louisville. 
However, that upset isn't the only one that will happen on the first day of the NCAA tournament. These other underdogs will shock the basketball world today, pulling off the unthinkable by moving onto the Round of 32, living to play another day. 

#13 Seed Davidson Wildcats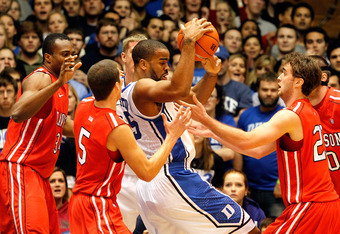 Streeter Lecka/Getty Images
Davidson enters the tournament with an impressive 25-7 record, averaging 78.4 points per game. While they average almost 80 points per game, they also can play very good defense. This year, Davidson allowed only 67.8 points per game. 
Davidson's biggest win during their season was at Kansas, defeating the Jayhawks 80-74. 
Kansas lost six games this year, including a 10-point loss to Kentucky. But that loss to Davidson was the only one where the Jayhawks gave up more than 75 points. 
Davidson has proven that they can play with some of the best teams in the country, and will pull off the big upset when they take down the Louisville Cardinals.

#14 Seed Belmont Bruins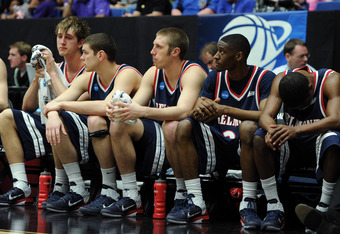 Harry How/Getty Images
Belmont has a tough matchup in their first game against one of the best defensive teams in the tournament, the Georgetown Hoyas. 
Georgetown allowed opponents to average only 59.2 points per game, while holding 10 opponents to 50 points-or-less. 
However, Belmont is one of the best shooting teams in the tournament. They have averaged 81.5 points per game, which was the fourth best in the nation this year. They are also averaging a .484 field goal percentage.
As well as being able to shoot the ball well, Belmont moves the ball around as well as any team in the tournament. The Bruins averaged 17.4 assists per game, which was the fourth best this year. 
Belmont may be a 14 seed, but they play as well as any team in the tournament. 

#12 Seed South Florida Bulls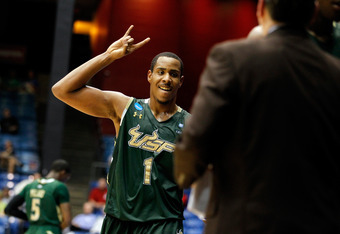 Gregory Shamus/Getty Images
South Florida crushed the Cal Bears in their play-in game, winning 65-54. This was not a shocking victory, as South Florida averaged 56.9 points allowed per game, while scoring 59.2 points per game.
The Bulls take on a high-scoring Temple Owls team that averaged 76 points per game. However, Temple gave up 69.9 points per game, so they have the ability to allow a team to get hot and stay with them throughout a game. 
South Florida's defense will be the reason why they upset the Owls, moving onto the Round of 32. 
These three upsets will happen today. However, it is up to you to call them before the games start so you can sound like a genius when they happen.