St. Louis Rams Free Agency: Fisher Says 'We Will Get Weapons for Bradford'
March 14, 2012

Appearing on the NFL Network and their Free Agency Frenzy program today, St. Louis Rams head coach Jeff Fisher addressed the concerns of many Rams fans regarding the lack of quality wide receivers on the Rams roster for quarterback Sam Bradford and the St. Louis offense.
Speaking to host Rich Eisen on the aforementioned program, Fisher told Eisen that the Rams "will get weapons for Bradford." 
Many Rams fans are concerned about the state of the wide receiver group going forward.  St. Louis averaged just 12 points per game in 2011 and have fielded a sub-par receiving corps for years, since the departures of Torry Holt, Isaac Bruce and Kevin Curtis. 
Most of the big-name free-agent wideouts have already landed with other teams.  
Pierre Garcon and Josh Morgan have headed to Washington, Vincent Jackson went to Tampa Bay, Reggie Wayne remained with Indianapolis, Robert Meachum has gone to San Diego, Randy Moss went west to San Francisco, Brandon Marshall and Eric Weems landed in Chicago and Harry Douglas stayed put in Atlanta, all according to the NFL's free agency site.
The Rams tendered restricted free agent Danny Amendola—who caught 85 balls and developed a quick chemistry with then-rookie Sam Bradford—at a second-round level. 
That means that if a team made an offer to Amendola and St. Louis did not choose to match the offer, the Rams would lose Amendola but gain the second-round pick in the 2012 NFL draft of the team who signed him.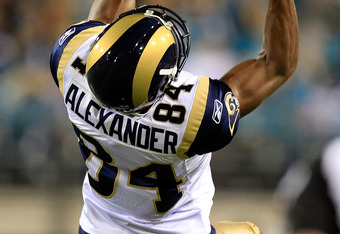 Sam Greenwood/Getty Images
There has been some speculation that the Patriots, for example, could potentially have interest in Amendola.  If a team like the Patriots ended up with Amendola, that would give the Rams their third second-round pick in the upcoming April NFL draft.
Other than Amendola, the Rams wide receivers currently consist of 2011 rookies Greg Salas and Austin Pettis, Danario Alexander of Mizzou fame, veteran Brandon Gibson and special team ace Dominique Curry. 
Obviously, when looking at that group, there is not a No. 1 receiver in the mix.  Some would argue that there is not even a top-tier No. 2 receiving option there.  Alexander has the makeup, but also struggles with ongoing knee issues, limiting his reps and reliability. 
There are still some free-agent wide receivers available who could be appealing to St. Louis.  
Those wideouts include Donnie Avery, Plaxico Burress, Mark Clayton, Early Doucet, Braylon Edwards, Ted Ginn, Brandon Lloyd, Mario Manningham, Eddie Royal, Jerome Simpson, Hines Ward and Roy Williams.
Of that list, some appealing options could include Doucet, Ginn, Lloyd, Manningham, Royal and Simpson.  Robinson would probably be unlikely to return to a team that let him go previously, even under a different regime. 
As for the upcoming 2012 NFL draft, some obvious targets in early rounds could include Justin Blackmon, Michael Floyd, Kendall Wright, Rueben Randle, Mohamed Sanu, Stephen Hill and Dwight Jones, among others.  
Either via a trade and/or the draft, look for St. Louis to provide at least one wide receiver and probably two between now and the conclusion of the NFL free agency period and the 2012 NFL draft.
Shane Gray covers the St. Louis Rams year-round. You are encouraged to check out the rest of his work here and to follow him on Twitter.