Printable NCAA Bracket 2012: Last-Minute Predictions for Key Round of 64 Games
March 14, 2012

Ethan Miller/Getty Images
By now, the vast majority of your bracket is likely filled out. The Final Four teams, title game squads and eventual champion are probably written in ink, and you're left to decide on a couple opening round matchups that are too close to call.
Let's examine three of the toughest Round of 64 games to predict to help you earn those valuable points.
If you're a little late to the party and need a printable bracket, click here.
Gonzaga vs. West Virginia
This battle will come down to Gonzaga's depth and efficiency against West Virginia's star power. Both teams have been successful using their respective approach.
The Bulldogs have four players averaging at least 10 points. Three of those leading scorers are shooting better than 49 percent from the field, giving the team plenty of options on the offensive end. They aren't flashy on defense, but they do a solid job of forcing teams into jump shots.
Kevin Jones and Darryl Bryant are the Mountaineers' main weapons. The pair combines for more than half of the team's point production. While it's always nice to have two stars, if either one of them has an off night, West Virginia is in major trouble.
Prediction: Gonzaga by four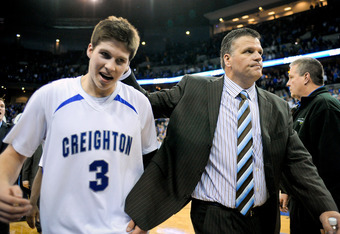 Eric Francis/Getty Images
Creighton vs. Alabama
Another tight game that features teams with contrasting styles. Creighton has one of the nation's top offenses, while Alabama is strong defensively.
If the Bluejays are going to be successful, Doug McDermott has to dominate. The sophomore forward does it all. He can score in the post or step outside and knock down a three. He's a solid defender and is willing to fight for every rebound. It all adds up 23 points and eight rebounds per game.
The Crimson Tide don't have anybody who can go shot for shot with McDermott. That means JaMychal Green will need to step up and make sure Creighton's star doesn't find a rhythm. Green's performance will be the deciding factor in determining who gets to meet UNC in the next round.
Prediction: Creighton by two
San Diego State vs. North Carolina State
Not much separates these two sides, making it the most difficult game to predict in the entire opening round of play. It's the definition of a toss-up.
San Diego State counts on Jamaal Franklin and Chase Tapley to provide most of the offensive punch, but Xavier Thames is the team's X-factor. When he scored in double digits, the Aztecs were 10-2, showing the importance of a third scoring threat.
After a four-game losing streak in February, the Wolfpack played much better basketball down the stretch. They won four straight before a narrow loss to North Carolina in the ACC tournament. That improved play is enough to believe tat NC State will sneak out a victory.
Prediction: North Carolina State by one