The Bull of Broome County: NY FB/LB Nick Sorrenti
March 13, 2012
As he walked the mean streets of the Bensonhurst section of Brooklyn with his grandmother Sally as a toddler, Nick Sorrenti didn't know that she would become the most influential person in his football life.
"We stopped in a Sunoco gas station one day when I was five and bought a football. One of those cheap, rubbery balls they were known for," proclaimed the now 6'1", 235-pound Sorrenti.
"My grandmother was an amazing athlete. And she knew the game of football. She taught me how to carry the ball when I run, how to catch the ball with my hands and pull it in and how to make over-the-shoulder grabs. She threw the tightest spiral! Even taught me how to punt!"
Nick's grandmother suffered a debilitating stoke when he was seven, losing much of the feeling on her left side.
"She is a warrior. I would play cards with her in the hospital. Got her one of those stress balls to squeeze so she could regain strength again. It was my turn to take care of her," said Sorrenti.
It would take nine months for his grandmother to walk again.
"Our bedroom in the apartment was tiny. Maybe 10 feet by 12 feet. And most of that was filled with a set of bunk beds. I would be in the top bunk. Nick in the bottom. I did a drill with Nick where he would lie on the floor and I would fire the football down at him. One pass to the left. One to the right. One overhead," recalled his older brother Frankie.
"We had a tiny plot of concrete behind the building where Nick and I would do all kind of football drills. Some violent collisions on that surface. It doesn't give. It toughened him up," Frankie continued.
When I asked his brother why he nicknamed Nick "The Bull," Frankie told me, "You've seen him. It's self explanatory. Nick was always big, even as a kid. Like a bull, he doesn't like going down!"
The Sorrenti family moved to upstate New York when Nick was 10. It was one of his elementary school teachers who spotted his athletic prowess on the playground during recess. She reported his talent to her dad, a local coach, who got him involved in his first organized football league.
The team would go to win the championship during Nick's first year of participation. It would foreshadow things to come.
When Sorrenti reached middle school, he was the first overall pick in the youth league draft. He would play right guard and defensive tackle.
"I was bigger than most kids. And I just liked to hit people!" Nick exclaimed.
When the family moved to Endwell, Nick attended Maine-Endwell High School, Union-Endicott's arch rivals. Coaches there loved the mobility and strength Nick demonstrated on the line. But they had other plans. He was switched to the backfield on offense and inserted at linebacker on defense.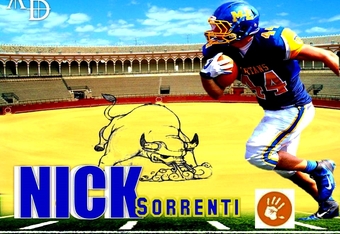 It was in the Spartan weight room where Nick would develop the power that exemplifies his game: a 385-pound bench press and 510-pound squat—lifts that are more typical of the lineman he used to be.
The Maine-Endwell football team is blessed with three talented backs, reminiscent of the undefeated 1972 Miami Dolphins.
Speedy Luis "Cha Cha" Uceta is the team's Mercury Morris. The 5'10", 160-pound tailback rushed for nearly 1,000 yards and was named MVP of the state championship game.
"Nick is my best friend. We have been talking about playing big-time football since we threw the ball back and forth in fifth grade, " Uceta stated.

"Nick is one double-tough kid. He leads by example. In the weight room. On the field. When we visit the elementary school, those little kids look up to him like he is a pro."
Versatile Justin Jacoby is the third member of the talented Spartan backfield. He is the team's Jim Kiick. Jacoby rushed for nearly 900 yards with 13 touchdowns, including the semifinal game-winner vs. Rochester-Aquinas, the top-ranked team in the state of New York.
"Nick is a solid all-around player. He is a punishing hitter at linebacker and a load to bring down at fullback. He loves running guys over but has quick feet and a shiftiness to him that gets him into the open field. He's obviously one of our best leaders. We were trailing 20-7 at halftime of the state championship game. Nick gave an impassioned speech in that locker room. It fired us up. He played like a man possessed. Scored three touchdowns, including the 30-yard game-clincher with 45 seconds left," Jacoby recalled.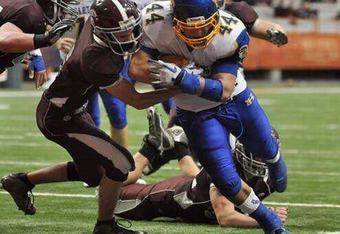 Sorrenti is Maine-Endwell's Larry Csonka, the bruising power back who went on to the NFL Hall of Fame. Despite missing three games toward the end of his junior year with an ankle injury, Sorrenti piled up nearly 1,000 yards with 12 touchdowns during the regular season.
Once healthy again, he turned it on in a four-game playoff run, capped off by his heroics in the title tilt vs. Burnt Hills HS. He ran for 110 yards and scored both touchdowns in a 14-0 sectional victory over his old school Union-Endicott.
He won MVP again the next weekend when he rushed for 117 yards and the semifinal game-winner in a 19-16 nail biter vs. top-seed Rochester-Aquinas. And capped off his junior campaign with three scores in the come-from-behind state championship victory.
Six touchdowns in four playoff games. Big players step up big in big games.
"I try to lead by example. Growing up I admired Mike Alstott [Purdue All-American who went to star with the Tampa Bay Buccaneers]. I love to lower my shoulder and run over a defender. I don't like going down because I don't like having to get up," Sorrenti confessed.
His opponents agree. Anthony "Ant" Johns is a promising sophomore tailback from neighboring Johnson City HS. The three-sport star (wrestling and lacrosse) got a first-hand view of Nick Sorrenti & Company in Maine-Endwell's shellacking of JCHS.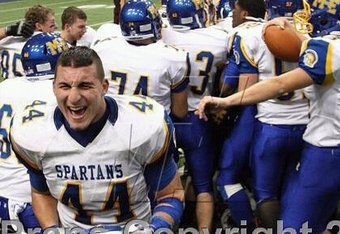 "We were undefeated at the time. Their entire team was just so physical on both sides of the ball. All three of their backs are talented. Sorrenti was just running over guys like bowling pins. And as I found out firsthand, he hits like a truck on defense. I used that game to motivate me. I know what it takes now to be great," Johns admitted.
Maine-Endwell HS will be dropping down a division for the 2012 season. The goals of the Spartan team and Sorrenti are clear: win that second ring.
"I know we are going to have a giant bullseye on our back. I welcome it. My workout partner Luis [Uceta] and I are lifting harder than ever this offseason. Looking forward to the start of track season."
Don't see many 235-pounders who run the 100 meters and relay events and then go on to throw the discus and shot put. It tells you what kind of freakish athlete Nick Sorrenti truly is.
National organizations are taking note of the considerable talent coming out of Maine-Endwell. Sorrenti was just selected to try out for Team USA (Under 19) in Austin, TX in early July. Uceta, Jacoby and starting center Jake Haddock will join him there. Only 200 juniors nationwide were selected to compete for roster spots to play in the prestigious International Bowl in 2013. 
After four days of intense full-contact drills, each athlete will receive a hand-written evaluation from a member of USA Football's evaluation staff which includes NFL player personnel scouts, NFL coaches and Team USA coaching staff members. A tremendous honor for a small school from upstate New York.
As Division I colleges begin to head to the Empire State to recruit him, Sorrenti is looking for one thing:
"I want a university that feels like a home on and off the football field. I don't want a team. I want a family. With the same type of community feel and tradition that we have here at Maine-Endwell."
As what does he intend to major in?
"I want to become a registered nurse," Sorrenti proudly stated.
With this rampaging Bull ready to charge into his senior year and a talented surrounding cast returning in the fall, I have a feeling there won't be a shortage of potential patients for Nick Sorrenti to tend to.