Toronto Maple Leafs: Could a Trade with the Oilers Be on the Horizon?
March 12, 2012

Jeff Gross/Getty Images
The Toronto Maple Leafs are in a very favorable position when it comes to their defensive depth. They currently have seven capable NHL defencemen capable of playing 20-plus minutes every night, with Korbinian Holzer, Jesse Blacker and Matt Lashoff dying to get an opportunity to prove themselves in the NHL.
With only six spots available in the lineup on a nightly basis, one of the Leafs' defencemen is forced to watch the game from the press box. While it is beneficial to have the depth in case a defenceman goes down with an injury, sitting a quality NHL player on a nightly basis is not an efficient utilization of assets.This spot could be filled with any number of fringe NHLers.
The defenceman that has spent the most time in the press box this season is Cody Franson. Acquired with Matthew Lombardi in the offseason from Nashville, he was expected to contend for top minutes in Toronto this season. However, he drew the ire of former head coach Ron Wilson early in the season, and therefore, often found himself the one left off of the game roster. Wilson soon realized that the Leafs were a better team with Franson in the lineup, and promptly gave Franson more ice time, including a stint on the second PP unit.
However, Franson's opportunity was short lived. Ron Wilson was released from his duties as the Toronto Maple Leafs' head coach and was replaced by Randy Carlyle. The former Anaheim coach preaches a very basic defensive structure based around large, defensive rearguards. This has led to him choosing the likes of the physical Luke Schenn and Mike Komisarek over Franson. In fact, Franson has only played in one game since Carlyle became the head coach of the Maple Leafs.
Franson has made the most of his opportunities this season, with 20 points in only 16 minutes per game playing on the bottom pairing. Extrapolated over a full 82-game season and given 20 minutes per game, those numbers would jump to 41 points per game. That isn't even considering the potential powerplay time he would be given.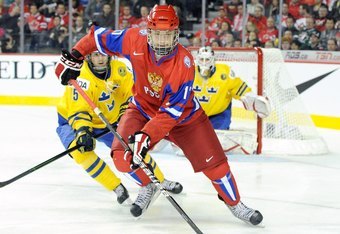 Richard Wolowicz/Getty Images
Cody Franson has proven to the Leafs' brass that he deserves playing time. However, with the defensive structure that the Leafs now employ, it is not likely that Franson's potential will be fully utilized.
Enter Edmonton Oilers.
The Edmonton Oilers have a young core that will soon allow them to become a perennial Stanley Cup contender. Jordan Eberle, Ryan Nugent-Hopkins and Taylor Hall represent what could be the most dynamic line in the league as soon as next year. They are supported by the likes of Anton Lander, Linas Omark, Magnus Paajarvi and Sam Gagner in forming the next Edmonton contender. There's only one problem.
Every player mentioned above is a young forward.
While the Oilers boast great depth among their forward ranks, they do not have any difference makers on their blue line. Ryan Whitney has been decimated by injuries during his time in Edmonton, and has been a shell of his former self when he does play. Cam Barker has not lived up to the potential he showed in 2008-2009, his first full year in the league, in which he scored 40 points playing for the Blackhawks. In fact, the Edmonton Oilers' blueline has been so injury depleted and devoid of offensive talent, Corey Potter has been the team's greatest offensive force for the backend this year. Not knocking the guy—he's performed admirably—but he wouldn't even make the top four on most of the teams in the league.
Franson would instantly become a top-pairing defenceman in Edmonton, and would fit in with the young core of forwards that Edmonton has acquired over the years. He has the potential to become a 40-50 point defenceman if he is given the opportunity, and would only help further the development of Edmonton's younger players.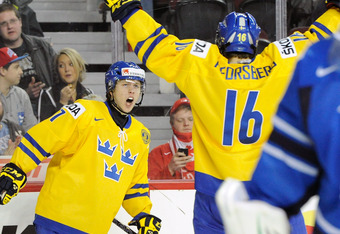 Richard Wolowicz/Getty Images
Franson will be an RFA at the end of the year, and the Leafs have only have approximately $6.5 million to resign their free agents. In addition to Franson, the Toronto Maple Leafs' free agents are Nikolai Kulemin (RFA), Matt Frattin (RFA), Jonas Gustavsson (UFA) and Joey Crabb (UFA). Moving Franson would allow the Leafs to retain all their other assets while capitalizing on Franson's value.
If the draft were today, the Oilers would have the second overall pick. That puts them in a position to draft one of Michail Grigorenko or Filip Forsberg (no relation to Peter), as Nail Yakupov is the consensus first overall pick. While they could draft a defenceman like Ryan Murray or Matt Dumba with the second pick, it would seem like a waste, as many quality rearguards will be available when the Leafs draft.
My trade proposal is as follows: the Leafs trade Franson and their first-round pick (which could be anywhere between fifth and tenth) for Edmonton's first-round pick. Obviously, depending on where Toronto's first-round pick falls, there would be other player/picks involved in this deal.
Grigorenko/Forsberg would instantly fill Toronto's need for a No. 1 centre, while Franson and the D-man drafted would help Edmonton's defensive depth, both now and in the future.