Epitaph of the Toronto Maple Leafs' Season: What Went Wrong?
March 12, 2012

Dale MacMillan/Getty Images
The faintest flicker of hope for a Maple Leafs miracle run to the playoffs was extinguished early Sunday evening with the team's 2-0 loss to Washington. The defeat leaves Toronto eight points out of the eighth and final playoff spot with just 13 games remaining in the season.
Prior to new head coach Randy Carlyle's hiring, Leafs president and general manager Brian Burke compared his team's self-destruction to an 18-wheeler falling off a cliff. A fitting analogy for the result of this past weekend's games would be that same vehicle bursting into flames.
It's a collapse that few could have anticipated. On February 6th, Toronto trumped Edmonton 6-3 to bring their record to a comfortable 28-19-6.
The five weeks that have elapsed since then have been a miserable eternity for Leafs fans, with their only two victories in 16 outings coming against the only other two Canadian teams below them in the league standings — Edmonton and Montreal.
How has it unraveled so quickly?
A large part of the downfall lies between the pipes of the Leafs' net. Ever since suffering a head injury early in the season after being hit by Montreal's Brian Gionta, James Reimer has been a shadow of the player he was 12 months ago, when Toronto's late regular-season surge rode on his shoulders. 
Jonas Gustavsson, who has seemed to earn the confidence of coach Carlyle — starting in all five games in the new regime — has shown habitual error-prone tendencies,  allowing untimely soft goals from which his teammates never seem to recover.
It was also evident that coaching had become an issue. Ron Wilson didn't suddenly lose his skills as an instructor after the win over the Oilers that put his squad nine games over .500. But he no longer had the ear of his players when the team's slump extended from days into weeks. One of his last ill-advised acts as Leafs bench boss was calling out his goalie Reimer after a loss to Washington. His final game as Toronto coach featured some poor matchups where the Leafs fourth line was tasked to defend Marian Hossa, not surprisingly unsuccessfully. Change was needed.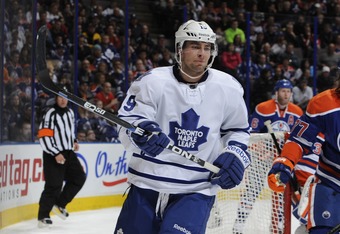 Dale MacMillan/Getty Images
Under Carlyle, the team has a more attentive orientation towards defense, surrendering only 11 goals in five games. But the offense has found the net just nine times in that same stretch.
The Leafs' playoff push was already running on fumes when Toronto hosted Boston on March 6th. But when Joffrey Lupul sustained a separated shoulder after a hit from David Krejci, his season was dashed along with the team's postseason aspirations.
Lupul's absence has been felt this past Saturday and Sunday in back-to-back shutout losses by the Leafs.
And so continues the league's longest playoff drought since the 2005 lockout, a record of futility that Toronto shares with Florida.
Toronto will hold that unfortunate distinction all on their own at season's end, should the Panthers fend off their challengers in the final month.