Chicago Cubs Spring Training: Why Bunting Is Stupid
March 12, 2012

Jeff Gross/Getty Images
Hopefully, new Cubs manager Dale Sveum is holding this spring training bunt contest just to loosen up the guys and lighten up the festivities. Because if he is serious about stressing bunting, we have the wrong manager.
Much has been said and written about this inane contest where everyone tries to out-bunt the other guy, with the winner moving on to the next level, in a kind of March Madness style of bracketology.
You know, it's Kerry Wood, the three seed, going up against, say, Randy Wells, the 12th seed, with the winner advancing to face the next player and so on. On the surface, this is the kind of fun that has been missing at Cubs camp for years.
But this has gone on far too long and now I'm starting to wonder if bunting isn't deemed important to Sveum and the Cubs.
Look, I hardly think any self-respecting sabermetric fan like Theo Epstein would actually rate bunting as a critical skill need area for the Cubs. With all of their problems, even if bunting were important, it would seem to be pretty far down on the list of things to improve upon.
But that's where the whole thing gets weird—bunting isn't critical. In fact, it's stupid. And here is why:
Baseball is played without a clock. Unlike the NBA, NFL or NHL, there isn't a certain number of minutes allocated to a baseball contest. Instead there are 27 precious outs.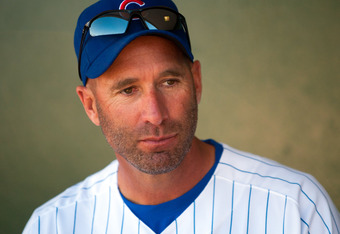 Rob Tringali/Getty Images
In the NFL, coaches are often reluctant to take time outs unless absolutely necessary since those are the precious few times that time stands still. Coaches even go so far as to throw the challenge flag just to get a few more seconds placed back on the clock.
So, then, why would MLB teams give up outs? Well, one argument is that it is smart baseball and improves the chances of winning.
But those espousing that argument would be wrong. There is simply no evidence that giving up an out to advance a base results in a better chance of scoring a run. And, of course, the team that scores the most runs wins the game.
One look at Baseball Prospectus' run matrix tells the story. The matrix shows how many runs a team is likely to score in a specific situation.
Now, with runners on first and second base and no one out, a team is expected to score 1.50766 runs. So, if bunting a player over and giving up an out was such a good thing, you would expect even more runs to be scored with one out and runners on second and third.
Ah, but you would be wrong. In that situation, a team is expected to score only 1.43489 runs.
What does this tell us? Well, with that extra out and extra base, a team's total runs scored decreases by around 0.07 runs.
That in itself is not that big of a deal since the team still scores more than a run in that situation.
But consider that if the batter doing the bunting had instead got a hit, or a home run, then you start to see the idiocy of bunting.
Consider a somewhat "normal" situation where your leadoff hitter gets on base and then the manager asks the number two man to bunt him over to second. I hate that because I feel that if your second hitter in the lineup can't be trusted to make a "productive out" then you have the wrong number two hitter in your lineup.
I know the argument about so-called productive outs is another article altogether. But there are times when one out is better than another. If the out results in a runner moving into scoring position, that's better than a strikeout or other result where the runner stays at first.
Yes, but isn't that the same thing as bunting then? I say no, because in the situation where the hitter was swinging away but hit the ball the opposite direction to advance the runner (assuming the hitter is right-handed) at least you had the chance to possibly get a base hit.
So, in that case, you get the desired result while still maintaining the opportunity to get a base hit without giving up an out. In the bunt situation, it usually results in an out. There could be an error or the batter could beat it out for a hit, but those are rare.
Another bad thing that could happen with the bunt is that it might get popped up, and the runner either doesn't advance or he gets doubled off of the base. Further, a foul bunt with two strikes can result in a strikeout and again, no advancement.
Pitchers are often lousy hitters, and that's when the bunt is employed the most. That situation I am a bit more okay with than the other situations we've discussed in this article. Still, I don't really like it.
The reason is that, since a lot of pitchers can't hit, many times they can't bunt either. Again, a bunt attempt popped up can result in a double play. In that case, the team would have been better off with the pitcher striking out. 
Meanwhile, bunting is just so damn polite. You can almost picture a team saying to the other team, "here—go ahead, take one of our outs. We insist."
FireJoeMorgan.com once wrote that "if you took the idea of bunting and applied it to World War II, it would be the equivalent of notifying the Germans ahead of time that the Allies were heading for Omaha, figuring: hell, we still have the advantage at Sword and Juno."
My point exactly.
Now, Sveum may end up being a great manager. He may be the one to finally end the curse and manage the Cubs to their first World Series title in over a century. But he can stick his bunt where the sun don't shine.