Washington Wizards Better off Parting Ways with Andray Blatche and JaVale McGee
March 11, 2012

Rob Carr/Getty Images
It was less than two years ago that the Washington Wizards were presented with an opportunity to trade forward Andray Blatche and JaVale McGee following a reported scuffle between the two. Their arrival on the trading block amounted to little more than an empty threat, and was more of an effort to find a suitor for the maligned Gilbert Arenas.
Hindsight is 20/20, but the Wizards should have jumped at the opportunity to part ways with both Blatche and McGee when it came along.
At the time, the prospect of trading McGee or Blatche was frowned upon by some fans. They questioned the motivation behind shoving two young, talented players out the door rather than developing them and cultivating a future for the franchise.
As apparent as it is now, the primary motivation behind trading players like Blatche and McGee is the lack of any semblance of maturity in either man.
The biggest knock on McGee was that he lacked the basketball IQ to be a top-tier talent in the NBA. He has incredible gifts in terms of his size and raw athleticism, but he lacks refinement at both ends of the floor. On offense, he relies on fast breaks and putbacks rather than creating for himself, and on defense he doesn't position himself properly to defend his man or the play.
In both cases, McGee is guilty of going for the highlight reel play instead of making the smart play.
So far this season, McGee has thrown the ball off the backboard to himself, run back on defense despite his team still having the ball on offense and lobbied for All-Star votes despite starting the season 2-15 and costing Flip Saunders his job. As a rookie and sophomore, McGee was fun to watch because there was always a sense that it was headed somewhere, that he was developing into something more than just an athletic freak.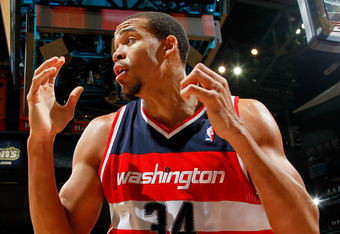 Kevin C. Cox/Getty Images
In his fourth year, McGee is averaging career-highs across the board, but has failed to impress anyone during a decidedly putrid season.
Then there's Blatche, who was once a promising prospect for the Wizards who had just dismantled their iteration of the Big Three. It wasn't so long ago that fans were cheering for Blatche after his excellent finish to the 2009-2010 season.
Whatever hype Blatche built with his 30-game stretch to close that season died over the course of the next two. He was attacking the basket, and using his size against smaller defenders and his quickness against slower ones.
Anymore, it seems, Blatche has grown complacent at both ends of the floor, sloughing off defensive assignments, and relying on fadeaways and heavily defended jumpers on offense.
Most troubling of all, however, is Blatche's regard for the negative reception he receives in the formerly friendly confines of the Verizon Center.
McGee and Blatche, along with Nick Young, are all that remain of the old Washington Wizards. The future of the franchise rests on the continued development of John Wall, but could be jeopardized by the presence of a collective of knuckleheads who don't understand the NBA or what it takes to win.
It was less than two years ago that the Wizards could have sent McGee and/or Blatche elsewhere along with Arenas and received something of value, or at the very least some kind of cap space. Now, they're stuck with two floundering prospects who are more clueless than anything else, and they have no chance of seeing any kind of return on the trade market.
The Wizards aren't likely to send Blatche or McGee anywhere this season, but it is safe to say that both players are near the end of their time in town. Once the season ends, the Wizards are liable to clean out the front office and get rid of dead weight on their roster, and everyone will be better for it.