Big East Tournament 2012: Louisville's Peyton Siva Will Shine in Big Dance
March 11, 2012

Michael Heiman/Getty Images
After continuing to show promise throughout the Big East tournament, Louisville Cardinals' guard Peyton Siva looks like a player who will continue to light things up in the NCAA Tournament.
Although his performance against the Cincinnati Bearcats in the conference title game was his lowest scoring game of the tournament, Siva still continued to shine as he looked to be a human highlight reel.
Siva scored just 10 points, but he went 4-of-10 with five assists and four rebounds. Although his scoring was low, the way he did it was electrifying.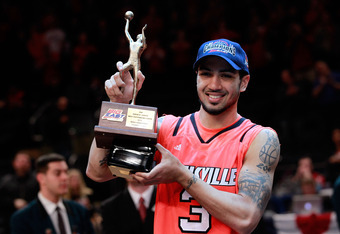 Chris Trotman/Getty Images
He is just 6'0" tall, but he was still weaving through the Bearcats' big men like it was nothing, making his way to the basket and scoring on almost each drive he took.
His baskets weren't short of jaw dropping, as he was often making his shots in acrobatic fashion—the same type that makes the highlights from the NCAA tournament for years to come.
Siva obviously isn't the most important player to the Cardinals' success, but he is starting to prove with each game that he can be the go-to guy when the team needs points late in pressure situations like this.
The team will need to continue to find him on fast breaks, as well as when they need to get the ball inside to score above the opposition's big men.
He will certainly be tested in the Big Dance, but after scoring 18 on Marquette and 13 on Notre Dame, there is definitely enough there from Siva to continue to put up the points that will help take the Cardinals to the next level each round.
Watching him play in the Big East tourney was nothing short of electrifying, and one can only hope that he will bring more of those moments in the Big Dance.