Time to Shine: 2012 Will Be a Crossroads for Vettel & the Golden Boys
March 10, 2012

Paul Gilham/Getty Images
Sometimes in sport, a pinnacle is reached. Every notable athlete throughout history has arrived at a point in his or her career where a precipice approaches and the next move defines how he or she is portrayed in the decades to come.
We are witnessing the coming together of four, potentially five such instances in the manic world of Formula One. 
Sebastian Vettel, Mark Webber, Lewis Hamilton, Jenson Button and Fernando Alonso. These men are a throwback to the era of Ayrton Senna, Alain Prost, Nigel Mansell and Nelson Piquet. A golden decade of superior racing drivers that monopolise podiums, championships and plaudits.
And these five men each need to perform above and beyond their own physical limits in order to dictate how history will look upon them.
It could be said that each competitor has a point to prove, something to be achieved or somebody to prove wrong. Vettel could enter the pantheon of Formula 1 greats to have won three world championship's consecutively. 
Hamilton could become a driver in the Villeneuve or Montoya mould: raw talent in abundance, potentially unbeatable, but lacking in consistency, focus and racing intelligence. Or he could regain his focus and use his considerable talent to deliver stunning results and exciting racing on a more consistent basis.
Button could elevate himself into the group of drivers considered to be a true success after a fantastic 2011, spoken of in wholly positive tones and remembered fondly as one of the great British drivers.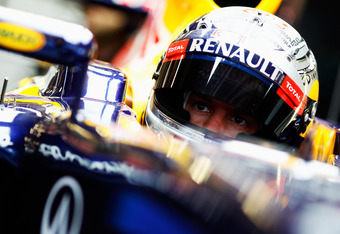 Paul Gilham/Getty Images
What of Mark Webber? Agonisingly close to title glory in 2010, before being trounced by his younger teammate in 2011. Will he overcome the psychological hit inflicted by the youthful German and return stronger and faster?
The one driver hoping to recapture the mantle rightly handed down to him as Formula One's most complete driver, Spaniard Fernando Alonso. A double world champion, shell-shocked in his one year alongside Hamilton before returning to the top table in 2010 with Ferrari, may no longer be the driver with the best speed, race craft and political nous.
Vettel, now the youngest ever double world champion, can only go down. He has posted statistics and achieved results way beyond his years. Now, it must be seen whether he can exhibit the same style, speed and consistency in a car that is not in a league of its own.
Can this be done with Adrian Newey penning his machinery? It remains to be seen, but such has been the devastating consistency with which the Heppenheim native has delivered victory after victory, pole after pole, the smart bet is on a third world title for Vettel.
With the concept on which the dominant Red Bull was designed being outlawed and consigned to history, testing has shown that the entire field ( except HRT and Marussia) has come closer together.
Vettel's ability to cope with pressure will be tested moreso this year than any other in his career to date in 2012. He's on the verge of becoming a three-time World Champion at the age of 25, with a group of ferociously determined drivers behind that are desperate to prove themselves above him.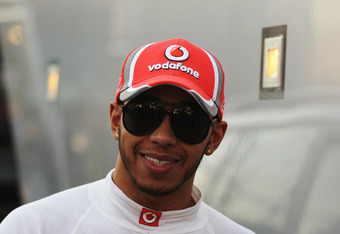 Mark Thompson/Getty Images
Whereas it is Vettel's ability to remain at the top that will be severely tested this year, it is the ability to claw their way back to the top that will come under scrutiny for Mark Webber and Lewis Hamilton. 
The former was simply blown away in 2011. A combination of factors, including having to adapt to a completely new tyre, led to Webber having a vastly inferior season to 2010, where he was in contention for the world championship up to the last Grand Prix in Abu Dhabi. 
The veteran Aussie has shown that he is susceptible to pressure. The start of the European Grand Prix in 2009, where he gained a career-first pole position, saw him collide with Rubens Barrichello on the run down to the first corner before a snatched brake saw him puncture the tyre of Lewis Hamilton, who had stormed up to first with the aid of a KERS boost. 
Another incident occurred in 2010 during the opening laps of the Singaporean event. Battling fellow championship contender Lewis Hamilton, he arguably battled too far when the Briton overtook him around the outside.
Webber kept his foot in and tagged Hamilton as they rounded the corner, eliminating him on the spot.
Seeing how Webber reacts to the pummeling that he suffered last year will be one of the seasons most intriguing storylines.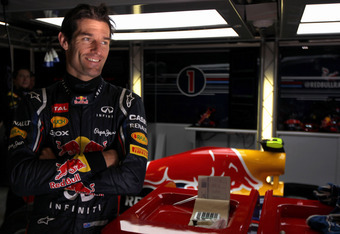 Mark Thompson/Getty Images
Likewise with the 2008 world champion, Hamilton. 2011 marked the first year of his career in which he was beaten by a teammate. A markedly improved Jenson Button displayed the consistency, pace and maturity that many consider made him a far better driver than his championship winning season of 2009. 
Off-track events marred the 27-year-old's season, a renowned self-critical Hamilton has already remarked. Whether a settled love life, a stable relationship with his family and the introduction of Mika Hakkinen's ex-manager will provide the stability that he craves remains to be seen. 
However, a look back to the Italian Grand Prix last year may give some clues as to what we can expect. After coming in for criticism from many quarters for his unique ability to rack up penalties and incidents with other drivers, the paddock saw a strangely subdued, calm Lewis Hamilton. He was quiet off-track, and surprisingly conservative on it. 
Can Hamilton find some semblance of moderation in his driving or will 2012 prove to the world that he is a 100 percent or zero percent competitor? For the sake of the millions of fans around the world, Formula One needs a thrillingly competitive and exciting Hamilton back and competing for glory.
Despite only just breaking into his thirties, Fernando Alonso comes across as a veteran of the sport. At the time, his 2005 and 2006 title-winning years made him the youngest ever double world champion in the history of Formula One.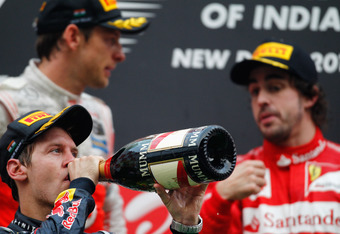 Paul Gilham/Getty Images
Having settled into Ferrari quickly and marking his authority over teammate Felipe Massa, Alonso came within a cocked-up strategy call at the final Grand Prix of 2010 to winning his third world title. That would have put him alongside greats such as Ayrton Senna and Niki Lauda. 
Last season saw a Ferrari that underachieved and was consistently behind the Red Bull and McLaren for much of the season. Despite Alonso's undoubted ability at driving a car beyond its natural limits, it was a fifth season that passed without championship success. 
Should this year pass the Spaniard by once more, it would be hard to label him as the most complete driver on the grid without question, especially if a still young Vettel can reproduce the magic of the last two campaigns. 
The crossroads are in sight, boys. Which way are you going to turn?