UFC 146: Is This Dan Hardy's Last Chance with the UFC?
March 9, 2012

If Dan Hardy loses at UFC 146 against Duane Ludwig, even if the fight is exciting, he will be cut from the UFC.
Hardy is an exciting fighter and a great marketing tool as far as being a top British MMA fighter, but he is in the fight business and to compete at the top level you have to win. Hardy has lost his last four.
It is easy to think that Hardy might have another shot with the UFC. He has sold fights for them consistently and knows how to deliver a thrilling performance. He just doesn't know how to give a great fight and win.
Even if Hardy has a close fight at UFC 146 but loses, the company has to fire him. It is a matter of perception and principle. Fans come to see the UFC at its pinnacle. 
To some casual fans the UFC is MMA. They don't know about the smaller organizations and don't pay attention to them even if they do.
If the UFC allows fighters like Hardy to stay on because they are favorites it will damage that reputation.
It will also harm the relationship it has with its fighters. No-name fighters have been cut for as much as one or two losses in a row. Sometimes they are cut if they lose two out of three bouts. Having to watch Hardy lose four fights and stay employed could grind on some of them.
While it is ultimately the UFC's decision on who to keep, that kind of ill will won't help nurture a healthy company atmosphere if Hardy remains.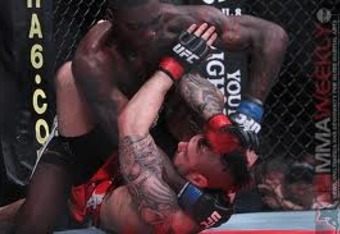 Of course, if Hardy wins, then it doesn't matter, and this time, the UFC is making it easy for him.
Ludwig is a Muay Thai striker and not a wrestler. That doesn't mean he isn't an impressive striker. Ludwig had an entire kickboxing career before he came into MMA or the UFC, but he isn't a grappler.
While Hardy lost by knockout in his fight with Condit, a bout that never saw the ground, all three of his other losses he was beaten by men who knew how to take him down. In two of them he lost because of dominant wrestling.
Dan Hardy isn't a fan of wrestling in MMA and has been vocal about it, as shown in an article posted by MMAFighting.com. He even mentioned that he wanted wrestlers who take people down, but don't try to submit them or knock them out to be deducted points.
Hardy doesn't like wrestling and it's obvious why. He hasn't beaten anyone in the Octagon who would be considered a top wrestler.
Now he is being given an opponent who will stand and trade with him. Something that Hardy is good at—but it's a double-edged sword. Hardy has the kind of fight he wants, he just has to win it. If he can't do that then the UFC can't use him.
And at five losses in a row it will take Hardy some time to try and make it back to the top again.