CUSA Tournament: DeAndre Kane Powers Thundering Herd Past Tulsa in 30T 105-100
March 9, 2012

DeAndre Kane is most definitely able.
The sophomore star for Marshall finished with a Conference USA tournament record 40 points along with seven rebounds, three assists and three steals, as the Thundering Herd were able to outlast the Tulsa Golden Hurricane in a triple-overtime marathon 105-101.
This was nothing short of a war of attrition between the sixth-seeded Herd and the third-seeded Golden Hurricane. The 55 minutes of game time featured a total of 21 ties and 19 lead changes.
It was not until the 2:54 mark of the third extra period, when freshman Chris Martin nailed a big three-pointer and put the Herd up one, that the game looked to close in Marshall's favor.
Tulsa regained the lead momentarily on two free throws by Jordan Clarkson, but on the next trip down the court Dago Pena gave Marshall its final lead with a pull-up three-pointer, and drew a foul. The four-point play put Marshall up three and the lead was never relinquished. 
By the time the game entered the second overtime period, both teams were suffering with heavy casualties. Marshall was forced to rely heavily on bench players Jamir Hanner and Chris Martin in the final periods after five players—Damier Pitts, Shaquille Johnson, Robert Goff, Nigel Spikes and Yous Mbao—all fouled out.
Tulsa did not fare much better with four players fouling out of the game.
Kane nearly went the entire distance and finished the game having played 54 out of a total 55 available minutes. Dennis Tinnon—who finished with 14 points on 7-for-11 shooting and 12 rebounds—was not far behind with 50 minutes on the floor.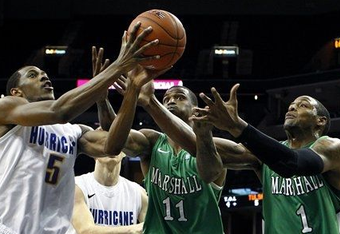 Marshall dominated the boards yet again—a trend that has made the Herd the No. 8 rebounding team in the entire country—finishing with a +8 rebounding margin 41-33.
This advantage on the glass allowed for Marshall to completely overpower third-seeded Tulsa with 16 second chance opportunities and 56 points in the paint compared to 28 from the Golden Hurricane.
Both teams were effective converting turnovers into baskets, but it was a big steal by DeAndre Kane at the end of the second overtime that kept the contest going one more period, and allowed the Herd to finally close out the game.
Marshall will go on to play Southern Mississippi on Friday in a rematch of the regular season finale for both teams.
Marshall won that meeting in Huntington. Earlier in the season, Southern Miss won their first meeting in Hattiesburg. This semifinal match will be a true rubber match between the two schools, a neutral court rubber match.