Fantasy Baseball: Bryce Harper Leads Rookie Crop Vying for MLB Roster Spots
March 9, 2012

Leon Halip/Getty Images
 Team: Detroit Tigers
Up For Grabs: The No. 5 starter in the rotation
The candidates:
1) Jacob Turner: The Tigers consensus top prospect enters 2012 with a slight edge over the competition for the starting job.  The youngest Tigers pitcher to start a game in his major league debut since Bruce Robbins did it at 19 years of age on July 28, 1979, the 2009 first-round pick is armed with a plus plus curve and a plus fastball. 
He hasn't looked as dominant as many hoped in his two years of pro ball, with an ERA in the mid threes, but positive signs are evident: his impressive strikeout-to-walk ratio stands out (3.14). 
Turner may not have helped his cause much thus far this spring, giving up five runs (four earned) and seven hits in three innings, while walking one without a strikeout on Thursday against the Orioles. 
He won't turn 21 until May, so hopes are still sky-high that he and Justin Verlander form a dynamic duo over time.
2) Drew Smyly:  Seemingly underrated and unheralded, Smyly was not taken until the late in the second round in the MLB draft of 2010. Yet no pitcher seemed to see their stock rise last year more than Smyly.  Going from a virtual unknown to an outright stud, seemingly overnight, he now finds himself in a tight race to win an MLB starting job. 
He's the underdog in the race from a maturity standpoint as he only reached Double-A last year, while Turner made it briefly to the show.  But from a statistical standpoint, Smyly has, by far, the more eye popping stats of the two.  Few hurlers can rival what Smyly accomplished last season. In seven starts at Double-A Erie, Smyly held batters to a .201 average against over 45.2 innings. 
With 15 walks, 53 strikeouts (Smyly recorded eight or more strikeouts in four of his seven starts) and an ERA of 1.18, the 22-year-old Smyly excited Tigers fans. This renewed hope that the home team's future will remain bright for some time, as no one expected Drew's name to be mentioned with Turner's, never mind Verlander's. 
He has a four-pich arsenal—a plus fastball, a plus cutter, an average curve and a changeup thats raw but has deceptive downward movement. He throws a lot of strikes and has always been considered in an Alex White mold, (lots of pitch command and pitching knowledge, but lacking in the ablity to overpower).  But he gets outs by keeping hitters off-balance by changing speeds despite not throwing the ball exceptionally hard.
3) Other Contenders:  Casey Crosby seems to be the only other viable candidate (He's the Newt Gingrich/Ron Paul of the three).  Although he is MLB.com's fifth-ranked Tigers prospect, he's already endured Tommy John surgery.  His stats are weak in comparison to the two front runners, as he posted a 4.10 ERA at Erie last year while owning a modest 1.33 strikeout-to-walk ratio.
Fantasy Value:
While Jacob Turner gets far more press than Drew Smyly, it's ironic that Smyly, not considered the fire-baller of the two, but a control specialist, had more strikeouts per inning than the partially over-hyped Turner did last year.  (Turner averaged .83 strikeouts per inning while Smyly averaged 1.03, but note Smyly did it at lower levels.)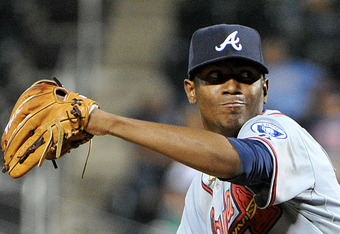 Christopher Pasatieri/Getty Images
Still, Turner has never shown that he is as dominant as fans were made out to believe.
Should I Draft Jacob Turner?   Only if you're deciding to draft both him and Smyly, and plan on keeping or starting the one who makes the team.
Should I draft Drew Smyly?  Yes, but we can't imagine him not being on the board still with your last pick, unless you're league allows 40-man rosters.  Take him late.
The Team: Atlanta Braves
Up for grabs: The final two spots in the rotation.
The contenders:
1) Julio Teheran: Teheran, quite simply, has put up the most eye-popping numbers per start, on a consistent basis for the last two years, than any other pitching prospect, Matt Moore included.  Teheran, who started 2010 in the Low A Sally League, finished his 2011 campaign looking like a future top of the rotation ace while dominating Triple-A hitters at the tender age of 20. 
Scouts love everything about him, as he's been one of the top three pitching prospects in the game for two years almost unanimously.  Last year, he recorded a 15-3 record, a 2.55 ERA and had a decent, but not overwhelming 122 strikeouts in 144 2/3 innings. He gave up just five dingers. 
He undoubtedly has three plus pitches.  A plus fastball that seemingly gets better every year, he's been adding more movement and more velocity to it, presently rendering it a virtually unhittable pitch, as he can hit the high 90s on the gun and has great control.  He has a plus plus changeup that literally falls off the table, and a average to plus curve that he is still working on.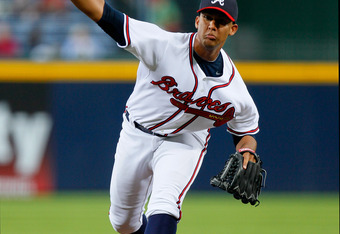 Kevin C. Cox/Getty Images
Surprisingly, his MLB starts have been unimpressive, but they have also been few.  Teheran will be 21 throughout the upcoming year, so that may make him the underdog by default for being younger than his teammates.
2) Randall Delgado: The 22-year-old Delgado has always been in Teheran's shadow, despite being signed at 16.  He has a plus plus breaking ball, but his fastball (which sits around 91-92 mph) and his change-up have proven to be solid, but he has a difficult time commanding both. 
His lifetime ERA in the minors is about a whole point higher than Teheran's, and his strikeout-to-walk ratio has not been nearly as dominant. 
The funny thing about Delgado is that various Braves scouts I have talked to over the years say Delgado has that intangible "It factor" that makes him a more intriguing prospect than can be measured by pitting his numbers against Teheran's.
3) Mike Minor: Minor, who has surprisingly been unable to match his MLB debut performance where he tied a Braves record for strikeouts by a rookie pitcher in their first MLB appearance, as he struck out 12 over five innings in 2010, has loads of upside, as Minor, a 6'2" lefty with a smooth delivery and a rocket arm, dominated various levels of the minors ever since he was drafted in 2009, and at times resembled Matt Moore with his lights-out, strikeout heavy performances. 
His transition to the majors (mostly for spot starts) has been rocky; to the tune of opponents hitting over .280 against him, and some premature cocky comments this spring have hurt him: "If they don't have room for me here, then there's no reason they shouldn't trade me or just do something with me." This only added to Braves fans' uneasiness with the prospect.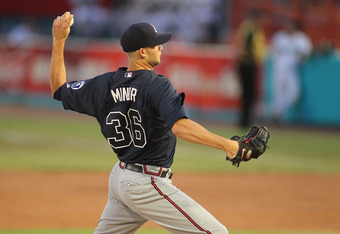 Marc Serota/Getty Images
Still, early returns are more than favorable, as in two starts Minor has been virtually untouchable, as he allowed three hits in three scoreless innings against the Baltimore Orioles Thursday, March 8, while walking two and striking out none. And this is following a three-strikeout, one-hit debut in two innings just five days before.
Fantasy Value:
Should I draft Julio Teheran?  Yes. Whether he breaks camp with a roster spot is not the issue; stashing him in long-term keeper leagues is.
Should I draft Randall Delgado?  Probably Not.  But keep an eye on his first few spots, as his intangibles keep him an intriguing option.
Should I draft Mike Minor?  I like to compare him to Mat Latos, both in skills and personality.  Minor has yet to put all the pieces together, so I'd have to lean towards not drafting him. Although of the three pitchers, he may have the highest upside just based on how the other two have over-performed, Minor has under-performed.
This might be the year he puts it together.
The Team: Washington Nationals
Up for grabs: No position open, per se, but Bryce Harper has an outside chance to make the team
The contender: Bryce Harper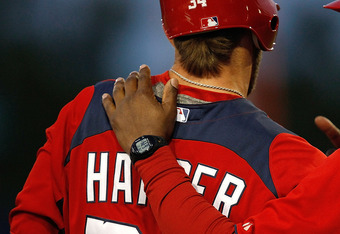 Sarah Glenn/Getty Images
He didn't turn 19 until after the season ended, and at age 18, he was the youngest position player in all of Double-A.  The first overall pick in the 2010 draft, Harper has plus plus power, yet still swings with reckless abandon.  He runs the bases hard and has plus speed (26 steals last year), but still needs to refine his baserunning. 
His speed has been on display so far this Spring:  Harper hit a routine grounder to third base Monday, March 5, and beat it out. He was facing New York Mets lefty Daniel Herrera, who throws particularly soft, and Harper said he used a swing that got him out of the box quickly like Ichiro Suzuki.
"I just tried to Ichiro it," Harper told the Washington Post. "I just tried to put the bat on the ball. That happened, and I just started running." 
This type of bravado rubs some the wrong way (He blew a kiss to a pitcher he had went deep off last year when rounding the bases).  He's a classic hit-or-miss power phenom that very well may not pan out to what seems to be incredibly lofty expectations.
Fantasy Value
Should I Draft Bryce Harper?  The upside is certainly there, but most likely you will have to use an early pick to snag Harper. At this point, the hype clearly is exceeding what the kid can do.  I don't believe he will make the team, as his lack of maturity won't gel with manager Davey Johnson's blue collar style. 
Will he be great?  It's hard to tell.  But let someone else take that chance, as there are plenty of picks that make more sense than reaching for a raw Harper.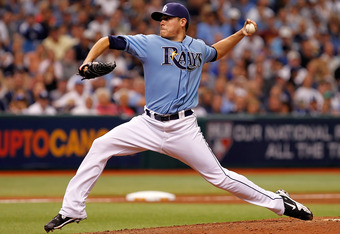 J. Meric/Getty Images
Notes:
Ryan Lavarnway (BOS, C) is rumored to be headed to Triple-A Pawtucket to start the season.  But with just Jarrod Saltalamacchia and Kelly Shoppach ahead of him, the sweet swinging Red Sox youngster may end up being one of the better all around Fantasy catchers in the game
Mike Trout (OF, LAA) will battle Peter Bourjos for a roster spot, but like Harper, you will probably have to use a mid round pick to get a guy who, for a top prospect, is only a lock to swipe a ton of bases.
Matt Moore (TAM, P) is headed to Triple-A, but we think he IS worth taking a flyer on.  His coming out party was a dominant start in last year's playoffs; the best is yet to come for this two-time minor league strikeout leader.
Brad Peacock and Jarrod Parker are neck and neck for Arizona's fifth starter job, but neither has No. 1 starter potential.  The safer bet among the two is definitely Peacock, who has exceeded any and all expectations his whole career, while the opposite can be said for Parker.
Jurickson Profar, the young shortstop from Texas, and Nolan Arenado from Colorado are both unlikely to make the MLB roster out of camp. But the toolsy Profar and the AFL MVP Arenado are our two favorite youngsters to stash in deep keeper leagues.
Thanks for checking out my first entry at BR, and keep checking back often for information you won't find anywhere else!