Nikola 'Niki' Pilic: A Name That Every Tennis Enthusiast Should Know
March 8, 2012

It was in the winter of 2007 when I found myself standing outside of a real tennis academy. At the time, I didn't have much of a game to speak of, but when my parents and I heard about an academy in Münich, Germany, curiosity got the better of us.
When I walked through the double glass doors into the tennis complex, it wasn't hard to tell that tennis players lived there. Near the entrance was a bulletin board that kept updates of Novak Djokovic's tournament wins and losses, along with upcoming tournaments regarding the ATP and WTA tours.
I walked down a few steps and peered through a clear glass door that opened to the indoor hard courts on the right side of the building. There I saw an older man that was feeding balls from the service line to a young girl on the other side of the net at the baseline. She was running left and right consistently over and over again.
I slowly opened the door and took a seat on the bench near the court and watched the lesson. I wasn't watching the girl anymore now; I was watching the man that was feeding the balls. I knew it was Niki Pilic the second I saw him. He was 68 years young at the time, but was in terrific shape. He had a sense of flamboyancy in the way he carried himself. When he spoke, the words were soft and gentle, like a warm towel fresh from the dryer. I liked him straightaway. I knew that this man was special.
Let's take a trip down memory lane to see just how important Niki Pilic has been to tennis:
Nikola "Niki" Pilic was born on Aug. 29, 1939 in Split, Croatia (at that time, it was known as Yugoslavia). Niki actually started playing tennis at a late age, and by total accident. He swapped his own bicycle for his friend's tennis racket. From then on, he knew what he wanted to be—a professional tennis player.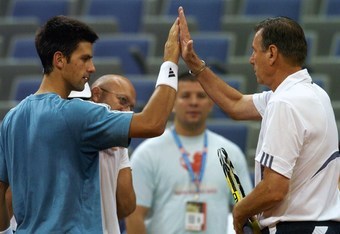 Niki loved telling stories about his younger days when he used to play all day long. He said that when he came home at night, his knees would be bloody, along with his fingers, from playing so much and so hard. He loved it. He couldn't get enough of it.
As tennis started to pick up steam, he played as an amateur. At that time, the ATP tour was nonexistent. Niki was actually part of "The Handsome Eight" (which was very well-named), which was the first professional league. The other founders of "The Handsome Eight," were Rod Laver, Cliff Drysdale, John Newcome, Rober Taylor, Dennis Ralston, Pierre Barth (?) and Butch Buchholz.
Niki reached his highest ranking in the WTC League, which was the predecessor of the ATP Tour, was No. 4. Niki found himself centralized in the famous Wimbledon-Boycott of 1973. The Yugoslav Tennis Federation had accused Niki of refusing to play in a Davis Cup tie for his country. Niki denied the accusation, but the federation suspended him, and the ILTF (International Tennis Federation) held up the suspension by not allowing him to play in any major tournaments.
Eighty-one of his fellow ATP players stood in support for Niki by boycotting Wimbledon, which included 12 of the 16 seeds in the tournament. This created the now ATP Tour, which Niki was also a founding member of.
Niki is also known as "The Davis Cup Man." He takes pride in the Davis Cup, which isn't hard to tell. He told me plenty of amazing stories of wild moments in the Davis Cup (no matter when or where). He said one of the craziest matches he had ever witnessed was the Boris Becker vs. John McEnroe with Germany vs America. He said the match lasted over six hours, and it was filled with high-intensity tennis.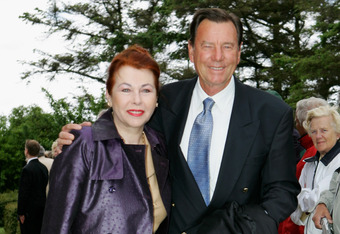 Andreas Rentz/Getty Images
The way he told the story made me feel like I had seen it for myself. Niki coached the German Davis Cup team from 1985-1997 and led them to victory in 1988, 1989 and 1993.
Then, Niki coached the Croatian Davis Cup team from 2000-2006 and also led them to victory in 2005.
Most recently, he was a consultant in 2010 for the Serbian Davis Cup team, which gave him a fifth victory.
Niki Pilic is the only person to have won the Davis Cup with three different nations, which gives him a total of five wins.
Boris Becker, Goran Ivanisevic and Michael Stich are some famous names that Niki has coached individually during the course of his career.
Niki Pilic's Tennis Academie in Germany was founded in 1997 and was put on the map when a "little-known" player called Novak Djokovic made his name on the ATP Tour. Niki has also coached Ernests Gulbis and Ivo Karlovic.
The times I have been to Niki's academy were some of the most memorable times of my life. Meeting the other coaches, students and (most of all) sitting, talking or just watching Niki himself. My favorite part was not just playing, but listening to Niki's stories and learning as he taught.
There was never a day when I did not see Niki out on the courts. No matter what time it was or what the weather was, Niki was out teaching his students no matter what. That showed his true love of the sport without having to know anymore about him. If we had more people like Niki in the sport of tennis, we would have a lot more better players on both sides of the tour.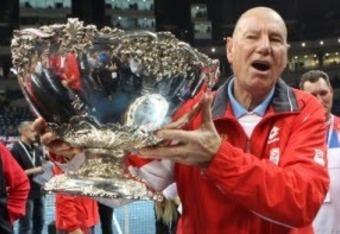 Niki has a true tennis mind. What I mean by that is that he knows exactly what his students are going to do the second they take the racket back. He knows why they missed the shot, what they should have done and whether it was a smart play or not. He has an uncanny ability to know how his students feel, whether in a practice match or just doing drills.
I remember when one of his Russian students went to hit a slice, and it resulted in the ball diving into the net. Niki slowly shook his head and said, "No feeling. You have to feel the ball. You can't just hit it. You have to feel!"
I had the benefit of hearing every word uttered by the mastermind.
He's a trickster at heart as well. At one lesson, some of the boys in his class wanted to take Niki on at mini-tennis (where you play within the service boxes, but not allowed to hit any hard balls). Niki laughed and said, "Alright, alright. But I haven't lost to a game of mini-tennis in 50 years. You are in for it."
It was comical, yet eye-stunning, as he would gently manipulate the ball into doing anything he wanted. Niki has the softest hands I have ever seen in tennis. It literally looked as though he was softly grabbing the ball and "throwing" it back over the net. And still, to this day, he has not been defeated.
I wish that more people knew about Niki Pilic. There are so many words to describe the man, but all I can say is that I love him and I wish I could spend every single day on the tennis court with him, whether it was actually playing or watching. He should never be forgotten by any tennis enthusiast, and he should be more acknowledged as one of the greatest tennis masterminds.
All I can say, in conclusion, I am counting the days when I can return to the academy. Of everything I miss, I miss Niki Pilic the most.