West Point Black Knights Visit "Big Army" with Spring Game at Fort Benning
March 9, 2012

The Army Black Knights take their spring game to Fort Benning, Georgia on Friday for a day that will simulate a road game, visit a major US Army base and also model all the visibility that surrounds West Point football.
A capacity crowd of approximately 7,500 is expected at "Doughboy Stadium," built in the 1920s to honor World War I veterans.  After winning all of its road games at campus sites with a veteran-loaded team in 2010, Army lost all of its road games in 2011 with a young team.  So this will be a chance for coach Ellerson to simulate the travel drill by taking the team on the road for their spring game.
The biggest opportunity of the trip is to expose the players to one of the largest Army bases in the country.  It will be a learning experience for the players about what the Army will be like for them when they graduate and commission to second lieutenants.  They will visit an Army museum and see a bit of what they call the "Big Army."  It will, of course, be a nice chance for the soldiers at the base and their families to see the Army team.
After last Saturday's practice I had a chance to speak with West Point head coach Rich Ellerson about spring practice and about the team's trip to Fort Benning in Georgia for their spring game:
"This game has become a bit of a show, we are going to play a game, that is problematic as you come down to the end of spring football, with a little bit of sprains and nicks and strains that are going to limit us somewhat.   My intent was to give our guys that exposure, let them get around soldiers, let them get to a great post like Fort Benning, let them experience the Infantry Museum.  It will be a brief snap shot, but a snap shot of the "Big Army", which some of our younger players, they have not had that experience".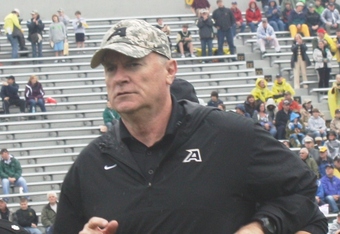 The Coach went on to explained what the format of the spring game will be:
"The game has become something that I would not otherwise do. I might have an offense versus defense or a ones versus the twos.  As it is one team representing the armor branch-school, the other the infantry school.  It is going to be a fair fight fight, they are going to wear a jersey with pride, and be responsible to a bunch of soldiers sitting behind their bench.  so it is going to be exciting.  They will feel some pressure, they are going to feel some excitement".  
The visit is a morale building event for the base residents both soldiers and their families.  Fort Benning is the kind of place where they hold competitions among tank crews.  The base commander is Major General Robert B. Brown, a United States Military Academy graduate from 1981. 
West Point comments indicate that several other senior leaders of the Army might be on hand.  I have learned from covering the team that you never know who you will meet on the Army sideline. 
For the spring game, the West Point players will divide into two teams each wearing special jerseys representing the Infantry and the Armor branches of the Army.  They will play more of a real game than we have seen at recent West Point spring games in recent years with four, ten minute quarters being played.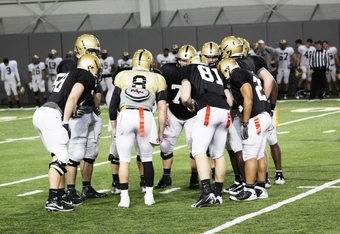 Players to watch start with the quarterbacks, junior Trent Steelman and freshman Angel Santiago. 
Steelman has been the starting quarterback for the Black Knights since the first game of his freshman year.  Injuries against Vanderbilt and Temple limited his playing time the latter part of last season.  Steelman came back to play well against the Navy, running for a touchdown and throwing for another.  Needless to say, he is anxious for a solid season with another last shot at Navy in December.    
Santiago, from California, is the heir apparent who fits the option offense well.  In practice last Saturday he ran twice for touchdowns.  Simply, he is a fast runner with the ball.  He continues to work on his technique with his pitches and passes.
Freshman Larry Dixon has continued to impress at fullback, as has junior slot-back Kelechi Odocha.  Of course team rushing leader junior Raymond Maples will be a tune-up.  I did not see junior Jared Hassin scrimmaging last week, but if he plays Friday watch to see if he has recovered the acceleration which marked his terrific play in his sophomore year at Army in 2010.
Preventing turnovers, especially fumbles, on offense is crucial to coach Ellerson. He was pleased in how the offense was holding on to the ball at the practice: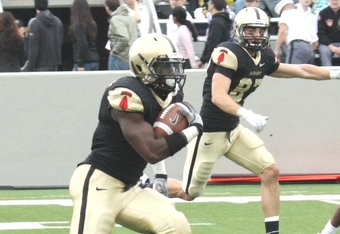 "You watch that, however many plays that was, with ZERO balls on the ground. That is so important for us offensively, what ever else happened, no matter who was out there, which ever way they went,  good play or bad play, left or right, we kept the ball off the ground. If we will do that, if will are fanatical about the football, we are hard to beat."
Army football followers will watch to see the offense has new looks dreamed up by offensive coordinator Ian Shields.  With a veteran cast watch for a bit more passing.
On defense, watch for the play of the defensive line, the team's weakest area last year when junior AJ Mackey at nose guard held the line together amid injuries.  Coach Ellerson complemented the play in spring practice of several young players, including 270-pound freshman Richard Glover.   
"I am pleased with the progress made there, we have Bobby Kough back out there, so we have been been able to move Holt Zalneratis out to defensive end where he belongs, so the end position is a little better.  We have (soph) Bobby Kough, (fr.) Mike Ugenyhi, and Richard Glover all doing a really nice job inside, those are the top three guys right now, with some young talent on the way.  All in all that has been a positive in terms of how I see the team being dramatically different."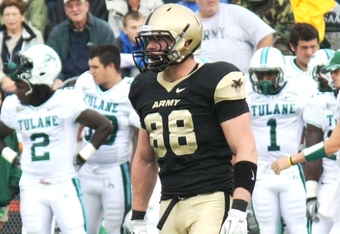 Throughout 2011, Coach Ellerson talked about the backfield having to make too many tackles, so it is a key for Army to stop more plays upfront.
Senior linebacker Steve Erzinger played just about every down of 2011 so it will be hard to replace him for next year.  The coach mentioned the play of freshman Geoffrey Bacon, who was third in tackles on the team last season.  The defensive backfield will be built around senior Josh Jackson at corner and sophomore Thomas Hollaway, the No. 2 tackler in 2011 at a safety position.
It should be a festive day at Fort Benning Friday with the game starting at 2 PM.  The West Point website will be providing an audio play-by-play provided by Rich DeMarco on www.goarmysports.com.  
Quotes were obtained exclusively for this article and Sons of the American Legion Radio.
Ken Kraetzer covers West Point football and Iona basketball for WVOX 1460 AM in New Rochelle, NY and Sons of the American Legion Radio.  His Twitter address is @SAL50NYRadio.