Big East Tournament 2012: Napier, Lamb Lead UConn to OT Win over West Virginia
March 7, 2012

Ronald Martinez/Getty Images
The UConn Huskies refuse to give up. They have two wins down and three to go to do the improbable again.
The Huskies had a remarkable run last year, starting in the Big East Tournament. Is another Big East and NCAA tournament run in store for UConn?
It looked like the Huskies' magic might run out late in this game. The game changed, however, when West Virginia's Darryl Bryant missed an unwarranted three-point shot with 4:21 remaining and a 61-52 Mountaineers lead. The miss led to Deniz Kilicli fouling out.
After trailing by as many as 11 points to the West Virginia Mountaineers in the second half, UConn had a newfound energy. They were led by Shabazz Napier, who stepped up to help the Huskies to a 71-67 victory.
He connected on huge three-pointers and two great steals that ignited Madison Square Garden.
With the last possession in regulation, he missed the shot to send the game to overtime.
Napier started the overtime strong, but fouled out with 2:35 remaining. His fourth foul was a controversial offensive foul that made coach Jim Calhoun irate.
After Napier fouled out, West Virgina hit two free throws, tying the game at 67.
Jeremy Lamb took over the game, grabbing two rebounds with under 1:30 remaining and nailing a dagger three-point shot with 1:09 left to give the Huskies a 70-67 lead.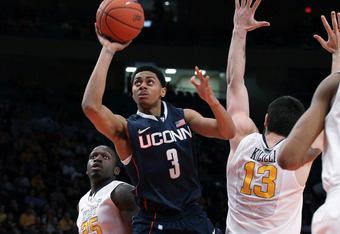 Jim McIsaac/Getty Images
The Huskies held on to win the game, despite four straight missed free throws by Ryan Boatright in the final 34 seconds.
UConn might not have Kemba Walker this year, but the combination of Lamb and Napier is a formidable alternative. Napier brings the energy that Walker had, and Lamb brings the poise that calms the team down—even when they find themselves behind.
UConn will face the 30-1 Syracuse Orange on Thursday at noon at MSG. The Huskies played Syracuse close on Feb. 25, but lost, 71-69, when UConn missed a last-second shot.
UConn has all the momentum, and the Garden will be rocking on Thursday. 
Napier finished the game with 26 points, six assists, four rebounds, three steals and three blocks.
Lamb finished with 22 points and eight rebounds.