Selection Sunday 2012: Projecting the Field of 68 Teams
March 7, 2012
Joe Robbins/Getty Images
The day college basketball teams and fans around the country have been waiting all winter for is almost here. That's right, Selection Sunday is just days away. It's a chance for 68 lucky programs to find out their first matchup in one of the year's largest sporting events.
So, which teams will be participating in the 2012 NCAA tournament? Let's examine the potential field. But first, a look at what every team is playing for:
No. 1 Seeds: Kentucky, Syracuse, Kansas, North Carolina
Kentucky deserves the top overall seed after a dominating season led by Anthony Davis. Syracuse lacks marquee wins, but you can't argue with 30-1 in the Big East. Kansas will need to overcome recent tournament disappointments. Harrison Barnes leads UNC into the final top spot.
No. 2 Seeds: Ohio State, Michigan State, Duke, Missouri
Ohio State has three players averaging more than 15 points, making the Buckeyes a tough matchup. Tom Izzo always has Michigan State ready to peak in the tournament. Duke's defense is a concern, but not enough to knock them lower. Missouri is flying under the radar despite a couple of key victories.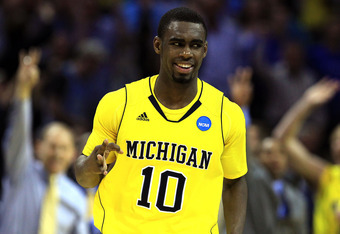 Streeter Lecka/Getty Images
No. 3 Seeds: Michigan, Baylor, Marquette, Indiana
Michigan has one of the best backcourt duos in all of America with Trey Burke and Tim Hardaway Jr. Baylor has matured since last season's March Madness disappointment. Marquette is a sleeper contender for the Final Four. Indiana is finally returning to prominence.
No. 4 Seeds: Georgetown, Wisconsin, Wichita State, Temple
Georgetown is another team fighting recent tourney demons. Wisconsin's slow pace tends to frustrate overzealous opponents. Wichita State is the nation's top mid-major team. Temple won 13 of its last 14 games down the stretch.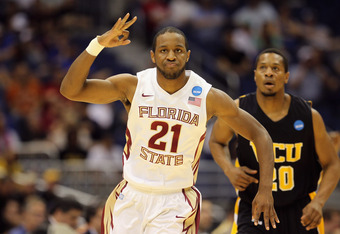 Jamie Squire/Getty Images
No. 5 Seeds: UNLV, Florida State, Florida, Louisville
UNLV handed North Carolina its first loss of the season. Florida State has once again rode its defense to a terrific campaign. The Seminoles' rivals from Florida had a late slide that dropped them to a No. 5 seed. Louisville only has one bad loss on its résumé.
No. 6 Seeds: Murray State, Vanderbilt, Creighton, Gonzaga
Murray State will be a popular pick for this season's Cinderella team. Vanderbilt had a solid season despite wasting several chances against elite teams. Creighton's Doug McDermott will be one of the players casual fans should tune in to watch. Gonzaga remains an elite mid-major program.
No. 7 Seeds: Notre Dame, San Diego State, New Mexico, Iowa State
A couple of late losses isn't enough to bump Notre Dame down any further than this. San Diego State is safe even if it slips up in the conference tournament. An underrated New Mexico squad will be an intriguing underdog. Iowa State is quietly having a strong season.
No. 8 Seeds: Memphis, Kansas State, St. Mary's, Purdue
Memphis continues to dominate Conference USA. Kansas State is the forgotten Big 12 team, but Rodney McGruder makes them a threat. St. Mary's won its conference tournament to slide into the top half. While Purdue has endured some turmoil, the Boilermakers can't be taken lightly.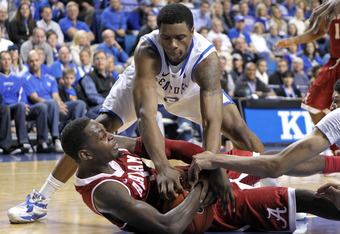 Andy Lyons/Getty Images
No. 9 Seeds: Cincinnati, Alabama, St. Louis, Virginia
Cincinnati will benefit from a strong Big East. Alabama won't be able to match its football title, but being in the tournament is still a nice accomplishment. St. Louis' record is gaudy, but the team didn't beat any ranked teams. Virginia appears to be safely in despite a few late losses.
No. 10 Seeds: West Virginia, Southern Mississippi, Harvard, California
West Virginia could fall onto the bubble with a poor showing at the Garden. Southern Miss' midseason run will be enough to secure a bid. Harvard finally ends an extended March Madness drought by winning the Ivy League. California's strong Pac-12 season will get the Golden Bears in.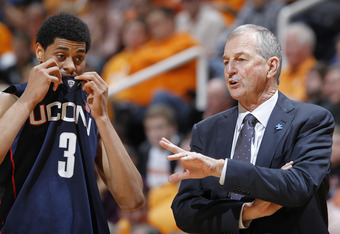 Joe Robbins/Getty Images
No. 11 Seeds: Connecticut, Colorado State, Washington, BYU
UConn would benefit from another deep Big East run to ensure the team's spot. A late win over UNLV really helped Colorado State. Washington won the Pac-12 regular season title. Jimmer Fredette is gone, but BYU still has a solid team.
No. 12 Seeds: Seton Hall, Mississippi State, Texas, Northwestern, Xavier
Seton Hall deserves a spot after several years in the Big East basement. Mississippi State's 13-1 start was strong enough to survive late struggles. Texas will be one of the most discussed bubble teams, but should get in. Northwestern finally ends its drought. Xavier will be a sleeper if it gets in.
No. 13 Seeds: VCU, South Florida, Nevada, Long Beach State, South Dakota State
Last year's Cinderella, VCU, has earned another trip by winning the Colonial. South Florida claims the final at-large bid over Drexel. Nevada and Long Beach State are favorites in their respective conference tournaments. South Dakota State has already punched its ticket.
No. 14 Seeds: Buffalo, Belmont, Davidson, Loyola (Md.)
Buffalo has the pieces to knock off Akron in the always-competitive Mid-American Conference. Belmont, Davidson and Loyola have already claimed automatic berths.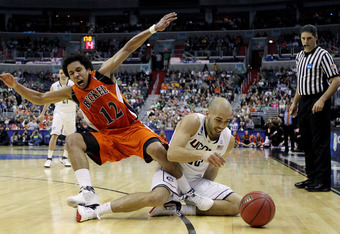 Nick Laham/Getty Images
No. 15 Seeds: Detroit, Montana, Bucknell, Stephen F. Austin
Detroit was able to upset Valparaiso to cap off a surprising Horizon tourney run. Montana remains the favorite to emerge from the Big Sky. I expect Bucknell and Stephen F. Austin to claim automatic bids as well.
No. 16 Seeds: Western Kentucky, UNC Asheville, LIU Brooklyn, Mississippi Valley State, Norfolk State, Vermont
Western Kentucky and UNC Asheville have both punched tickets already. I expect LIU Brooklyn (NEC), Mississippi Valley State (SWAC), Norfolk State (MEAC) and Vermont (America East) to round out the field of 68.