Fairfield Stags Upset Iona Gaels 85-75 at MAAC Semis
March 4, 2012

The Fairfield Stags (19-13) went on a 16-1 second-half run to defeat the Metro Atlantic Athletic Conference regular season champion Iona Gaels (25-7) by a score of 85-75 in Springfield, Massachusetts. 
The Stags advance to the Metro Atlantic Conference final Monday night and will play Loyola a 70-60 victor over Siena in the doubleheader second game for the coveted NCAA bid. 
Rakim Sanders led Fairfield with 26 points including a momentum-changing move to the basket between two Iona defenders with 9:42 left in the game.  This followed a Jamel Fields three that ignited the rally.  Sanders contributed seven straight points on a layup, jumper and three to advance Fairfield to a 70-61 lead.
Both Colin Nickerson and Keith Mathews had 14 points, and Ryan Olander had 11 points for Fairfield.  
Sanders added 12 rebounds as Fairfield out-rebounded Iona 32-20.  The Stags also had a big edge in assists 27-15.
Fairfield was playing without Derek Needham who broke a bone in his foot against Iona in New Rochelle last week. 
Iona Coach Tim Cluess credited the Fairfield bench led by Matthews outscoring Iona's bench 19-12.
Fairfield got a second wind in the second half when Iona did not.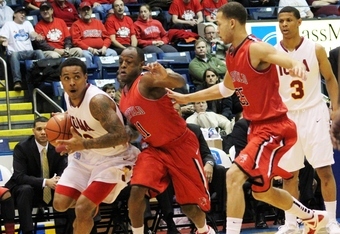 Iona was led by the 24 points and seven assists of MAAC Player of the Year Scott Machado, including four first-half threes.  Mike Glover had 19 points and eight rebounds.  Momo Jones had a number of moves to the basket but only took one three, which he missed—finishing with 16 points.
After shooting 59 percent in the first half, Iona was held to 41 percent shooting in the second.  Fairfield shot well throughout—59.6 percent on the day. 
Early on hot three-point shooting for both teams picked up the pace of game and Scott Machado hit four threes in first half and had 14 points. Colin Nickerson hit consecutive threes and then a two to give Stags a 29-27 lead. After a Machado three, Keith Mathews hit a layup to give Fairfield a 31-30 lead with 4:54 left in the first half.
Not a lot of defense late in the first half as both teams ran the court and started to hit threes.  Fairifeild's Colin Nickerson hit consecutive threes then a two-pointer to give Fairfield a 29-27 lead.  Then Machado hit one of his four first-half threes. 
Back in for up and down the court.  A Keith Mathews layup gives Fairfeld a 31-30 lead.  Rakim Sanders hits for two, then Mike Glover dunked for two, followed by Nickerson hitting another three.  Ra'Shad James comes in for Iona and hits a jumper and a three for five quick Iona points—they trail by one 38-37.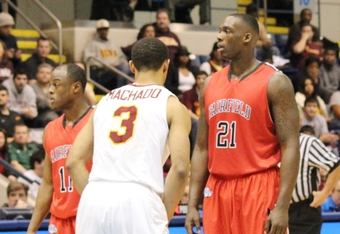 Gaels Sean Armand comes in and hits a three, Fairfield comes back and ties, then Scott Machado hits a two to give Gaels 42-40 lead at the half.
Machado had quite a first half with 16 points and five assists.  Mike Glover had eight points and Momo Jones six.  Stags out-rebounded Iona 15-8 in half but had seven turnovers compared with Gaels two.
For Fairfield, Colin Nickerson had 13 points and Rakim Sanders had 11. 
Both teams shot well, Iona 61 percent and Fairfield 58 percent in the first half.
In the second half, a Mike Glover dunk followed by a Scott Machado layup gave the Gaels a 56-50 lead with 13:15 left.
Rakim Sanders beat an Iona double-team under the basket to get the Stags back with in one at 61-60.  Colin Nickerson hits a jumper with 8:15 left to give Stags the lead at 61-60. 
Fairfield goes on a 10-point run punctuated by a Rakim Sanders three-point jumper. Stags go up 70-61 with 5:47 left. Sanders had 21 points at this point. Gaels were ice cold.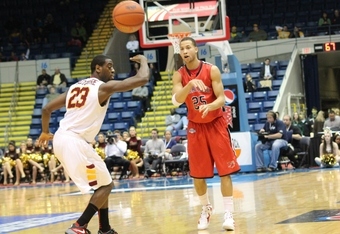 After an injury time out, Momo Jones gets Iona back into game with two layups. Iona trails 72-66 with 3:44 left.
Machado gets his fourth foul on an inbound play with just over two minutes to go.  Fairfield leads 76-67.
Mike Glover misses two free throws.  Fairfield leads on rebounds 28-16. Fairfield is now shooting 59 percent on the game.
Momo Jones gets another layup, Gaels trail by seven at 76-69 with 1:37 left. Jones has 16 points.
But it was not enough, Iona could not beat Fairfield three times in a season—the Stags hold on to the win 85-75.
For the Gaels who had one of their best regular seasons ever, it's a wait-and-see if the NCAA considers them for an at large bid, rarely given to a mid-major program.  Coach Clues thought afterwards that the tough nine-game road trip they played through December (winning seven including games at Denver, Richmond and Vermont) should be a factor.
Otherwise, the Gaels are looking at an opportunity in the NIT.  The success Iona had in reaching the CIT championship game suggests they have a shot to make it through three rounds to Madison Square Garden.
Nothing right now will make the Iona seniors (especially Scott Machado and Mike Glover) feel better. Making the NCAA tournament is every college basketball player's ultimate dream, and that is unlikely to happen for them. 
Ken Kraetzer covers Iona basketball for WVOX 1460 AM in New Rochelle, NY and Sons of the American Legion radio.  His Twitter address is @SAL50NYRadio.