Juventus and Chievo Draw 1-1 in Mistake Filled Match, Mirko Vucinic Flounders
March 3, 2012

Claudio Villa/Getty Images
Earlier today, A.C. Milan crushed Palermo 4-0. Zlatan Ibrahimovic, returning to Serie A play after a three-match suspension, scored a hat trick before the first half ended. With such a triumphant victory, A.C. Milan had laid out a challenge for their rivals Juventus: If you want to compete with us for the Scudetto, you must defeat the minnows of the league.
The challenge was, incidentally, one that Juventus has been mostly failing all season. The difference is that now, time is catching up on Juve. Milan are looking at a remaining schedule full of provincial sides, with a few exceptions. If there is not an upset somewhere, Juve will be hoping for either Fiorentina, Genoa or Inter to serve as stumbling blocks for Milan.
Today, Juventus once again failed that challenge. Though they took an initial 1-0 lead off of a Paolo De Ceglie header, they eventually gave up the equalizer. Of course, the equalizer may not have been such a problem if their offense was not hijacked by one Mirko Vucinic.
Vucinic has often self-destructed Juve's attacking motion this season. Although he has continually failed, coach Antonio Conte continues to field Vucinic in most of his starting lineups.
This is despite the availability of competent (and some might say, superior) strikers such as Fabio Quagliarella and Juve legend Alessandro Del Piero. Indeed, I recently wrote about Conte's ardent refusal to start Del Piero against provincial side for the JuveFC blog. Del Piero, creative and gifted with great touch, is the perfect antidote to Juve's troubles against the small sides.
We actually got to see that a little bit today. Del Piero came on in the 78th minute (of course not for Vucinic, who played a full, painful 90 minutes) and tried to use what little time he had to create something. He managed to make some smart, important passes in build-up play.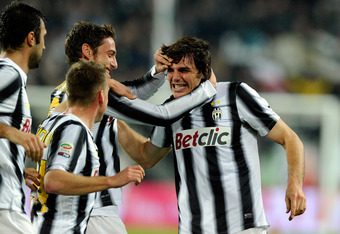 Claudio Villa/Getty Images
Still, nothing truly concrete came of it. It's tough to make an impact that late, especially when your teammates are giving away possessions by sending the ball out of bounds.
Juventus actually made many stupid mistakes like that. It was not uncommon to see a Juve player (and oftentimes a Chievo Verona player) sending the ball out of bounds or using too much touch to control a ball, thus giving away possession.
Fortunately for Chievo, they have the ruthless Michael Bradley, who seized on many of Juve's more glaring errors. At one point, Bradley even transmitted a little message to Mirko Vucinic.
You see, one of Mirko's biggest faults today was his refusal to pass the ball. He would get possession, take the ball into Chievo's final third and, regardless of whether or not he had any available teammates, he would either take the shot or get dispossessed. This is part of the reason why he was dispossessed 12 (not a typo) times today.
Anyway, at one point Mirko and Alessandro Matri were launching a counterattack against Chievo. They were outnumbered by a few, but it still looked somewhat promising. Mirko had the ball, and he was the one who took it down field. As he got closer and closer to the 18-yard box, a pass to Matri became more and more urgent. Instead, Mirko trucked on with the ball.
He trucked on all the way until he was dispossessed by a brilliant tackle from Michael Bradley.
As a big supporter of the US national team (being a proud patriot and all), I was sort of glad that Vucinic was being punished for his stupidity and greed by the one and only Mike Bradley.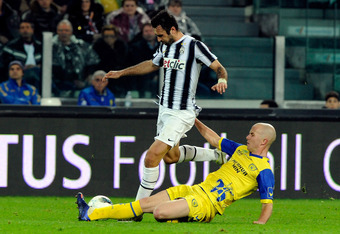 Claudio Villa/Getty Images
Still, I would have liked even better if that counterattack had turned into something fruitful.
Instead, the final goal of the match came for Chievo. Chievo had been attacking Juve's 18-yard box, and the ball had ended up rolling out slowly in the direction opposite of goal.
It was the type of ball that's perfect for a player to swoop in on and crush into the net for a goal. That's exactly what Chievo's Boukary Drame did, sending the ball past Buffon and (though it was already going into the net) deflecting off of Leonardo Bonucci in for a goal.
Some have blamed Bonucci for the goal, but there was really not much he could have done. First off, had he not been there, it would have still been a goal.
Secondly, even if he had had time to clear it (which is not a sure thing, the ball was coming in fast), the clearance would have had to come off of a volley, and it's hard to definitely clear a ball off of a volley.
Before that ill-fated goal, Bonucci's performance would have perhaps been remembered in a more positive light. His two other notable plays of the day, both coming in the same span of a few minutes towards the end of the first half, were quite positive.
The first positive play was a very nice tackle that helped disrupt a Chievo attacking movement. Then, right after that, Bonucci had a magnificent long ball from the halfway line all the way to Chievo's 18-yard box.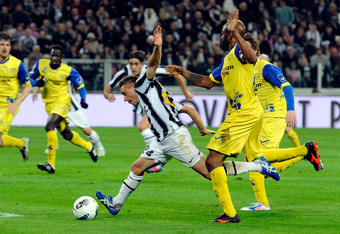 Claudio Villa/Getty Images
Simply put, the pass was Pirloesque.
The recipient of the pass was Emanuele Giaccherini, and he certainly did well to receive the pass. His finishing though was not as nice. He just sort of shanked the ball to the left, although he did seemingly try to recreate Robin Van Persie's goal from yesterday's Liverpool-Arsenal match.
Of course, Juventus very well might have equalized had it not been for Chievo's goal keeper Stefano Sorrentino. Sorrentino continually made fantastic saves. His most notable came late in the match, when Andrea Pirlo (who had a pretty tame game overall) had a nice, curling long range effort.
Had there been a lesser man between the posts, the ball may have gone in. But Stefano Sorrentino is no pushover, and he managed to tip the ball away. After the save, in a scene reminiscent of the ending from Star Trek II: The Wrath of Khan, I shouted his last name at the top of my lungs.
My shouts could not change anything. Time kept going on, and Juventus failed to find a second goal to put them on top. Antonio Conte needs to shake up his player selection going into the midweek make up match against Bologna.
Even if Juventus win, they will be tied in first with A.C. Milan. They win the tiebreaker, but Milan also have a much easier remaining fixture list than Juventus. Of course, Milan also have Champions League action, which will drain their best players. Still, judging by recent form, Milan are looking like strong Scudetto favorites.
Juventus, on the other hand, are looking like a team that could draw every match for the rest of the season.
Praise Conte (reluctantly at this point) and Forza Juve.