New Orleans Saints Quarterback Drew Brees Stupid to Turn Down Mega-Contract
March 2, 2012

Jed Jacobsohn/Getty Images
It has been reported that prior to the 2011 NFL season, New Orleans Saints quarterback Drew Brees turned down an offer from the team to become the NFL's highest-paid player. These reports have led to questions concerning Brees' leadership and motives behind his contract negotiations.
We can also say that it was just flat out dumb for Brees to turn down that contract offer.
First of all, we can look at it from a strictly financial standpoint.
Brees was offered a contract that would have made him the highest-paid player in the NFL. Most players who are offered that type of deal take it immediately. However, for whatever reason, Brees decided to turn it down and play through the 2011 season before picking contract talks back up again.
Other reports have stated that Saints general manager Mickley Loomis has referred to Brees as only a "very good" quarterback instead of a great or elite one. However, if Loomis was willing to make Brees the highest-paid player in the league, then it is quite obvious that he thinks much more of his quarterback than league sources are making it out to be.
Brees is undoubtedly one of the best, if not the best, quarterbacks in the NFL.
Last year, he set a single-season record for passing yards with 5,476 and also broke his own NFL record for completion percentage in a season. Brees is also only 33 years old and will likely play in the league for at least four or five more years.
Sean Payton and the Saints' offense is built around Brees. The offense definitely needs him to achieve success. For those reasons, it makes sense that the Saints would offer Brees a huge contract a year before he hits the market.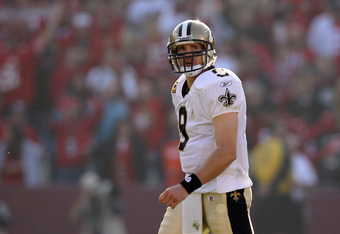 Ezra Shaw/Getty Images
There is no way that the Saints would let Brees walk out of New Orleans, and they surely want him to spend the rest of his career there.
So then why would Brees reject an offer before the 2011 season?
Let's just imagine that Brees took that deal at the beginning of last year. That means that he plays the 2011 season as a secured player, knowing that he will not become a free agent at the end of the year. It also eases some pressure on the Saints' front office. Loomis and company would have then had the entire season to think about re-signing players such as Nicks, Colston, Tracy Porter, Robert Meachem and others.
Loomis could have restructured the contracts of players like Will Smith and Jonathan Vilma during the season or directly after to clear some cap space.
The Saints could have then moved on to the big contracts of Nicks and Colston. They surely would have re-signed Nicks quickly and probably used the franchise tag on Colston, which would not have been a bad decision.
That would still have left a little cap space to either re-sign other Saints or bring in free agents who could help the team.
If Brees signs that deal at the beginning of the year, then the entire free agent situation is completely different for the Saints. Not to mention that Brees becomes the highest-paid player in the league. 
With the current situation, the Saints may have to use the franchise tag on Brees, which would upset the best player in Saints franchise history.
Tagging Brees would also leave the Saints with limited options in terms of re-signing Nicks, Colston and the other Saints free agents.
We also have to question what Brees and his agent expect in a new contract this offseason.
Loomis offered Brees the highest-paid contract in NFL history a year before Brees broke two NFL records by himself and led the Saints to one of the best offensive seasons in league history. Brees also helped the Saints to a playoff win at home and a very close loss in the NFC Divisional round.
It would not be surprising if Brees now expected more than he was going to get back then. In fact, that would be quite reasonable. However, the Saints also have to keep in mind that they have other players who need to be paid.
Brees is a player that has a reputation of being a very good team leader and helping out in the community. How is it going to look if he demands a contract that hinders the Saints from re-signing key components of their team?
At the end of the day, Brees deserves to be one of the highest paid players in the league, and the Saints need him to lead their team. However, he was going to get that last year, and declined the offer.
Not signing that mega deal at the start of last season was definitely one of Brees' worst decisions as a Saint. Let's hope that it doesn't come back to mess up everything the Saints have built the last six years.