Iona Gaels Basketball: Scott Machado Named MAAC Player of the Year
March 2, 2012

Iona point guard Scott Machado led the Gaels to the Metro Atlantic Athletic Conference regular season title. Now, he has been honored as the MAAC Men's Basketball Pepsi Max Player of the Year in a ceremony held in Springfield, Massachusetts on Thursday night. 
Machado was cited for leading the entire NCAA in assists at an average of 10.1 per game.  The Queens, New York native leads an Iona offense ranked first in Division One averaging 83.4 points per game.  Additionally, the senior averaged 13.1 points and five plus rebounds per game.  His shooting statistics were impressive at 47 percent from the field, 42 percent on threes and 85 percent on free throw shooting.
He remains a finalist for the Bob Cousy "Point Guard of the Year" Award and is one of the 30 players on the watch list for the Naismith Men's Basketball Player of the Year Award.
Accepting the award Machado spoke on MAAC TV with Rob Kennedy and Vin Parise:
"Feels good, a lot of hard work, thank all my teammates and my coaching staff. It just feels great". 
Asked about the hard work he did to get into shape, working on jump shot and playing in Brazil last summer:
"Biggest summer of my life, dedicated my life to strictly basketball, left the country just so that so I could just worry about basketball.  About all the distractions around it, I just put on the side and worked on my jump shot."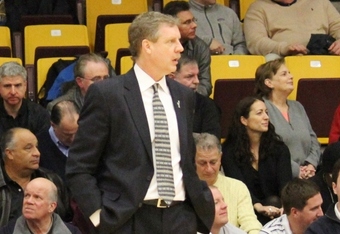 Asked if the attention of NBA scouts coming to his games had been a distraction:
"My teammates and coaches always talk about being humble, and always trying to improve yourself, I just did that and stayed humble."
About the benefit of playing in Coach Cluess's uptempo system:
"Very important, this is the style of play that I love playing in, it makes me happy, and I have a lot fun doing it.  When my teammates are knocking down shots, and finishing shots down the lane, it makes the game a lot easier for me.  I get to pass it around the court, and that is how we need to be."
Also named finalists for the Pepsi Max Player of the Year and All MAAC First Team were:  Rakim Sanders of Fairfield, Mike Glover of Iona, Erik Etherly of Loyola, George Beamon of Manhattan and O.D. Anosike of Siena.
Anosika was likely the biggest rival to Machado for the Award.  The Siena junior led the NCAA in Rebounding averaging 12.9 rebounds per game and in double-double performances with 22.
Fellow Iona senior Mike Glover was the preseason MAAC Player of the Year and had another solid year with 18.1 points per game and 9.1 rebounds.  Much of the year Glover faced double teams and defenses collapsing around him.  The 6'7" 215 pound Bronx native made 65 percent of his shots, third best in the NCAA, often from dunks and put backs.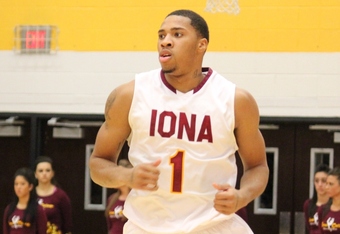 At the ceremony, Iona received its trophy as the MAAC Regular Season Champion.  Accepting the award, Coach Tim Cluess was asked by Kennedy and Parise about handling the high expectations for this team.
"Difficult thing to do, but it is something every team faces at some point.  Everyone is giving you their best shots.  Our guys did a great job of taking those shots and still ending up on top.  The team has exceeded some of my expectations but the league itself and coaches and other team in the league are tremendous so it is a great accomplishment."
About blending the talent on the team:
"I thought our players were great, they really care about each other both on and off the court so for them it came easy."
About instilling an up-tempo style and being successful:
"I thought they bought in right away.  The fact they had strong guards at Iona already before I got there, we added some people.  When you have good guards, especially New York-New Jersey guards who like to play up and down, it kind of lets them play at a natural pace, they bought in right away."
About preparing for the other nine teams in the MAAC Tournament: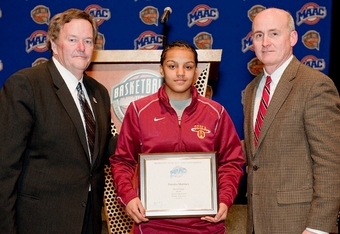 "We have to be ready for every team out there, because every team is really good. The coaches do a great job.  They are all going to play their best shot, no one wants to go home this time of year. If you are a player you step up."
Juan'Ya Green of Niagara was named the MAAC Men's Rookie of the Year.  The Philadelphia native scored 17.5 points per game, third overall in the league.  Green had double digit scoring in 27 games. 
Rhamel Brown of Manhattan was named MAAC Defensive Player of the Year.
Jimmy Patsos of Loyola was recognized as Coach of the Year for the Greyhounds who finished second in the MAAC with a 13-5 record.  Overall, the Greyhounds were 21-8 one of their best year 's since joining the MAAC.
On the women's side, Iona's Danika Martinez was named the MAAC Rookie of the year.  She was named four times as MAAC Rookie of the Week and led the MAAC in scoring with 16.1 points per game while averaging 4.9 rebounds.  She was voted onto the All-MAAC second team.  Teammate Alisha Powell who averaged 7.6 points per game and had 44 steals was also voted on to the MAAC all-rookie team.  Commented Martinez on the broadcast:  
"My coaches believed in me, I believed in me, so I came a long way."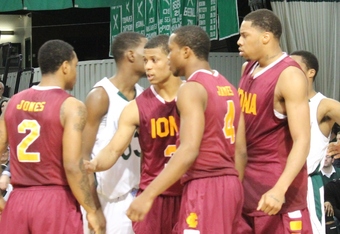 The Gaels will wait for Saturday afternoon when at 4 p.m. in Springfield, MA they will play the winner of Friday night's match-up between Marist and St. Peter's.  The winner of that game will face the Fairfield-Rider winner on Sunday at 2 p.m. On Monday at 7 p.m. two of these teams will play for the MAAC title and the all-important bid to the NCAA Tournament. 
It's Hard to describe how important winning the NCAA bid is to the players and coaches.
Ken Kraetzer is a Contributor for Bleacher Report. Unless otherwise noted, all quotes were obtained first-hand.
Ken Kraetzer covers Iona basketball for WVOX 1460 AM in New Rochelle and Sons of the American Legion Radio. His Twitter address is @SAL50NYRadio.