Penn State Football: Nittany Lions on Prowl for Quarterback Danny O'Brien?
March 2, 2012

Rob Carr/Getty Images
One of the most scrutinized transfers this college football offseason is happening within Penn State's traditional recruiting territory. It just so happens Penn State could be considered a pretty good fit and might be a strong candidate for the services of quarterback Danny O'Brien.
O'Brien decided to transfer from Maryland on Feb. 13, according to Examiner.com, adding to a mass exodus from the Maryland program that already included head coach Randy Edsall. His intention to transfer was reported after the signing of one of the top wide receivers in the recruiting class of 2012, Stefon Diggs.
O'Brien will join a new program with junior eligibility and would like to play in a pro-style offensive system in need of an established quarterback. Sound familiar?
New Penn State head coach Bill O'Brien has a heavy pro-style offense after a few years with the New England Patriots.
The plans for the offense are something players are getting very excited about, and some of the newest recruits seem to be taking a liking to what the future holds. Penn State picked up a verbal commitment from four-star quarterback Christian Hackenberg, of Virginia. They are considered a favorite to receive a verbal commitment from the nation's top tight end, Adam Breneman, who will announce his decision on Friday, March 9 (via Scout).
O'Brien would be eligible for the 2012 season despite transferring.
He is scheduled to graduate this spring and will have two years of eligibility remaining. As long as he enrolls in a graduate program elsewhere not offered by Maryland, he may play in 2012 instead of having to wait for 2013. This is where Penn State comes into play and would be doing due diligence to make an offer.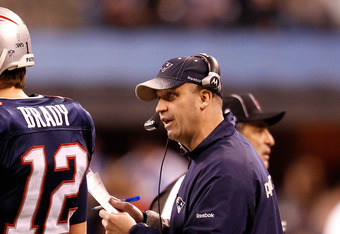 Rob Carr/Getty Images
O'Brien has the tools needed to run Bill O'Brien's kind of offense, and Bill O'Brien has a similar background at the college level that should work with a player like Danny O'Brien. Considering the instability under center for Penn State the past two seasons, would Bill O'Brien decide to go in a completely different direction and bring in a player that can play immediately, rather than stick with Matt McGloin or Rob Bolden?
And where would Paul Jones fit into the mix?
Realistically, Penn State bringing in Danny O'Brien seems like a stretch, and it may be. But, a tweet by Hartford Courant's Connecticut beat reporter, Desmond Connor, makes it worth discussing.
Connor shared with his followers that he'd heard Connecticut was one of three schools showing the most interest in the former Terps signal-caller. Penn State and Wisconsin were the other two mentioned by Connor.
The storyline of Randy Edsall losing his top offensive player—and perhaps overall player—inherited when taking the reins of his former program would be a lot of fun to read, given the start Edsall has had in College Park.
Wisconsin should not surprise many people after the booming success of the Russell Wilson project in Madison. The Badgers won a transfer-recruiting battle for the former NC State quarterback last offseason, and Wilson helped lead Wisconsin to a Big Ten title and a second straight Rose Bowl berth.
If they could add O'Brien to an offense that already has Heisman-caliber running back Montee Ball returning, then the Badgers would likely be the favorites once again in the Big Ten—especially with Ohio State ineligible.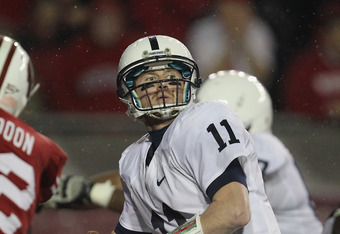 Jonathan Daniel/Getty Images
O'Brien was the ACC's 2010 Rookie of the Year, earning five ACC Rookie of the Week awards and a 2010 Freshman All-American selection by the Football Writers Association of America. O'Brien played in parts of nine games last fall and struggled most of the time he was on the field. He finished the season with seven touchdowns and 10 interceptions, completing just 56.4 percent of his pass attempts.
In the red zone is when O'Brien was at his finest, passing for six touchdowns and one interception.
For comparison's sake, McGloin passed for 1,571 yards, eight touchdowns, five interceptions and completed 54.1 percent of his pass attempts. Inside the red zone, McGloin passed for four touchdowns and was picked off once, completing 51.6 percent of his passes—three-tenths better than O'Brien's completion percentage.
So, Penn State fans, would you be excited about an offense that would add Danny O'Brien? Would a fresh start be just what he needs to get back on track? How much of an upgrade would he be, if any, to what Penn State already has at the position?
It may be a reach, but is it not worth reaching for?
Stats provided by cfbstats.com.
Kevin McGuire is a featured columnist for Bleacher Report and the managing editor of Nittany Lions Den. Follow him on Twitter, like him on Facebook and add him to your Google+ circle.