Toronto Maple Leafs: Management Learning Along with Young Team
March 1, 2012

Bruce Bennett/Getty Images
Leafs Nation is in a frenzy. The "Fire Ron Wilson" chant is always on the tips of their tongues.
Leaf fans world wide are steaming with anger.
I understand where the anger and frustration is coming from. So I will give you a second to take a deep breathe.
Coming into this season, I can see how Leaf fans could have gotten caught up in the whole "we're playing for a playoff position" talk.
James Reimer was coming off a half season where he was stellar for the Leafs and stole a bunch a games down the stretch. The combination of Grabovski, MacArthur and Kulemin went on to score at a lofty pace. Kessel and Lupul looked like their were gaining more and more chemistry with the more ice time they got together. Players such as Franson and Lombardi were added to the team for depth. The Leafs had signed Connolly which just in terms of playmaking looked like a nice add. The list goes on.
The Leafs are, as of this moment, the 2nd youngest team in the NHL (younger than the Oilers). Now, that is not a precursor to an excuse. It's just a fact. Nothing more, nothing less.
As a young team, there are certain things it needs to learn as a team before it becomes a playoff team or a contender. Two things the Leafs are no where close to being, regardless of the standings. A team does not become a playoff team or a contender just by adding players, something has to click inside the dressing room.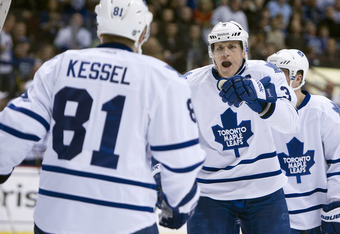 Rich Lam/Getty Images
Learning is not just something that the players have to do on and off the ice, this learning process also includes the coaching and management staff as well.
Brian Burke, Dave Nonis and Ron Wilson all came from teams that won and won a lot. Regardless of what people say Burke and Nonis built the Canucks team that is a Juggernaut in the NHL right now. Brian Burke won a Stanley Cup before coming to Toronto. Ron Wilson, although he never won a Stanley Cup, coached a team that was a perennial threat in the post season every year. Dave Nonis made probably one of the most lop-sided trades in NHL history to get Luongo, a position that always held Vancouver back, who took the Canucks to Game 7 of the Stanley Cup playoffs.
The Leafs went into the 2012 trade deadline a couple of days ago and made two minor moves and nothing more. This was step one of the learning curve for Leafs management.
Sure they stood pat and didn't get Rick Nash or a goalie, but they also did not trade their 2012 1st round pick which as of right now looks like it could be a lottery pick. Lesson learned.
Burke admitted that they turned down a deal for James Reimer. This is step #2 of the learning curve.
The Leafs currently have two young goalies. Sure you might not like them now, but they will get better down the road. Marc-Andre Fleury had a SAV% below .900 and a GAA of higher than 3.00 for his first two NHL seasons. The goalie situation is also a little similar to the Pogge-Raask fiasco.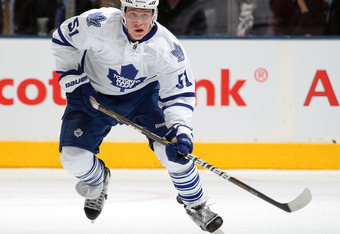 Claus Andersen/Getty Images
Lets say the Kings called and offered Bernier for Reimer, who is signed for two more seasons at a very low cost. This is kind of similar to trading Raask for Raycroft. Bernier has done nothing to make me think he could be great in Toronto. Raycroft had won a Calder.
Now, all you "know it all's" can calm down. No one knew how Raycroft was going to fair in Toronto.
The Leafs traded a young asset for a goalie who had won the Rookie of the Year award and had two good seasons in Boston. So it wasn't so far fetched at the time. He was one of the best options available and the Leafs pulled the trigger.
Burke didn't. He stood pat and did not trade either one of our goalies, and was willing to wait out the rest of the season to see how they fair.
Again, this is a rebuilding team. A young team. Burke has to be patient although it kills him and Leafs Nation.
Burke also admitted that he received offers of a 1st round pick for each of Grabovksi, MacArthur, Kulemin, and Schenn.
If Burke would have made those moves he would be going into the 2012 NHL Draft with five first-round selections.
Burke did not make those trades because he knows that prospects are not guaranteed to become anything.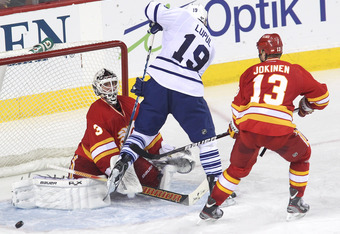 Mike Ridewood/Getty Images
Drafting is not an exact science. For all of the scouts, trainers, coaches and GMs that see these guys play they are all out to lunch. If you are not picking in the top 5, depending on the draft class, it is all luck what or who that prospect turns into.
I mean just look at draft history. Getzlaf was drafted in the late 20s, Parise late teens, Mike Green No. 29 overall, Paul Stastny No. 44 overall, Kris Letang No. 62 overall.
This shows that these guys don't have a clue of what they are doing. Teams passed up Letang multiple times. You would have to be blind, deaf and dumb not to have seen this guy's talent.
Sorry for the rant. My conclusion anyway is that proven players are better than picks, unless it's in the top 5. 
Grabovski, Kulemin, MacArthur and Schenn are more important to the Leafs than some late first round picks. No matter how bad the Leafs are doing.
Ron Wilson also has had to learn a lot while on the job in Toronto. He has dealt with Jake Gardiner great. Guys like Grabovski and Kulemin are getting better every year because of the 1-on-1 attention Wilson has given them both. They want to learn and grow, but it takes time.
Leaf's defense has never been any good. This could be attributed to the fact that the Leaf's best defenseman are more offensive minded. Phanuef, Liles, Gardiner, Franson. Komisarek is a right off and Schenn will get better and become a premier shut down d-man. I am willing to bet on it. He has too much character, determination, heart and grit not to reach his potential.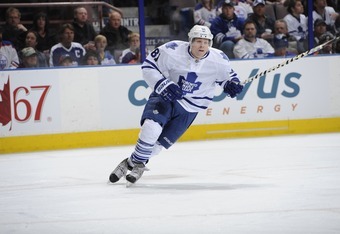 Dale MacMillan/Getty Images
So, Leaf fans. It is easy to get upset an frustrated when you see the Leaf's potential from the beginning of the season to the all-star break just to see them fall flat now. But that is the key. The veteran teams, the experienced teams, the Detroits, the Bruins and the Canucks have and know what it takes to win in the hardest part of the season. January and February are the hardest parts of the season. It gets slow, grinding and stale before the playoff push and that is when experience and leadership steps up.
We need to be realistic about what we expect of this young team that lacks the proper levels of experience, leadership, talent, and grit to win the games in the moments that matter.
I personally never thought the Leafs had a chance at a playoff position. I did, however, want to see the Leafs be competitive and continue to evolve. Which they did do this season.
The Leafs were much better this season and they will be better next season just through the subtractions of Komisarek, Connolly and Lombardi. Don't ask me how. That is the topic of a whole other article.
The Leafs have a defence group that leads the NHL in scoring. Gardiner came out of no where. Frattin has shown he has the tools to become a power forward the Leafs need so bad.
The Leafs players, management, and coaching staff is learning and continuing to evolve.
Leaf fans need to be realistic. Open your eyes and see this team for what it is. Young and talented, but not good enough.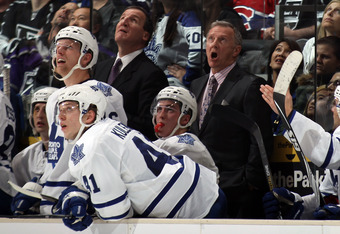 Bruce Bennett/Getty Images
The best example I have is the Pittsburgh Penguins. I'm not comparing them to the Leafs. Just showing an example of what they went through to become the great team they are now.
The rebuild for Pittsburgh started off in 2002, when they selected Ryan Whitney 5th overall. They then selected in the following year Marc-Andre Fleury first overall (2003). In 2004, they selected Evgeni Malkin second overall. In 2005 they selected Sidney Crosby first overall. In the following year they selected Jordan Staal third overall (2006).
That is five losing seasons worth of drafting and four years without playoffs. Finally, with the addition of some Elite talent the Penguins made the playoffs in the fifth season, which they lost in the first round to the Sens.
How can Burke and the rest of the management team be expected to build a good team in four seasons, then it took the Penguins five seasons with the two best (Crosby-Malkin) players in the NHL plus an elite goalie (Fleury) is beyond me?
Leafs don't have either one of the three. Burke took over a team that had John Mitchell as the #1 center.
It took two full seasons just to get rid of the Jason Blake's, the Vesa Toskala's, the Matt Stajan's, the Jamal Mayers', the Beauchemin's, the Brett Lebda's (thank God) etc.
These are the biggest losers in the NHL and Burke and his crew turned these guys into Phaneuf, Aulie (now Ashton Carter), Jake Gardiner, Jeofrey Lupul, Codey Franson and Mathew Lombardi.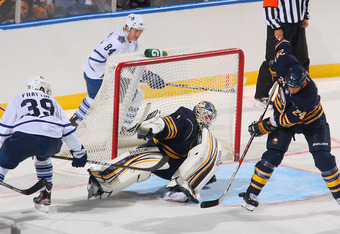 Rick Stewart/Getty Images
Two of the four seasons that Burke has spent in charge of the Leafs, he has spent just getting people out the door. While adding prospects and drafting well. The Leafs had two picks in the first round last season. When was the last time the Leafs ever has two picks in the first round?
I'm not saying that Wilson, Burke, Nonis, or any of these guys are the best. There very well may be better options out there.
I'm just saying that Leaf fans need to be more realistic. This team has come a long way and people lose sight of that.
Burke's job as GM and President of the Toronto Maple Leafs is monumental. It is the toughest thing cause we Leaf fans pull him in every direction. He cant fix the defense, scoring, and goaltending all at once. These things take time.
Either get away from the Leafs, root for another team or accept the fact that this team is a work in progress and realistically will take many more years to build.
The Leafs might have a chance at the post-season next year, but that will ultimately come down to goaltending.
The Leafs will be better when Dallas Eakins takes over. If you have a chance watch a Marlies game. They are seven or so points out of a Conference Championship. A legitimate contender for a Calder Cup. Top 10 in the AHL in PK and PP.
Eakins does not have all of the talent to work with, but his players are motivated and ready to go.
Dallas Eakins is the coach that Toronto will love. This guy participates in triathlon's for fun. He is super fit and he expects the players to show the same dedication.
"Hope in reality is the worst of all evils because it prolongs the torments of man."
Friedrich Nietzsche
Stay classy Leafs Nation.