New York Yankees: What Is a Fair Contract Extension Offer for Russell Martin?
March 1, 2012

J. Meric/Getty Images
Spring training has just begun for baseball, and teams are getting ready for the 2012 season.
Before the season got going for the New York Yankees, they were considering locking up their starting catcher, Russell Martin.
After initially offering Martin a three-year deal worth roughly around $24 million that got rejected, the Yankees and Martin decided to halt talks and wait until the end of the season to resume discussions.
During the winter, the Yankees and Martin avoided arbitration by agreeing to a one-year, $7.5 million deal for the 2012 season.
Martin and his agent Matt Colleran rejected the Yankees' offer based on the fact that the catcher is looking for a raise.
Colleran has said that Martin wants to remain a Yankee and loves playing in New York, and they are hopeful to get a deal done in the near future.
Martin was set to join catchers like Mike Napoli, Miguel Montero and Yadier Molina on the free-agent market, but this week's events changed the landscape of the free-agent market for catchers.
Molina and the St. Louis Cardinals agreed to a five-year, $75 million extension, and Martin will use that deal as a starting point in negotiations.
Now, while Martin isn't likely to get $15 million per season, Joel Sherman of the New York Post had a suggestion for a contract offer for Martin.
According to Sherman, a four-year deal worth around $40 million could be a fair enough offer for the Yankees to give Martin.
And I agree with Sherman. Right now, Martin is the Yankees catcher of the present and near future until they develop Gary Sanchez, who is only 20 years old.
The Yankees have Francisco Cervelli and Austin Romine as well, but right now, both of them are best served as a backup role while Martin is the certain starter.
Martin hit .237 with 18 home runs and 65 RBI and was an All-Star for the Yankees, who played solid defense and helped manage the Yankees' pitching staff in 2011.
Even though Martin doesn't hit for a high average, it's what he brings to the Yankees that adds to his value, especially as a catcher.
He blocks a lot of balls in the dirt, he can throw out a lot of runners, calls a great game behind the plate and, then on top of that, can hit for power when at the plate.
But the hitting part is the least of what you worry about as a catcher, and you can take Jason Varitek from the Boston Red Sox as an example.
As much as I hate Boston, Varitek was great at managing a pitching staff and calling a game. His offense was secondary for that team, and it's a big reason why he was the team captain until his retirement this month.
For a major league team, the catcher needs to be good on defense and behind the plate, while being a leader with the pitchers. Martin is that for the Yankees, just like he was with the Los Angeles Dodgers.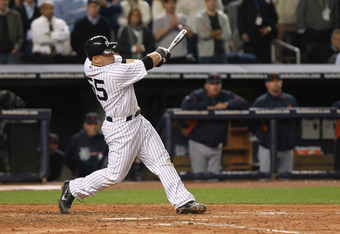 Nick Laham/Getty Images
For now, the talks with the Yankees and Martin will wait until late October or early November. But I think the Yankees know how important Martin is to the core of the team.
I think that four-year, $40 million extension I mentioned earlier is a fair deal to offer, and I think by the time Martin would receive it as a 30-year-old, he should take it.
The Yankees are trying to get their payroll under the $189 million mark by 2014, but if Martin has a solid season in 2012, $10 million per season would be a fair price to offer him.
The Martin discussion likely won't be getting going again for another six months, so we'll have to wait and see what kind of production the Yankees get out of Martin and then the topic of contract extension will be up again.
Stay tuned, Yankees Universe.