Scott Parker Named England Captain: Why Parker Is Just a Short-Term Fix
February 29, 2012

David Cannon/Getty Images
Just when you thought the FA had put an end to the eternal pantomime surrounding the England team…
Having rid themselves of a top-class coach and a low-class captain in the past few weeks, the FA had two major decisions on their hands. Who to bring in as coach, either temporarily or permanently, to fill Fabio Capello's larger-than-life shoes (I mean that metaphorically, I have no knowledge of the Don's foot-size) and who to replace John Terry as captain?
The fact that "never won anything" Harry Redknapp has been touted as England's saviour and the best thing to ever happen to football management shows the paucity of good "English" options.
For the moment, the FA have adopted a wait-and-watch approach, naming Stuart Pearce as a stand-in for tonight's Holland friendly. Not ideal, having a stand-in coach in late February, with a major tournament a few months away. But not disastrous either.
But when it came to naming a captain for the Holland game, I think the FA have missed a trick (do not, for a moment, think this was Pearce's choice alone, whatever the England camp's interview-bytes may be). Here was an opportunity to either go with a fairly obvious, established and experienced leader, and set the tone for the Euros, or try out a newcomer to captaincy, but one who would be a certainty in England's first-choice XI come the continental championships.
With Scott Parker's elevation, they have done neither.
Although he plays for Tottenham, I quite like Parker. I think, biases aside, he's an honest trier, a committed ball-winner and a fairly talented all-round midfielder. He's one you would want with you in the trenches.But with an England career comprising of 10 caps (and only seven since 2006, some of them friendlies), I wonder if he has the pedigree to lead the Three Lions to a major tournament and make a good fist of it. I wonder how successfully he will be able to command the likes of Rio Ferdinand and John Terry (if picked), Joe Hart, Ashley Cole, Steven Gerrard, Frank Lampard and Wayne Rooney.
And how telling is it that Harry Redknapp himself prefers Ledley King and Michael Dawson to wear the armband for Spurs?
Secondly, and more importantly, however good Parker was last year (I'm sure his recognition as "England's Player of 2011" was well-deserved), here is a player who will not be a certain selection in England's first XI in Poland and the Ukraine.
As far as I see it, England's only certainties as of now are Joe Hart, Ashley Cole, Jack Wilshere (if fit) and Wayne Rooney (post-suspension).
For me, Rooney would have been the ideal long-term choice, but for his needless suspension. Wilshere doesn't lack confidence, but he is way too young, in terms of age and number of caps. Plus, he has been injured for a long time now. That leaves us with Cole and Hart.
Ashley Cole is not my favourite human being, and there are times when he appears to be the star pupil in John Terry's behavioural school, but in terms of England pedigree, he is second to none at present. 93 caps (all starts), easily one of the best in the world in his position and a man who will always give you a decent performance, if not better.
Joe Hart is comparatively undercooked, with only 16 England caps, but he has the presence, confidence and game to wear the armband with aplomb. He will certainly play all of England's games, he is the least likely to suffer an injury and, as I said earlier, he has the presence.
David James didn't have it, even though he played many more times for England.Gerrard is the other name that comes to mind, but I fear has recent injury issues have taken an irreversible toll. He was ordinary in the Carling Cup final against Cardiff, and once Wilshere is back, I don't see Gerrard making the team on merit.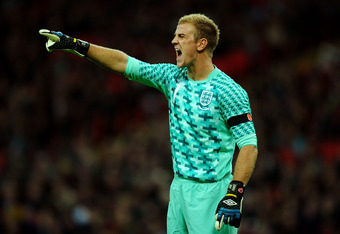 Laurence Griffiths/Getty Images
In terms of the other candidates for Parker's position, I think Gareth Barry will definitely be considered, as will Paul Scholes, should he finally be tempted out of retirement. The way their respective clubs end the season will play a huge part in the perception of their form, and there's no doubt that the two Manchester boys look best placed.
Left to me, I would give Ashley Cole the armband. All said and done, he has had a fantastic England career, he still has a few years left in the tank and he will walk into the team for some time yet. Plus he is England's most capped current player.
Wearing the armband tonight against Holland at Wembley might well go down as the greatest moment in Scott Parker's career. And dare I say it, he deserves the honour for the way he has conducted himself throughout his club career.
But it will be nothing more than a one-off. Come May, there will be yet another England player wearing the armband. A player who is certain of starting every game.
With a major championship barely three months away, the FA, having used their heads to surprisingly good effect of late, have missed a trick and landed in a mess.
And it will take more than Harry "Houdini" to extract them from this one...
Follow me on Twitter @ratanpostwalla