Duke Basketball: Why Ryan Kelly Is the Biggest Key to Winning in March
February 29, 2012

Patrick McDermott/Getty Images
March Madness is right around the corner. Soon Duke will be just one team of a field of 68 hopefuls competing for NCAA Division-I men's basketball's top honors in one of the most prominent annual sporting events across the United States.
Coach Mike Krzyzewski's squad, currently ranked No. 4 by the Associated Press, is once again among the favorites to take the tournament.
But, as so often in college basketball history, the story shall be written based on the performance of one player.

For Duke, that is Ryan Kelly.
It is no secret that Duke's biggest issue this season has been its interior defense. They simply do not have much of an answer against elite teams featuring talented big men. Jared Sullinger of Ohio State and Tyler Zeller of North Carolina proved just that.

Sullinger spearheaded his side's victory, going 8-for-14 from the floor and over 70 percent from the charity stripe for 21 points with eight boards. The Blue Devils were lucky to edge out a dramatic win over the Tar Heels at Chapel Hill. Zeller had his way all day snatching 11 off the glass and dropping 23.
The Plumlee brothers are just adequate defenders in the paint. I am not going to begin to challenge Mason or Miles' work ethic on and off the court, but we have seen them falter against tougher opposition far too often to ignore.
To this point Duke's scoring—currently ranked No. 12 in the nation—has compensated for the team's lack of defensive fortitude, but at some point that simply will not cut it.
Fantastic guard play and perimeter performances can only do so much.
Anyone who saw Austin Rivers sink 6-of-10 from the outside to manage a  29-point effort—which included a game-winner right at the buzzer—against North Carolina knows his shooting ability is enough to change a game. Just over a week later against North Carolina State, Seth Curry exploded for 21 points in just the second half alone to turn a certain loss into a 5 point victory. Andre Dawkins tore Florida State up, scoring more points (22) in fewer minutes (20) than the majority of his peers.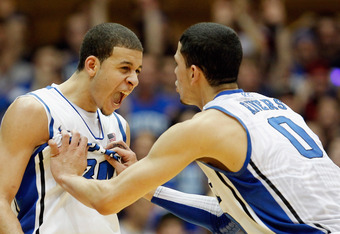 Streeter Lecka/Getty Images
Those examples almost counter prove my point but looking at the performance of each player from game to game you can see a trend. It can obviously be argued that one guard (or two) is more consistent than the others, but what you see is a constant pattern of someone tailing off one day and another picking up the slack.
Coach K is brilliant, but at some point all three of these guys may hit an off-day at the same time. Shooters, for the most part, are hot and cold for whatever reason. It is just expected, which is why Kelly is the key going forward even if he is not the leading scorer or receiving all the attention.
Kelly entered Duke as the No. 20 overall recruit in the entire nation of the 2009 signing class. He was a first-team member of the Parade magazine All-American squad, as well as a participant of both the McDonald's and Jordan Brand all-star games.
We are talking about a former 5-star recruit and hometown favorite whom the all-knowing Coach K himself predicted would have a breakthrough season.
The problem is that he often streakier than the shooters.
It is too late to expect any of the Plumlee brothers to suddenly become difference-makers, but if the defense is not going to drastically improve then Duke is going have to have more offensively than Rivers and Curry on a consistent basis. At 6'11", Kelly has the kind of shooting touch from the power forwards spot to cause other opposing defenses some serious problems.
Tuesday against Wake Forest he showcased what he brings to the table, going 4-of-5 from deep and 5-of-6 from the line for a game-high 23 points. Big men who can actually make teams pay at the free-throw line are always a huge advantage. The ability to represent a scoring threat from anywhere on the court—hitting .430 from three and .455 from the floor—complemented by a free-throw percentage just over 80 at nearly 7-feet is almost ridiculous.
Kelly is without a doubt the Blue Devils' best frontcourt player, and so he will be expected to pick up the slack where the guards simply are not physically or positionally able to if Coach K is to have any hope of securing his fifth national championship.
Kelly will have to realize his potential in order for Duke to truly forge their title credentials.