Cleveland Indians: Looking for the Silver Lining in Grady Sizemore's Injury
February 29, 2012

Jason Miller/Getty Images
Re-signing Grady Sizemore was a risky proposition. The Tribe knew full well that bringing back their former star center fielder entailed just as much risk as reward, and now Grady will not be available to open 2012.
Everyone wants to see the return of '05-'08 Sizemore, who was literally all over the field, and hands down the Tribe's best player. Two full seasons lost to injury and another DL stint out of the gate, however, might just show that Grady is finished.
He may only be out until mid April, but it feels like we could have already seen the end of No. 24 in Cleveland. Elite Sizemore seems so long ago that we may have under-appreciated just how consistently good he was at the time.
Life must go on for the Tribe, who are still in good position to compete in the AL Central. With a solid top of their starting rotation and a lights-out bullpen, pitching should be respectable for the Indians, who've already absorbed the loss of their projected third starter and now their closer.
Fact is, if you were hoping for anything more than 15 HR, 50 RBI .320 OBP from Grady this season, you were expecting too much anyways. While those numbers are still appreciated in an at-times anemic offense, it's time someone else stepped in as another regular contributor for the Tribe.
With Michael Brantley in center, the list of choices to be the new everyday left-fielder is extensive. Although the Indians still have the enigmatic Ezequiel Carrera as an option in center, another light-hitting left-handed outfielder isn't what the Tribe needs right now. The Indians have four right-handed candidates to occupy left-field for the foreseeable future, and at least one of these four will have to consistently contribute for the Tribe in 2012 if there's any hope of keeping pace with Detroit.
Veteran Shelley Duncan has established himself as a nice player off the bench in his two years in Cleveland. A torrid September finish (who can forget those two bombs off Verlander?) capped an all-around good campaign for the Tribe utility-man.
Detractors who claim last season's finish was an aberration aren't considering that, averaged out over 500 ABs, his numbers from April-August 2011 would still translate to 14 HR and 86 RBI. Regardless of how high or low his slash is, the Indians would certainly take that contribution from left field, especially in light of Grady's most recent injury.
Remember, the Tribe's projected trio of opening day outfielders combined to average just 8 HR and 37 RBI between themselves in 2011. Expecting Duncan to average his September 2011 stats over an entire season is a nice dream, but average his 2011 numbers over 500 ABs in 2012, and you're looking at 25 HR, 105 RBI.
Clearly, Duncan is a run producer, even if you meet halfway on the projections. A season of 20 HR and 95 RBI dwarfs anything the Indians got consistently from their outfielders in 2011. After last season's roller coaster offensive production, those numbers would be greatly appreciated.
Obviously, Duncan isn't athletically gifted enough to sustain an entire season in the outfield, but enabling him to play first or DH against lefties will help. It'll be interesting to see how he comes out of the gate in 2012. If he hits well early on, as he did last season, he could be on pace for a productive season. He's not a natural everyday player—he will go through slumps like the 9-63 stretch he endured in May-June of last season—but if given at-bats, he will produce runs.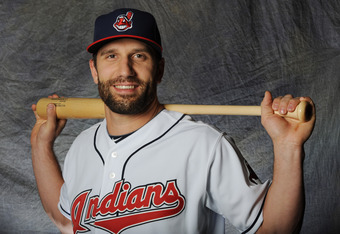 Rich Pilling/Getty Images
The other potential LF candidates are unproven as everyday players. Former Colorado utility man Ryan Spilborghs has a track record of success as a fourth outfielder, and his versatility to play all three positions should help his cause to contribute off the bench for Cleveland in 2012.
Aaron Cunningham is an option, but I just don't see him blossoming with the Tribe. I believe Cunningham is another guy who Cleveland will waste at-bats on in April-May, only to be replaced by Spilborghs at some point during the season.
The most intriguing option, however, is Russ Canzler, who the Tribe obtained from the Rays. The 2011 International League MVP should see a little time at each corner position in both the infield and outfield this year, and if he proves early that he can hit, he may well take some at-bats away from Shelley Duncan.
Minor League MVP or not, his 2011 stats are solid across the chart, and Canzler could be an upgrade over Matt LaPorta, both offensively and defensively. Either way, he's a low risk, potentially high-reward player whose worth a look.
If manager Manny Acta solely views Duncan as a utility player, we could very well be looking at an outfield by committee, with the second man getting his chance to emerge while Grady is out. This will help the Tribe allocate at-bats going forward, as they will undoubtedly sustain more injuries over the course of the season, and will need to know what they have in their bench.
Indeed, losing Grady was an unfortunate early blow. The void left by his absence, however, isn't unexpected. Maybe its better the Tribe knows what its depth options are sooner rather than later.