Daytona 500 Results: Greg Biffle Betrayed NASCAR with Allegiance to Matt Kenseth
February 29, 2012

Jonathan Ferrey/Getty Images
Greg Biffle was loyal to his teammate, but not to the sport that has made him wealthy. NASCAR has been made great by a history of drivers that will stop at nothing to win, and it was just betrayed by a driver running for second. 
It is the insane competitive drive that makes the action so compelling. In this Daytona 500, Biffle put his competitive drive away for the sake of the team, and the race suffered as a result. 
It is hard to blame a guy for acting selfless and helping a teammate win, but this is racing. It is only a team sport in so far as that connection can help you achieve the goal of winning. 
Biffle certainly isn't the only one that would have done this. But that doesn't make it right. 
Instead of honoring the code of winning at all costs, Biffle decided to run interference on Dale Earnhardt Jr. to ensure that his Roush Fenway Racing teammate, Kenseth, could roar to victory. 
Biffle is not going to admit that is what he was doing. Here is Biffle, as quoted by David Caraviello of NASCAR.com:
Then we could have moved up beside him coming off the corner, and then Junior and I would have had to dice it out to the line. That's probably what I should have done, is just anchored down the brakes down the backstretch and put distance in between us.

[That's] the only way we probably would have got a run at him. But I thought for sure I didn't need to do that. Of course, Monday morning quarterback, I'd do it now, but I didn't think I needed to. I thought [Earnhardt would] shove me right up to his back bumper. He had all night. I had no doubt it would happen then.
It is impossible to prove that this is not the case, but you won't be able to read the following without coming to the conclusion he was out there to block. 
Check here for the full results
Concluding Biffle Was Blocking
Take a look at the green- and white-checkered restart, and then we'll break down a couple of instances. 
It is clear right off the bat that these two were going to have each other's back. Kenseth breaks away from his lane, almost immediately, to slide in front of Biffle.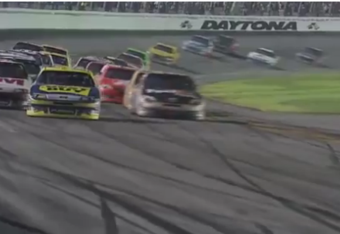 This allowed Kenseth, Biffle and Dale Jr.—who had attached himself to Biffle's bumper—to pull away from the pack. 
There was no reason for Kenseth to do this if he didn't know Biffle would have his back. He wanted to run the low line and he had to slide to the outside to pick up his teammate. As soon as he had Biffle locked in his draft, he moved back to the inside.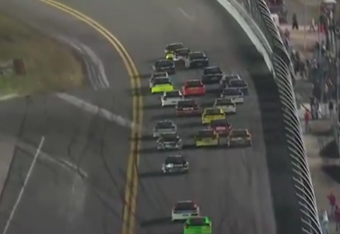 After they started breaking away from the pack, Biffle had Junior right on his bumper. This was his golden ticket to make a move. The first lap of the restart went by and Biffle was content to stay in a line. 
Had he slid out early enough on the second lap, he could have been confident that Junior would follow, allowing them to team up and pass Kenseth (who would have had no one to draft with). 
Still, Biffle did nothing but keep Jr. on his bumper. Then with time running out, Biffle knew that Dale Jr. would have to try and initiate something. Earnhardt tried to peak outside coming off of Turn 3, and Biffle quickly moved up to block him.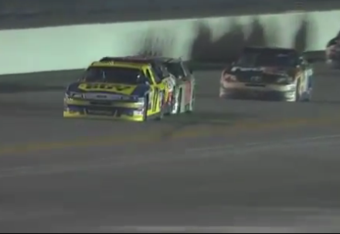 Had he kept going outside with Junior, they likely still could have passed Kenseth. Instead, with Junior's momentum thwarted, he moved back inside and gave a half-hearted fake.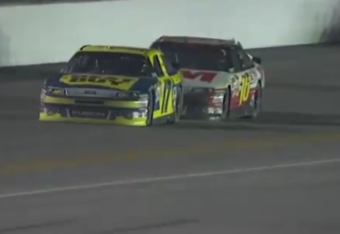 That was as far as Biffle would drift from Kenseth. That is not nearly enough to see if he had the horses to make a run. With a half a lap to race, and a victory a car length in front of him, he chose to fall back without even trying to win. 
Coming off of Turn 4, Biffle is content to let Junior make his move, as he knows it is far too late for him to catch Kenseth, and he ended up in third place.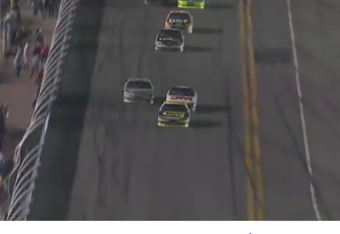 Biffle was simply being a good teammate here. But he robbed race fans in the process. This race would have been a whole lot more exciting had Biffle done everything in his power to claim the victory. That is exactly what NASCAR needs to be about.