Daytona 500 2012: Danica, Montoya & Co. Survive, and That's What Counts
February 29, 2012

Jamie Squire/Getty Images
That 2012 Daytona 500 was postponed for 30 hours, coverage extended into the wee hours of Tuesday morning, and Matt Kenseth's triumph over Dale Earnhardt Jr., teammate Greg Biffle, and the remainder of a depleted field was less than climactic.
But that isn't the reason fans and drivers are ready for the young NASCAR season to move on to race No. 2 at Phoenix next week.
No, the reason is that the 2012 version of Speedweeks was, in a word, horrifying.
The tone was set more than a week ago, in a Saturday night race under the lights. The Budweiser Shootout—the exhibition race which marks the prelude to the festivities of Speedweeks—consisted of three crashes in and of itself that appeared bone-jarring.
It started only nine laps in, when David Ragan got into Paul Menard, triggering an eight-car wreck that sent Michael Waltrip's car up in flames.
A later accident caused by contact between Marcos Ambrose and Joey Logano sent eventual 500 winner Kenseth head-on into the wall and almost upside-down, while Kevin Harvick's vehicle met a similar fate as Waltrip's.
The final accident of the race was the most frightening, as four-time Sprint Cup champion Jeff Gordon toppled onto his lid after hard contact with the outside wall.
Everybody made it through the Shootout OK, but the madness was just beginning.
In the first of the two Gatorade Duel qualifying races, contact between Michael McDowell and David Gilliland sent Gilliland's car hard into that of Juan Pablo Montoya, sandwiching Montoya between Gilliland and Paul Menard.
Gilliland's knuckle required a single stitch, but otherwise there were no injuries.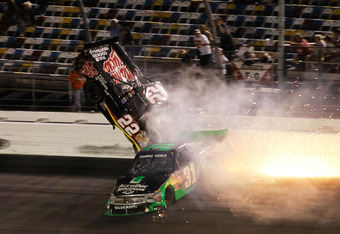 Streeter Lecka/Getty Images
On the final lap of the first Duel race, rookie Danica Patrick took a massive hit to the inside wall on the backstretch that lifted the car off the ground. It was an accident that, had it not been for her quick reflexes, could have broken one or both of Patrick's wrists.
As it is, Patrick walked away, no harm done.
During Friday night's NextEra Energy Resources 250 Truck Series race, Miguel Paludo took a hit very similar to that of Patrick's, and second-year driver Joey Coulter had a wreck on the final lap that saw his No. 22 truck go airborne and fly into the catchfence.
Again, everybody was OK.
Two more major incidents occurred during Saturday's Drive4COPD 300 Nationwide Series race. In the race's first big accident with 20 laps to go, Reed Sorenson drove underneath Justin Allgaier's No. 31 car after Allgaier's car hit the outside wall.
On the final lap of the race, the top 10 drivers crashed out coming to the finish line, with Kurt and Kyle Busch each taking a hard hit, as well as Roush-Fenway teammates Trevor Bayne and Ricky Stenhouse Jr.
Everybody was, you guessed it, OK.
Then came the Daytona 500. After rain postponed the race for 30 hours, it finally began Monday night at 7:15 Eastern Time, and in a shower of sparks and debris. After just one lap, five-time Sprint Cup champ Jimmie Johnson found his car sitting perpendicular to the track in front of half the field. He took a hard shot in the driver's door from Ragan, but was OK.
With 40 laps to go, the most horrifying NASCAR accident in recent memory occurred in Turn 3, when Juan Pablo Montoya lost control of his No. 42 car under caution, sliding out of control and slamming into a track jet dryer. The impact caused an explosion that could be seen and heard from the grandstands almost a full mile away.
Flames engulfed both Montoya's car and the truck attached to the dryer. And yet both escaped, with the truck driver sustaining some minor injuries. But otherwise, all were OK.
14 other cars sustained damage in crashes after Montoya's ordeal, and it was estimated by NASCAR on Fox analyst Darrell Waltrip that 90 of the 122 vehicles that participated in the events Friday, Saturday, and Monday sustained some kind of crash damage.
Them, and one track jet dryer.
But after a week that saw over 100 vehicles wrecked, when you include the Shootout and Duels, many of which were on fire, and some of which went upside-down, you can't help but count your blessings that all of the drivers, fans, and safety personnel are still with us today.
If not for NASCAR's mandated safety equipment, including the HANS device, SAFER barriers, and even the controversial Car of Tomorrow, there is a good chance that Gordon, Harvick, Patrick, Coutler, Paludo, Johnson, and especially Montoya, might not have been so fortunate.
In light of Coulter's accident, it was fortunate that no debris penetrated the fence, as it did in 2009 when Carl Edwards had a similar incident at Talladega.
And in light of Montoya's mishap, it was fortunate that Daytona International Speedway has no grandstands in Turn 3 where the explosion occurred, as thousands of fans would have been seriously endangered.
In short, while Speedweeks was a hotbed for carnage, calamity, and quite a bit of drama, and was a week during which several machines perished, there is one very important thing we can take from the extended week in Daytona.
Everybody survived, and that's what counts.