Tracing the Evolution of NFL Left and Right Tackles
February 29, 2012

Jim McIsaac/Getty Images
Whether a team has a very poor quarterback or one that's destined for the Hall of Fame, it must be able to protect him.
The quarterback must be given time to scan through his reads and deliver the football. If he's unable to do this, it's unlikely he will reach the ultimate goal of a Super Bowl championship, as witnessed in this year's Super Bowl when New England Patriots quarterback Tom Brady was pressured numerous times throughout the game, most notably in the fourth quarter on his final drive. 
The pressure on Brady came from all angles of the field, not just the blind side, which is often singled out. Because of the importance of the quarterback position, pass-blockers—particularly bookends—have become more valuable then ever before. Both offensive tackle positions, left and right, have become of equal value because of the increased reliance on passing and how defenses are reacting to motions and shifts done by the offense.
However, this wasn't always the case. 
Left Tackle 
Not too many years ago, the left tackle, commonly called the blind side blocker, was not as prized of a possession as it is today.
Even geniuses like former San Francisco 49ers head coach Bill Walsh didn't buy into it, settling for dual-reading guards that would swing out and block pass-rushers such as New York Giants pass rush menace Lawrence Taylor.
However, Walsh would eventually learn, when his team fell doom to the pass rush of the Vikings, as Michael Lewis would go on to write in his book The Blind Side: Evolution of a Game. 
Steve Wallace's performance against pass rush specialist Chris Doleman changed the way left tackles were viewed. They were more valuable and started to be paid more—something Walsh originally didn't agree with. 
The left tackle was a position that typically required a better, taller and longer-limbed athlete who could fend off the league's best pass-rushers. He must be able to fire off the line with his kick-slide and set a strong base to prevent hulk-like bull rushes while sliding out far enough to deal with explosive, shoulder-dipping pass rushers.  
Right Tackle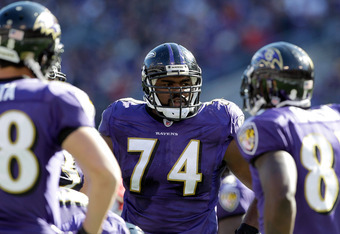 Rob Carr/Getty Images
On the other side of the formation was the right tackle—a massive player who was not quite the athlete that his counterpart was. But, he had greater strength and was typically defined in scouting circles as a player that had a "large bubble" to help generate power.
He has massive thighs that could overpower run defending defensive ends or stand-up rushers in the running game in the direction of the strong side of the formation. 
Football's strong side, which is often defined as the side with greatest number of receiving threats or in some coaching circles as the side in which the tight end lines up on, is one that would eventually make a significant impact in the evolution of the right tackle position.
The aforementioned alignment of the tight end would lead to many defenses swapping their pass-rushers to get a matchup advantage on the previously mentioned right tackle. With the offenses in the NFL becoming multidimensional through the addition of a plethora of formations, defenses had to adjust to get specific advantages of their own, which is what sped up the desired talent level at the right tackle position.
Right tackles would become similar to left tackles, regardless of it being the blind side or not (which obviously depends on the quarterback). Pass-rushers were becoming quicker and stronger, which asked more of the right tackle. They would have to be more athletic than they previously were while still keeping their girth.
They've also become more responsible for protecting the quarterback in pass protection as they get less help than left tackles, often being isolated against a pass-rusher as Houston Texans right tackle Eric Winston explained. 
In today's game, pass-rushers are highly coveted and teams are looking to acquire more and more of them in an effort to pressure the quarterback from various angles, modeling after the Super Bowl winning New York Giants. This puts pressure on the offensive bookends to compete at a higher level, thus asking more of their talent.
The league will continue to develop pass-rushers who can attack offenses from both sides of the ball, as witnessed with the Miami Dolphins and pass-rusher Cameron Wake. Wake is commonly seen lining up on the right tackle, which in the past would be problematic for the blocker but with the right tackle being more athletic and quick, it is not an issue.