Houston Texans: Reviewing the 5 Biggest NFL 2012 Scouting Combine Takeaways
February 28, 2012

With the 2012 NFL Combine coming to a halt today, we are about to begin the long process of settling draft boards, arguing for a particular player or position and simply waiting until the final week of April to see where everyone goes.
Other than a few players that are holding off their workout until their pro days, this is pretty much the tale of the tape on the larger chunk of the prospects. There were a few surprises as well as disappointments to take away from the Combine and even a few risers and fallers.
But how do they pertain to the Texans and their needs in this draft? I'm going to give you my opinion right now.
The Wide Receiver Class is Deep
This is a good year to be looking for a difference maker or potential starter in the wide receiver department. I don't recall the last time there were this many stud prospects at the position in one draft.
There are guys that could fall to the third or maybe even fourth that could potentially be a starter later in the year. This led me to ask why the Texans would use their first round pick on on wide receiver.
With a stellar workout, Michael Floyd of Notre Dame pretty much erased any hope of a draft-day slide. Given that he interviewed well, he is likely the second wide receiver off the board in this draft and is likely a Top 15 and maybe even a Top 10 guy. Someone will take him long before 26. But that's okay, because guys like Stephen Hill of Georgia Tech and A.J. Jenkins from Illinois could be guys between the first and third Houston could take a look at and probably be okay.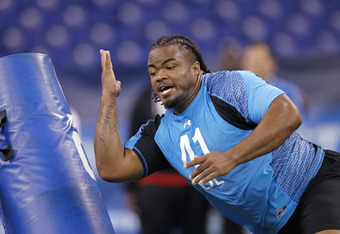 Joe Robbins/Getty Images
Rueben Randle, Mohamed Sanu and Kendall Wright didn't improve nor hurt their draft stock at the combine. But none of those are can't miss guys that the Texans would be foolish to pass on. I no longer believe Houston will be looking for a wide receiver in the first.
The Nose Tackle Dream Goes Out With a Whimper
Any hope that I had of my infatuation with a large, space-eating big man in the first round went down the drain the moment Memphis prototype Dontari Poe finished his 40. But it wasn't just that; Poe was a monster in every single category he performed in. His splits, bench press and pretty much everything was off the charts on Monday morning.
With Poe likely moving up the board to a Top 15 pick, there isn't another big boy that I could see Houston aiming for at 26. They have shown interest in Alameda Ta'amu out of Washington, but no way the select him in the first and he is likely gone by the time Houston hits the clock in round two.
My final hope is that they'll target Alabama nose tackle Josh Chapman, who could be a steal in the third round due to his injury that kept him from performing at the combine. But Coach Kubiak saying in a presser yesterday about how much they love Shaun Cody and Earl Mitchell at the nose tells me it will be another year of a dream unfulfilled.
There is a Lot of Good Pass Rushers in This Draft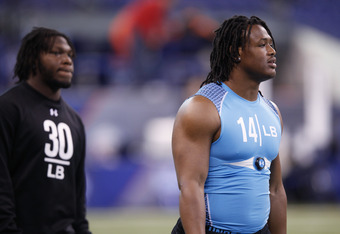 Joe Robbins/Getty Images
Did you actually think there would be a Houston Texans article without the mention of Mario Williams?
As I've been saying all offseason, Mario and his decision will dictate everything the Texans do during this period. But if he walks, there are some good looking kids that will be available when the Texans pick.
Before I list some of them, please refrain from saying "no way he'll still be there by 26!" We don't know who is going to slide by then. Good players fall down the board due to teams drafting for need over talent every year. How do you think the Steelers and Patriots, who draft in the late twenties every year remain good? With that said, let's look at some of the guys who impressed and could try to fill the Mario void.
Zach Brown from North Carolina had an impressive showing as did Boston College's Luke Kuechly. But a pair of guys that I really like is Whitney Mercilus out of Illinois and Dont'a Hightower from Alabama. 
Mercilus seems more like a fit than Hightower and he could battle for a starting spot in camp. I get a very Pierre-Paul kind of vibe from him and think he would wreck shop in a Wade Phillips defense. What I like about Hightower is his versatility, as several scouts have said he could play any linebacker position in either a 3-4 or a 4-3.
A few other guys I like are Jerel Worthy and Fletcher Cox, but I'm not so sure they fit this scheme as well as the aforementioned prospects. If Mario does leave for greener pastures, a pass rusher will be high on their board and maybe even where they go in the first.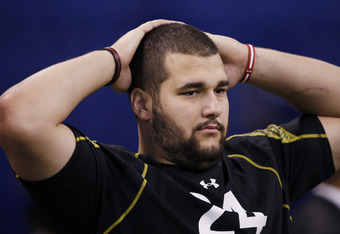 Joe Robbins/Getty Images
An Offensive Lineman Could Finally be Taken in the First
Aside from Duane Brown, Houston has zero offensive lineman taken higher than in the third round of the draft. Brown was taken at 26 in the past and I could easily see them targeting a specific player there this year if events transpire in free agency that many think.
Chris Myers agent was reported to have meetings with Green Bay this week concerning his availability as an unrestricted free agent. Myers says he wants to stay in Houston, but their current cap issues are certainly concerning. If they don't have the cash left to sign the 30-year-old veteran.
If this happens, one could easily envision them going after Wisconsin center Peter Konz in the first round. He is a scheme fit and would cost a lot less. It's a hell of a risk to take because someone could roll the dice on Konz prior to 26, but his mediocre combine showing likely dropped him to a fringe first rounder. It's definitely a possibility, even if it isn't the "sexy" pick everyone in Houston is looking for.
Best Player Available Talk Isn't Just Hearsay
General manager Rick Smith said during his presser at the combine that Houston was at a point where they could go with taking the best player available at all of their picks. It makes sense for a team that was pretty close last year even with all of their injuries and misfortune. But did he mean it?
This kind of thing has been said by this regime before only to reach for a player when they were on the clock. But for the first time, I truly feel like it isn't just a robotic answer to the question and they really do mean it.
As I mentioned earlier, good to great players slide around this point in the draft because of other teams getting nervous and reaching for their guy based off of need. There is going to be more than one really good player available at 26 and for the first time in this teams history, any direction that they go wouldn't surprise me. They could go offense, they could go defense, who knows?
I'm just ecstatic that the franchise is finally at a point where they don't need to draft for need and can legitimately take the best player available in the early rounds. Lord knows it has been a long time coming.
Mike Kerns is a Featured Columnist for the Houston Texans at Bleacher Report. Feel free to follow him on Twitter and catch his latest Texans podcast on iTunes.