2012 NFL Free Agents: Veterans the Seattle Seahawks Should Pick Up
February 28, 2012

Rick Stewart/Getty Images
The Seattle Seahawks come into this offseason with the third youngest roster in the NFL (26 years, 117 days), just behind the Carolina Panthers and the Tampa Bay Buccaneers. And with Marcus Trufant's planned release, the roster will be without much veteran leadership.
Fortunately, this year's free-agent market is filled with multiple veterans that still have a few years of fight left in them. The Seahawks may be rebuilding, but the veteran help could add guidance to these young players.
Jeff Backus, OT, former Detroit Lion
With Backus, the Seahawks would not only be getting a veteran that has seen probably every type of pass-rusher that the NFL has to offer, but they would also be getting a guy that is extremely durable. Astonishingly, Backus has started every single regular-season game the Lions have played since drafting him.
Last season, Backus saw 1,126 snaps at left tackle, according to Pro Football Focus. This was one of the highest counts for any tackle in the league. He played on 98 percent of the total offensive snaps taken by the Lions and he was efficient both in the pass and rushing game.
The most telling stat is the amount of times Backus had to protect on passing plays. The Lions were a pass-heavy team last season after Jahvid Best got injured. Backus ended up playing 785 snaps as a pass-blocker.
Although he started out slow, Backus saw a resurgence in the second half of the year. He allowed Matthew Stafford to be sacked seven times in 2011, but only one of those sacks came in the last eight games.
Backus may look to play out his career with the team that initially drafted him, but if the offer isn't sweet enough, he might look to move on. Does he have enough gas in the tank to make it another few years, given that he is already 34 years old and has played a lot of downs?
Obviously, it's preferred the Seahawks draft a tackle prospect in the middle rounds that can be there for the future. However, if they decide to put off drafting a young talent for another year after the immediate failure of last year's first-round offensive linemen.
I think Backus could be good for short term relief. He is a smart player and would be able to learn the plays rather quickly.
Rashean Mathis, CB, former Jacksonville Jaguar
Let's do some quick math. With the aforementioned departure of Marcus Trufant, the starting Seahawks secondary—which includes rookies Brandon Browner and Richard Sherman and sophomores Earl Thomas and Kam Chancellor—have six total years between them. Mathis has nine alone.
The Seahawks could use his consistent play through his nine years and they could get his services cheap after his injury this season. Mathis may not have the same burst he once did, but he still has enough to contribute to an above-average defense.
In only nine games, he was able to rack up 34 tackles, which is solid for a cornerback.
A real concern is that his season was cut short with an ACL injury.
A knee injury is troubling for a position that requires so much agility. However, he could be shifted to safety to provide run support if his coverage skills slipped drastically. Regardless, though, his leadership could shape this secondary together.
Peyton Manning, QB, former Indianapolis Colts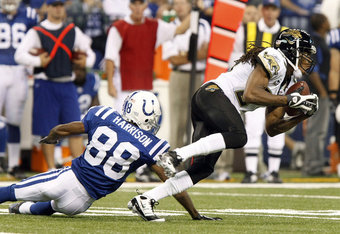 At this point, can you really mention free agents—let alone veteran free agents—without talking about Perfect Peyton. He is one of the best free agents in decades, and, ironically, is being replaced by "the best prospect in decades."
But now that Andrew Luck is the Colts signal-caller, Manning is forced to find a new home. Seattle could be the best destination for this aging wonder if it can muster up the money to pay for his expensive contract.
With his four MVPs, the most all time, Manning would bring a leadership that led the Colts to almost a decade of playoff appearances. The Seahawks are obviously a team in need of a QB, and Manning could be an ideal answer.
Seattle is very young and experience is not its strong suit. Any of these three, or multiple others, could help bring maturity and stellar play to this Seahawk squad. With a good draft and some key free-agent signings, this team could go from sub-.500 to an NFC powerhouse in a couple of years