Denver Broncos: What Brady Quinn Should Just Say
February 27, 2012

Ezra Shaw/Getty Images
Last week Brady Quinn made headlines. Unfortunately, it was not for anything he has done on the field. That is not surprising since he hasn't been on the field (except for preseason) once in the two years he's been with Denver. It was for unflattering comments he made and then later retracted on Twitter about Tim Tebow. (h/t Huffington Post)
Quinn's GQ interview was not one of his brighter moments and being honest, it probably wasn't the smartest thing to say. Having said that, can anyone honestly blame him for feeling the way he does? Here is a guy who was drafted in the first round by the Cleveland Browns and expected to be the quarterback of the future.
Instead, during his rookie year, he watches Derek Anderson have one of the biggest fluke seasons in NFL history. To be fair, he didn't help himself by holding out. Then in year two, Anderson proved what a fluke he was and Quinn finally got his chance at midseason, playing well the first couple games and then suffering a season-ending broken finger.
Then, Romeo Crennel and Phil Savage (who drafted and named him the starter) were subsequently fired. In comes Eric Mangini, who had Quinn and Anderson split reps and compete for the starting job. All that did was divide the team from the fans without properly preparing either player.
Quinn won the job in preseason, only to get yanked three games in. That is not exactly giving him a chance to grow. Yes, Mangini did not draft him and therefore owed nothing to him, however, that wasn't an excuse for setting up two quarterbacks to fail. Quinn did come back in later that year and showed some improvement, but he was still traded for Peyton Hillis during the offseason.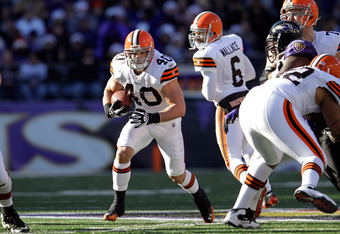 Rob Carr/Getty Images
Then he thinks that Denver will be a second chance for him. He knew that he would back up Kyle Orton initially, but knew he was prepared to eventually take over. Then Quinn heard some words that probably made him sick. "With the 25th pick in the 2010 NFL Draft, the Denver Broncos select from the University of Florida, Tim Tebow."
From that point on, Quinn went from being the heir apparent to basically a practice team quarterback. He was completely ignored by Josh McDaniels. The whole year he had to listen to the media talk about how horrible of a trade it was to give up Hillis. Quinn was given no chance to show them otherwise.
Quinn also gets his regular haters because of his looks and the fact that he played at Notre Dame. Haters cross the line quite regularly with him and gay jokes.
Then John Fox takes over making him Quinn's fourth head coach in five NFL seasons. Quinn has a very good training camp and the reports were that Fox liked him. Quinn beat out Tebow for the backup job behind Orton. He thinks that he might finally get his chance at the NFL. Then after a 1-4 start, the fans were screaming for Tebow. 
As much as they say they don't let the fans decide, the fact is that the fans are the paying customers. In what business do you not listen to your customers? So in spite Fox's reluctance, Tebow gets the starting nod before Quinn does.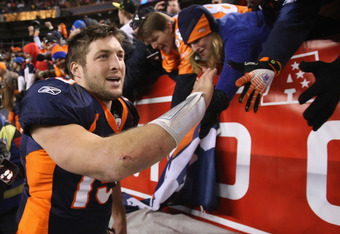 Jeff Gross/Getty Images
So Quinn is stuck on the bench not only watching Tebow, but also watching Fox do what Mangini should have done: adjusting his philosophy to help a young quarterback despite not really being sold on a high draft choice he didn't make. That would eat any of us alive inside regardless of the big paycheck being received.
So based on all that, if I am Brady Quinn, I just come out and say this;
First let me address my haters. I know many of you are just Notre Dame haters in disguise, so get over it. For those who seek low enough to make the gay jokes, it is not my fault either your mom, sister or girlfriend want me over you. 
Now in regards to the NFL, yes I am frustrated. I keep getting jerked around in this league and I just want a chance to play. I have nothing against Tim Tebow or Derek Anderson, but I consistently outperformed both of them in training camp and should have been playing ahead of them. The coach should have had faith in me the way he did with them. 
I have worked my tail off for five years and I just want a chance to play. Cleveland was a gross mismanagement by those in charge and my two years in Denver have been nothing but a waste of time.
Quinn should just say that and then go look for the best deal he can get in the NFL. He may even want to consider joining the UFL for one year to reinvent himself and then return to where he started.