NFL Combine 2012: Why Andrew Luck's Performance Solidifies Him as Top Pick
February 26, 2012

Joe Robbins/Getty Images
Robert Griffin III would be the consensus top prospect in most drafts that have taken place over the course of the last five seasons. It just so happens that the 2012 version of the NFL draft includes a once-in-a-generation type of player in Andrew Luck.
The former Stanford Cardinal signal-caller solidified his position as the unquestioned No. 1 player in the draft with his performance today at the NFL scouting combine.
We already knew that he had the technique and arm to be a great in-the-pocket quarterback. What some had questions about was his athletic ability. Well, those questions were answered and then some today. Luck ran a 40 similar to that of Cam Newton last season and dominated in other generic skills in Indianapolis.
Besides running a surprising 4.67 40-yard dash, Luck impressed in other aspects of his workouts today. His 36" vertical was the same as a player like Doug Martin, who utilizes exceptional athletic ability at the running back position. Luck also blew Griffin III away in the broad jump, tallying a total of 124" in that event. His three-cone drill was better than that of combine riser Stephen Hill as well.
These were the surprising aspects of a combine performance that continued to quiet whatever doubters there were in regards to Luck.
He is going to be able to come in and be a difference maker at the quarterback position immediately, probably being more successful than even Andy Dalton or Cam Newton last season. He won't make the rookie mistakes that those two did and will continue to excel in the important aspects of the game. Luck's pocket presence coupled with this "new-found" athleticism will make him a duel threat at the next level.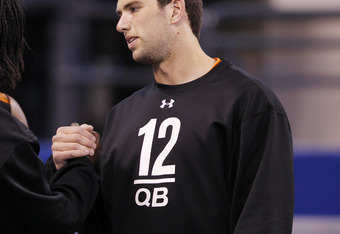 Joe Robbins/Getty Images
While comparisons to Peyton Manning may seem far off, I completely understand why some draft "experts" have concluded that he is the best quarterback prospect to come out over the course of the last decade.
Luck didn't throw at the combine, but that really doesn't surprise me. It makes much more sense for him to wait for the Stanford pro day in order to do so. He will have Coby Fleener and other familiar receivers to throw to during that event in Palo Alto. This is going to be a consistent theme moving forward at the combine in future years.
After all, we have already seen Luck throw and that is the reason why he was considered the top pick prior to this event.
The Indianapolis Colts are going to get themselves another franchise quarterback in April—not a bad "reward" for one season of futility.