2012 College Football Rule Changes: How Do These Affect the Big Ten?
February 26, 2012

Jamie Sabau/Getty Images
Special teams plays will certainly look a lot different this autumn. Kickoffs are changing dramatically in the name of player safety.
The College Football Rules Committee meets every year to propose rules changes in college football. These rules are usually released a year in advance for response by NCAA officials and coaches and approved with a one-year grace period to allow coaches to teach players how to adjust to the new rules before they are implemented.
However, an exception exists for immediate implementation if the rule changes pertain to player safety. Considering that special teams plays appear to lead to some of the biggest collisions of any play, the rules committee is making immediate changes to kickoffs this season.
More particularly, teams will move forward five yards to the 35-yard line. The kicking team will line up no farther than the 30-yard line (five yards behind the ball) to limit the running start of possible tacklers on the kickoff. Finally, touchbacks on these free kicks will put the ball at the 25-yard line instead of the 20.
So how will these dramatic rule changes on kickoffs affect Big Ten teams in 2012 and beyond? Let's take a look into the crystal ball and see how these teams will react.
The legislative intent of these rules is obviously to limit player collisions and injuries by encouraging more touchbacks. Kicking teams without superstar speedy talent at the kick returner position will gladly take a consistent field position at the 25-yard line.
Last year, three Big Ten teams ranked in the top 15 nationally in yards per return: Purdue ranked first with 28.7, Nebraska ranked seventh with 25.5 and Ohio State ranked 13th with 24.6. On the flip side, three Big Ten teams ranked in the bottom 15 nationally in yards per return: Illinois ranked 120th with a miserable 15.7, Michigan ranked 117th with 18.4 and Indiana tied for 107th with 19.2.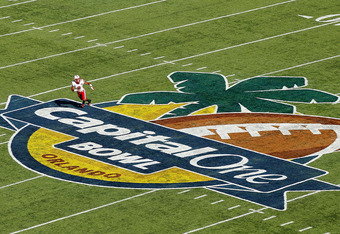 Mike Ehrmann/Getty Images
With each of the young speed athletes back for Purdue (Raheem Mostert), Nebraska (Ameer Abdullah) and Ohio State (Jordan Hall, although he may be a starting running back and not on special teams much), the advantage these teams enjoyed in field position may be reduced in 2012. 
Each of these teams also struggled at times to cover kickoffs, though, and so perhaps the field position disadvantage will be neutralized by not having to cover as many of their own kickoffs this season.
Teams with more talented kickers may change tactics though, and train those kickers to kick for more hang time and a landing within the 10-yard line rather than pounding the ball through the end zone every time. 
This could expose the flaws of teams like Illinois, Indiana and Michigan more than ever before, as the coverage teams will have five more yards to make a tackle before losing yards compared to the touchback.
Thus, perhaps the most affected teams by this rule are those with specialist kickers who can take advantage of the rule against teams without elite kick returners.
The most accurate field goal kickers returning from last year are Drew Basil of Ohio State, Brett Maher of Nebraska and Anthony Fera of Penn State. Maher and Fera also excelled in kickoffs in 2011 according to cfbstats.com. 
As a result, Nebraska and Penn State could benefit the most by adjusting kicks to force more returns in disadvantageous situations.
Another interesting aspect of the rule change is that onside kickoffs will now be much closer to midfield. The penalty for failing to recover an onside kick will be lessened significantly, so the wily coaches like Bret Bielema who like to surprise with an onside kick may be more encouraged than ever to try.
There will not be a sea of teams changing focus away from recruiting powerful kickers and speedy athletes, as these players have utility in the field goal kicking game and on offense and defense.
Plus, the percentage of touchbacks last year in the Big Ten was around 25 percent and will still barely move over 60 percent if at all, so the opportunities for an exciting return play will still be there.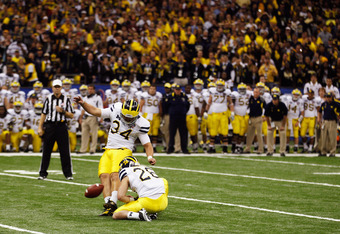 Chris Graythen/Getty Images
Nevertheless, these rule changes on kickoffs should have a positive impact on Nebraska and Penn State as these teams try to improve on 2011 and reach the Big Ten Championship Game in 2012.
As for the other rules changes regarding jumping over blockers on punts and missing the next play for losing a helmet during a play, neither of these rules will have much of a substantive effect on Big Ten teams. 
Big Ten team equipment managers will need to be at the ready to adjust chin straps and other portions of helmets to ensure that star players do not miss critical plays during the 2012 season.
As my colleague Eric Bowman wrote yesterday, these changes are good for player safety and good for college football. Hopefully the Big Ten coaches can adjust and continue to make kickoffs an exciting play in 2012 and beyond.