No. 5 Kansas Overcomes 19-Point Deficit to Defeat No. 3 Missouri
February 25, 2012
Jamie Squire/Getty Images
The Missouri Tigers were up 44-32 at halftime and extend their lead by 19 early in the second half. But that was not enough to put away the Kansas Jayhawks in Allen Fieldhouse for what might have been the final regular-season meeting between the two schools.

Missouri's long lead began at the 6:15 mark in the first half. Kansas snapped Missouri's lead with 16.1 seconds remaining in regulation when Thomas Robinson completed a three-point play to tie it at 75. Robinson's clutch free throw forced the game to go into overtime.

In overtime, it was Tyshawn Taylor who came through to lift the Jayhawks over the Tigers in a classic battle. Taylor helped Kansas draw first blood with 17 seconds into overtime. Taylor also made two free throws with 8.3 seconds remaining in overtime, giving the Jayhawks the 19-point comeback victory, 87-86.

Robinson finished the game with 28 points while Taylor put 24 for the Jayhawks.

The Tigers foul woes allowed Kansas to come back and take the game away from them. Phil Pressey and Matt Pressey both fouled out while Ricardo Ratliffe had four fouls in the game.

With Missouri losing their second straight game, Kansas wins their eighth straight regular-season conference title.

While Kansas came away with the victory and the regular-season conference title, the Jayhawks proved that they must be more consistent in games to prevent falling into holes like this during the Big 12 tournament as well as the NCAA tournament later in March.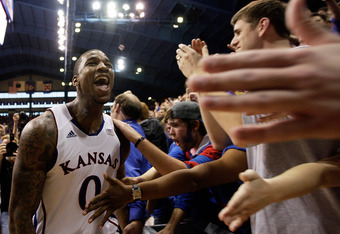 Jamie Squire/Getty Images

For Bill Self, this is another big win for his team. Self has always been critical of his team's woes, but believes that they can overcome this after an inspiring victory.
If Kansas' starters can be consistent and if the bench produces, the Jayhawks could go deep in the tournament.
For Missouri, Frank Haith is still in the running for numerous Coach of the Year awards. Following his hire in the offseason, not many college basketball spectators had confidence that Faith would succeed with Missouri.
With two games remaining in the regular season, Haith and the Tigers will learn from this loss and will remain hopeful that there is something in store for them during the Big Dance.
Despite ending a 105-year regular season rivalry, the Jayhawks and Tigers hope to meet again in Kansas City, MO, for the Big 12 championship match.