Daytona Nationwide 2012 Results: Reaction, Leaders and Post-Race Analysis
February 25, 2012

Tom Pennington/Getty Images
With the 2012 edition of the Nationwide Series race at Daytona about to kickoff, it's time to get ready for a wild show. That's because it always is.
When you get 43 drivers on a course, with many who have never driven in the Series or on Daytona's Superspeedway track, there is bound to be anarchy at times during the race.
The Nationwide has plenty of storylines this year, but none bigger than the series-opening pole-sitter Danica Patrick and her ability to adapt to stock car racing.
It will all be fun to watch!
Update: Saturday, Feb. 25 at 5:50 p.m. ET
Everything changed in a flash on the last lap of Saturday's Nationwide's race. James Buescher got the best of it. He went from 11th to first as 11 cars got entangled in a wreck on the third turn, and the 21-year-old cruised to his first win. 
Kurt Busch had the lead and was trailed by his brother Kyle. Kurt started sliding up the track. At the same time, Joey Lagano was being pushed by Trevor Bayne and the four got tangled and started the wreck that took out 11 cars. 
It was a wild day of racing. The cars were bunched all day, and the wreck on the last lap was no surprise. The cars are racing in a pack, but to make a real run they are going with the two-man attack. And that is just wild. 
This was an exciting race, and the 500 is going to be even more exciting. Wrestling legend Shawn Michaels hints at that.
Finished the hardest part of the roads, saved the easy for Monday. Tivo'd the Nationwide, tomorrow @NASCAR. Is gonna be demolition derby!!

— Shawn Michaels (@ShawnMichaels) February 25, 2012
Check out the final results. 
James Buescher
Brad Keselowski
Elliott Sadler
Cole Whitt
Austin Dillon
Tayler Malsam
Timmy Hill
Kasey Kahne
Kurt Busch
Trevor Bayne
Benny Gordon
Danny Efland
Josh Wise
Joey Logano
Blake Koch
Ricky Stenhouse Jr.
Sam Hornish Jr.
Johanna Long
Eric McClure
Joe Nemechek
T.J. Bell
Jeremy Clements
David Ragan
Michael Annett
Mike Wallace
Joey Gase
Kenny Wallace
Ryan Truex
Denny Hamlin
Justin Allgaier
Reed Sorenson
Robert Richardson Jr.
Casey Roderick
Brian Scott
Danica Patrick
Mike Bliss
JJ Yeley
Jason Bowles
Johnny Sauter
Jeff Green
Where: Daytona International Speedway, Daytona Beach, FL
When: Saturday, Feb. 25th, 12:15 p.m. EST
Watch: ESPN 2
Starting Order
1. #7 Danica Patrick Chevrolet 49.250s (Leader) 182.741mph
2. #60 Trevor Bayne Ford 49.257s (-0.007) 182.715mph
3. #2 Elliott Sadler Chevrolet 49.269s (-0.019) 182.671mph
4. #5 Dale Earnhardt Jr. Chevrolet 49.290s (-0.040) 182.593mph
5. #3 Austin Dillon* Chevrolet 49.339s (-0.089) 182.411mph
6. #12 Sam Hornish Jr. Dodge 49.367s (-0.117) 182.308mph
7. #33 Tony Stewart Chevrolet 49.383s (-0.133) 182.249mph
8. #88 Cole Whitt* Chevrolet 49.421s (-0.171) 182.109mph
9. #22 Brad Keselowski Dodge 49.425s (-0.175) 182.094mph
10. #6 Ricky Stenhouse Jr. Ford 49.497s (-0.247) 181.829mph
11. #38 Kasey Kahne Chevrolet 49.550s (-0.300) 181.635mph
12. #31 Justin Allgaier Chevrolet 49.588s (-0.338) 181.495mph
13. #44 Mike Bliss Toyota 49.606s (-0.356) 181.430mph
14. #1 Kurt Busch Chevrolet 49.634s (-0.384) 181.327mph
15. #30 James Buescher Chevrolet 49.669s (-0.419) 181.199mph
16. #43 Michael Annett Ford 49.708s (-0.458) 181.057mph
17. #18 Denny Hamlin Toyota 49.733s (-0.483) 180.966mph
18. #136 Ryan Truex Chevrolet 49.743s (-0.493) 180.930mph
19. #11 Brian Scott Toyota 49.755s (-0.505) 180.886mph
20. #14 Eric McClure Toyota 49.796s (-0.546) 180.737mph
21. #70 Johanna Long* Chevrolet 49.831s (-0.581) 180.611mph
22. #20 Joey Logano Toyota 49.840s (-0.590) 180.578mph
23. #27 David Ragan Ford 49.908s (-0.658) 180.332mph
24. #54 Kyle Busch Toyota 50.023s (-0.773) 179.917mph
25. #19 Tayler Malsam Toyota 50.096s (-0.846) 179.655mph
26. #09 Kenny Wallace Toyota 50.113s (-0.863) 179.594mph
27. #87 Joe Nemechek Toyota 50.209s (-0.959) 179.251mph
28. #01 Mike Wallace Chevrolet 50.259s (-1.009) 179.072mph
29. #15 Timmy Hill Ford 50.331s (-1.081) 178.816mph
30. #97 Johnny Sauter Toyota 50.374s (-1.124) 178.664mph
31. #41 Blake Koch Ford 50.420s (-1.170) 178.501mph
32. #108 Casey Roderick Ford 50.532s (-1.282) 178.105mph
33. #124 Benny Gordon Toyota 50.539s (-1.289) 178.080mph
34. #23 Robert Richardson Jr. Chevrolet 50.559s (-1.309) 178.010mph
35. #39 Joey Gase* Ford 50.664s (-1.414) 177.641mph
36. #51 Jeremy Clements Chevrolet 50.780s (-1.530) 177.235mph
37. #40 Josh Wise Chevrolet 50.793s (-1.543) 177.190mph
38. #28 J.J. Yeley Chevrolet 50.819s (-1.569) 177.099mph
39. #50 T.J. Bell+ Ford 50.867s (-1.617) 176.932mph
40. #81 Jason Bowles+* Dodge 50.891s (-1.641) 176.849mph
41. #4 Danny Efland+ Chevrolet 51.016s (-1.766) 176.415mph
42. #52 Reed Sorenson+ Chevrolet 51.286s (-2.036) 175.486mph
43. #10 Jeff Green Toyota Champion's provisional
* indicates rookie
Favorites
Danica Patrick
While starting the pole is a huge deal, Patrick has to drive smart all day and be there at the end. That's much easier said than done at a track that features wrecks every race.
If Patrick can use her teammates to stay towards the front and get herself in a position to win late, she has the car and the help of Dale Jr. to make it happen. What a way to start the season.
Trevor Bayne
While last year didn't go exactly how the 2011 Daytona 500 Sprint Cup Series winner planned, this year is a great place to begin his ascension in the Nationwide Series.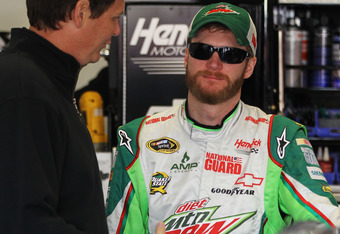 Matthew Stockman/Getty Images
If Bayne can use the extra lap times in the Nationwide car to build success in the Sprint Cup Series, he will be a serious contender for a championship before we know it.
Dale Earnhardt Jr.
As if there was any doubt about whether or not Dale Earnhardt Jr. was going to be a favorite. The veteran driver is as close to a top-five lock for this race as you can get on a track as unpredictable as Daytona.
Not only has Junior dominated at Daytona, he has been a Nationwide Series star since winning back-to-back titles in 1998 and 1999. Don't count out Dale winning or pushing his teammate Danica Patrick to a win.
Keep it here for more reaction, leaders and post-race analysis as the race gets underway this afternoon!
Check back for more on NASCAR as it comes, and check out Bleacher Report's NASCAR Page to get your fill of all things motorsports.