Sean Armand's Hot Shooting Leads Iona Gaels to Title
February 25, 2012
Sean Armand had 17 points Friday night as the Iona Gaels (23-6) win the regular season Metro Atlantic Athletic Conference championship with a 77-72 home court win over the Fairfield Stags (17-12). 
The title is Iona's first MAAC regular season championship since 2001.  Many Iona basketball alumni were on hand as alumnus Stanley Hill'59 was honored at half-time.  In 1956-57 the University of Mississippi refused to play Iona in a tournament because of the presence of Hill, an African-American on the Gael team.   "Ole Miss" officials publicly apologized to Hill and Iona when the two schools met in the NCAA tournament back in 2001.
Iona Coach Tim Cluess said afterwards, "I am very proud of my guys for what they accomplished tonight.  They never gave up.  They were down early, did not look they were playing well, struggled a little bit, but they kept on fighting". 
Early on Fairfield forced Iona out of its up-tempo game and into playing half court by as much sets. Stags went out to a 18-13 by out-shooting and out rebounding the Gaels.  
Iona trailed by as much as eight in the first half and 38-33 at the half.  The Gaels were able to shoot 73 percent from the field in the second half led by a trio of three-point shots by sophomore swing-man Sean Armand. 
The second of two consecutive threes by Armand with 7:29 left gave the Gaels a 62-58 lead.  Fairfield answered with a layup by Rakim Sanders and a three by Desmond Wade to give the Stags back the lead at 63-62.
Sean Armand answered on the next possession with a two-point jumper with 5:57 left to give the Gaels a 64-63 lead that they would not relinquish.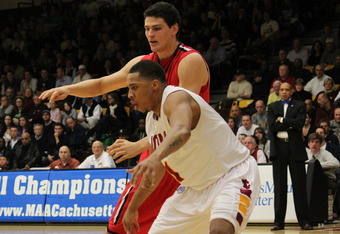 Afterwards, the sophomore from Brooklyn said:
"Eraly on (Rakim) Sanders was trying to shut me out. It is a long game, so I didn't force anything.  I've learned that coming to college.  I just tried to rebound and defend.  After a while I knew there would be open shoots.  I told coach, I wanted the ball, he got me the ball and good things happened."
Armand led Iona with 17 points on 6-8 shooting from the field, a perfect 6-6 in the second half.  Mike Glover had 13 points and seven rebounds contending with Ryan Olander all night under the boards.
Coach Cluess was very pleased with the play and growth of Armand:
"Sean has grown into the position, and we saw it briefly at the end of last year, and spotty throughout this year.  There was just something I saw in him, that IO thought clicked, where he grew up as a player, not only on the defensive end but his commitment to defense.  So he has done a great job of being that guy , that knocks down the shot, and he wanted the ball, it is huge when a player comes to you and says, run something for me and I am going to make it".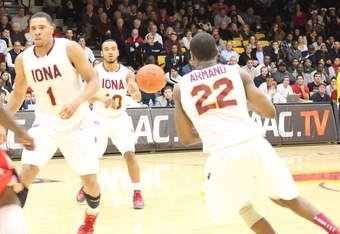 Point guard Scott Machado was looking to drive inside much of the game but picked up a fourth foul driving down the lane with 6:40 left. He ended up playing 29 minutes, recording 10 points and seven assists.
Senior guard Jermel Jenkins played 15 minutes his most time in recent games and provided Iona with instant offense hitting three of five shots for nine points.  Jenkins had started much of last year but lost time with the addition of Momo Jones to the team and starting lineup.
Iona went deep to their bench with Randy Dezouvre contributing six points, two on a left handed lay-up in the lane to cut a Fairfeld lead back to six at 39-32. In the second half he feed a pass underneath to another Gael back-up Ra'Shad James to bring Iona back to trail by three.  Machado tied it at 42 all on the next play. 
Commented Cluess,
"Guys off the bench gave us such a lift both defensively and offensively, and our guys just came out and played to the very end." 
Fairfield senior Rakim Sanders had 22 points and 12 rebounds. The 7'0" senior center Ryan Olander had 15 points, including a three-point shot.  Junior Wade Desmond hit a trio of threes for nine.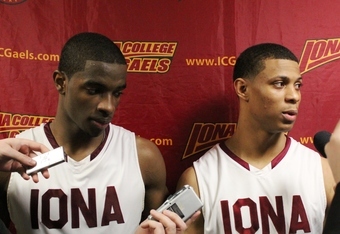 Commented Fairfield coach Sydney Johnson,
"Out of bound plays, transitions, half court, zones, Tim (Cluess) does a good job with his guys. We knew we had to stop them from scoring,and it just got away from us, the smallest amount of separation.
Junior Derek Needham suffered a foot or ankle injury eight minutes into the game and did not return. Coach Johnson did not have an update after the game.
Now just a week away, the Metro Atlantic Athletic Conference will decide which team goes to the NCAA tournament, the Holy Grail for college basketball teams. The semifinals could be very competitive if Iona, Fairfield, Loyola and Manhattan hold their anticipated seeds and reach the semifinals in Springfield, MA.
I asked Scott Machado if it helps to have momentum going into the conference tournament, the MAAC conference all-time assist leader commented:
"We get to go into the tournament winning, We have one more game against Saint Peter's on Sunday.  We want to win that game as well.  So we just want to go into the conference tournament on a roll, with everyone playing good".
 Ken Kraetzer covers Iona basketball for WVOX 1460 AM in New Rochelle and Sons of the American Legion Radio.  His Twitter address is @SAL50NYRadio