Fernando Torres Left off Spain Squad: Why It Will Be Wake-Up Call He Needs
February 24, 2012

Alex Livesey/Getty Images
Fernando Torres should be absolutely embarrassed of himself.
He was not selected for next week's exhibition against Venezuela. It is the first time he's been left off Spain's roster by manager Vicente del Bosque since 2006. He's been a first-team regular since 2004.
The manager claims "...this doesn't mean anything. This is not a definitive list for Euro." But this is obviously not a happy day for the striker.
Perhaps the most shocking aspect of his omission is that Spain's oft-starting frontman, David Villa, has been sidelined since mid-December with a broken leg. Even with Villa's absence, del Bosque couldn't find a spot for him on the roster.
While the boss is quite right, it is not a given that Torres will be left off the squad that defends their Euro title, it's yet another step in the wrong direction. Torres scored the winning goal for Spain at Euro 2008.
Despite being one of the best players in the world just a few short years ago, Fernando Torres' career has been hampered by injuries since before the World Cup in 2010.
He has never fully regained his form for club or country, and questions regarding his remaining abilities are certainly viable at this point.
He hasn't scored for Spain's national team since September 2010. Far more embarrassingly, he hasn't scored for Chelsea since last October.
After making the switch from Liverpool to Chelsea last winter, Torres has only continued his struggles. With a 50 million-pound price tag (roughly $80 million), the pressure is no doubt crushing the life out of the young Spaniard.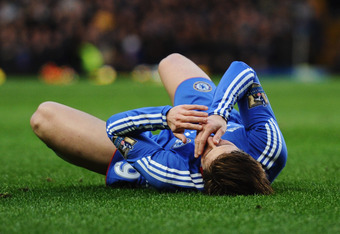 Laurence Griffiths/Getty Images
With this latest slap in the face, perhaps Torres will finally come back to us.
A clean bill of health could help him regain his full fitness, which he has struggled to maintain for a long time now. Speed doesn't just go away overnight, and ability rarely disappears at his ripe age of 27.
So the question that demands answering is how a player can go from this to this.
And more importantly, how can he get back?
For me, the answer is confidence. When the world was with him, believing in him, talking about him as one of the best in the world, he was brilliant. He was a hero in Liverpool, and his name was (literally) sung from every corner of Anfield stadium.
After the injuries started, he first doubted his fitness. He suffered from lack of confidence in his physical ability. He struggled to move as well as he had previously moved.
Then came the much more damaging aspect of his setbacks. The mental collapse.
He was relegated to Villa's backup in Spain.
He couldn't score for Liverpool anymore.
He was sold to Chelsea.
He couldn't stay healthy for Chelsea, and never really meshed with Didier Drogba.
Mountains of issues have prevented him from being the player he is capable of being. And obviously, his physical health is the first and foremost. If Torres can stay truly healthy, that will aid his comeback.
But after that, he must find a way to believe in himself.
If he reacts with further frustration and depression to this latest setback, he may never regain his form. But if he gets angry about it, if he feels slighted and that he deserves the spot in the side, perhaps that will kick him into gear.
He can start by scoring a few goals for Chelsea. His side trails Napoli 3-1 in the Champions League round of 16. Pulling one back for the Blues could bring him considerable confidence, especially if Chelsea win the tie.
Of course, that would mean Torres is on the field, which was not the case last week. He faces heavy competition for playing time from the likes of Drogba and Daniel Sturridge, though Sturridge has been used more often along the right wing than up front.
If Chelsea manager Andre Villas-Boas sees fit to put Torres in the side, he must make an impact.
Because honestly, Torres is running out of time.