2012 NFL Free Agents: 5 Keys to Houston Texans' Strategy
February 25, 2012

Bob Levey/Getty Images
Free agency has been a wildly-contested topic in Houston. A lot of new Texans fans don't understand things like dollars and sense, therefore trying to explain something like a salary cap to them is usually met with them staring at you like a dog who has just been shown a card trick.
But for those who understand that good teams lose players and that some tough decisions have to be made, it's caused quite a lot of debate.
Does the team bring back Mario Williams, in turn crippling its cap for the next few seasons? Do the Texans  franchise-tag Arian Foster or work out a long-term deal with him? Or do they cut players to free up salary-cap space to bring both guys back? Do guys with inflated salaries have them reworked or are they given their outright release?
All that has sparked a lot of controversy and disagreement among the fanbase.
However, if I was in charge, this is what I would do. It may not end up being the most popular decision for those reading, but we must realize that simply "just get it done and bring everyone back" isn't realistic.
So here is my five-step plan to build the 2012 Houston Texans before the draft.
Franchise-Tag Arian Foster
While you have Ray Rice in Baltimore proclaiming that he wants "Adrian Peterson money" and threatening to hold out, you have Arian Foster's agent saying on local radio that he'd be fine with the franchise tag.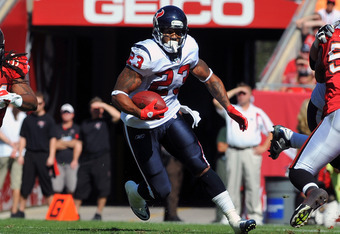 Al Messerschmidt/Getty Images
What people, mainly players, fail to realize is that a franchise tag isn't always meant to be disrespectful.  Many times it is used as an extension to get a long-term deal done. That what I believe the Texans would be doing by placing the tag on Foster.
The Texans also have many other guys they need to get deals worked out with, then they can see how to fit in a long-term deal for Foster.
At $7.7 million, the franchise tag for a running back isn't exactly cheap. It's still going to require some tinkering to get under the cap. But it's worth it against the risk of losing Foster if they simply place the first- round tender on him as a restricted free agent. As of this article, no decision has been made yet.
Restructure Walter, Ryans, Joseph
I had a nice go-around last week with my co-host on our latest Texans podcast in regard to DeMeco Ryans and his contract. I brought up the possibility that Ryans could be cut. I'm as big of a Ryans fan as you'll find in Houston, but he is making elite linebacker money and he just isn't capable of playing up to that level anymore. 
However, I think he is enough of a team player that he would take a pay cut or restructure his contract to stay in Houston. Therefore, I think they will find a way to keep him. He already restructured his contract last season, and I see no reason why he wouldn't be okay with doing it again.
Kevin Walter is a guy who I think will be asked to take a pay cut or join the unemployment line. He isn't a bad player by any means, but he is making No. 2 money and is clearly overpaid for what he brings to the team. I still think he is a prime target to get cut. But knowing how much Gary Kubiak loves him, he'll probably stick around at a reduced rate.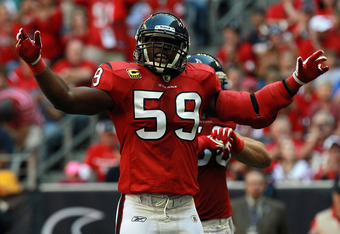 Ronald Martinez/Getty Images
Asking Jonathan Joseph to restructure after making the Pro Bowl last season could prove to be problematic. But if he's okay with it, it could solve a lot of problems. For a closer look at how the money works, I suggest taking a look at Alan Burge's piece on the issue here.
Cut Jacoby Jones, Leinart
Here is where I think I'm being a little too generous. I know using the word generous and cut in the same sentence hardly seems that. But I say this because I think there are going to be some cap casualties this year that surprise some people. 
I see Matt Leinart asking for and being granted his release. It's unlikely that he wants to stick around for another year as the Texans' third-string quarterback behind Matt Schaub and T.J. Yates.  I'm not buying the "Kubiakspeak" that Leinart and Yates will compete for the back-up spot in camp this year. Cutting Leinart frees up more than $2 million in cap space.
As far as Jacoby Jones, public enemy No. 1 in Houston, is concerned, it makes a lot of sense for him to be gone. If a slot receiver that is also a return specialist is drafted this year, I think it's a safe bet that Jones and his non-guaranteed contract will be looking for a new team. If he is cut before June 1st, it frees up $2.5 million in cap space. By cutting just those two guys, you're that much closer to covering Arian Foster's franchise tag.
Let Mario, Dreessen Walk
This is the one that has generated the most debate and it's understandable why. Players like Mario Williams don't come around too often. And to simply let him walk for nothing but a compensatory pick would be painful. But so would crippling the team cap for the next few seasons and forcing the team to let several key players walk in his stead.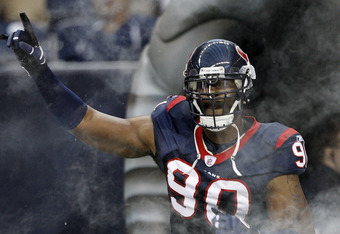 Bob Levey/Getty Images
It's a tough decision, but I see no way the Texans can bring back both Foster and Williams at long-term dollars.
The team proved it could win without Williams in 2011. And as tempting as it sounds to add Mario to that stellar defense from a year ago, it just doesn't make sense monetarily with the other free agents on the  roster and Duane Brown, Matt Schaub and Connor Barwin all due new deals next season.
They have to let him go.
Joel Dreessen will simply leave because some team will offer him either starter money or snaps. He would be smart to go to a team that wouldn't have him buried behind a Pro Bowl tight end like Owen Daniels.
Not that the market will be huge for him, but playing time will force him to take an offer elsewhere. With Garrett Graham, James Casey and a possible draft pick still on the roster, his loss shouldn't hurt the team too much.
Re-sign Myers, Brisiel, Rackers, and Sign a Free-Agent WR
With Mario sadly exiting Houston, it keeps that albatross off the payroll and allows Rick Smith to give new deals to Chris Myers, Mike Brisiel and Neil Rackers. I know plenty don't want Rackers back, but he won't cost a lot. Plus, will you really feel comfortable bringing in a rookie to kick field goals next year?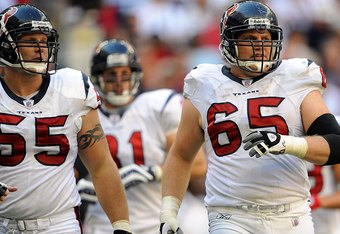 Ronald Martinez/Getty Images
Myers is important to the team's zone-blocking scheme, and while I realize that he is a system guy and won't break the bank, to think that he will generate only little interest on the market is foolish. Brisiel shouldn't be a problem money-wise.
With the leftover money, the team should look at one of the free-agent wide receivers to bring in opposite Andre Johnson. It's a strong class, which means that the team can sit back and let teams overpay for the bigger names, then swoop in once the market settles and nab a guy like Pierre Garcon, Robert Meachem or, if they're really lucky, Mario Manningham.
Then they can go for the best available pass-rusher in the first round of the draft to try to fill the void left by Williams. Whitney Mercilus of Illinois is a guy I really like there.
Like I've said before, this is the problem that good teams have. When you're successful, other teams want your players and coaches. Guys want increases and new deals, and not everyone can realistically be brought back.
I realize that is tough for a lot of the new and younger fans to digest, but that's the way the game works. I hate to say it, but you have to think with your head and not your heart in these situations.
Sometimes that means letting go of that guy whose jersey you bought two years ago or taking down that poster from your bedroom wall.
It's harsh, but reality.
Mike Kerns is a Featured Columnist for the Houston Texans at Bleacher Report. Feel free to follow him on Twitter and catch his latest Texans podcast on iTunes.