NFL Rumors: Giants Not Scared to Let Mario Manningham Test Free Agency
February 24, 2012

Elsa/Getty Images
The New York Giants aren't afraid to stir the pot and they don't care what you or I think about it.
We can't argue, anyway. They just won the dang Super Bowl.
When the lockout was lifted this past summer, the Giants made a number of controversial moves by not making many moves.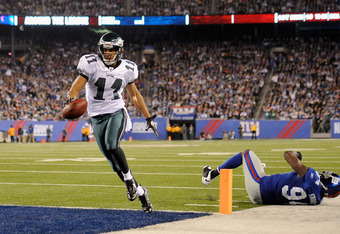 Patrick McDermott/Getty Images
Big Blue signed Ahmad Bradshaw to a contract extension, but they cut loose fan favorite center Shaun O'Hara and veteran guard Richie Seubert.
Steve Smith, a long-time fan favorite and Eli Manning's top target, wasn't given the deal he wanted after struggling to get healthy and subsequently signed in Philadelphia.
After that, Kevin Boss, another of Eli's favorite targets and a developing tight end, didn't get the offer he wanted either and signed with the Oakland Raiders.
Giants fans were livid and Jerry Reese's sanity called into question.
It seems the GM knew his roster, though. Only a few months later, Victor Cruz salsa-danced his way into Giants fans' hearts and Jake Ballard emerged at the most clutch moments.
Meanwhile, coach Coughlin's staff rescued a banged-up offensive line to give Eli enough time to turn in a season for the ages.
Nobody will question the GM ever again, not even this offseason as the Giants are set to let Mario Manningham test the free agent waters.
He won't be the first Super Bowl hero the Giants have severed ties with, assuming he leaves, and they'll survive as they always do.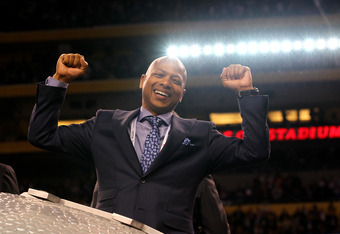 Al Bello/Getty Images
As gifted and potential-laden as Super Mario is, he's simply going to cost Big Blue too much money.
Had Manningham not failed a drug test at the combine prior to his rookie season, he likely would have gone in the first round. The Giants were lucky and took a chance. Ultimately, it paid off in the biggest way possible, but he's earned a shot at more money than they can offer. 
The Giants have to think long-term and signing Cruz is a bigger priority. The G-Men are also one of the few teams over the salary cap, as they always are, and need to be cognisant of their future.
Big Blue is notorious for pushing star players out the door when they're done with them and even worse with sentimental heroes.
Manningham has a bright future in this league if he can stay healthy and keep his head on straight, but it won't be in New York unless he takes a pay cut.
The Giants will possibly look to replace his production with a highly selected tight end, an in-house receiver (Ramses Barden has one more chance?) or perhaps by adding a rookie.
What the Giants want more than anything, though, is a better running game. Hakeem Nicks and Victor Cruz will destroy defenses if the Giants are able to run the ball.
If they can do that, they won't miss Manningham much at all—and that is saying something.