Iona Basketball: Gaels Play Fairfield for First Place in the Metro Atlantic
February 24, 2012

Fairfield (17-11) will challenge Iona (22-6) for first place in the Metro Atlantic Athletic Conference tonight, in New Rochelle, while a remarkable former Gael player, Stanley Hill will be honored for his role in the 1950s fight for integration of college basketball and our country.
Both teams are anxious to set up for the conference tournament next week in Springfield, Massachusetts. Iona, 13-3 in the MAAC, leads Fairfield, 12-4, by one game, with two games to go in the regular season. Last year, the Stags lost the conference semifinals on their home court to John Dunne's Saint Peter's team, which went on to beat Iona in the final and play in the NCAA tournament. 
Fairfield has won nine of its last last 11, with a 67-63 loss at Wisconsin-Milwaukee last week at the Bracketbusters event, a tough draw. Senior swingman Rakim Saunders leads the Stags with 16.5 points and 8.2 rebounds per game. Junior guard Derek Needham averages 12 points a game. Fairfield has a real center in 7-foot senior Ryan Olander. 
Iona goes in to the 9PM late-start game at the Hynes Center coming off three wins in a row, including last Saturday's Bracketbuster win over Nevada, 90-84. They lead the country in both points per game at 83.0 and assists at 19.4. Led by the inside play of Mike Glover, the Gaels are third in the country in field goal percentage at 49.8. The Gaels go play this weekend with a "Real Time RPI" of 42, Fairfield is 122.
Against Nevada, point guard Scott Machado put on another remarkable performance, with 15 assists and 13 points. The pro scouts, including a delegation from the New Orleans Hornets, could only be impressed with the maturity Machado has shown. The long postseason run to the CIT Tournament final helped, as did summer play for a Brazilian national team. Machado's family is from Brazil.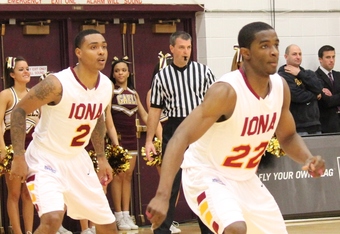 Another senior, Mike Glover, has been a consistent force for the Gaels, despite how much opponents try to double team or collapse their defenses in the paint around him. The power forward averages 18.5 points and nine rebounds per game. What is remarkable Glover's 64.7 shooting percentage. Of course, many of his shots are dunks; but he has good hands and catches passes often from Machado and takes the ball cleanly to the basket.
As the season has progressed, Lamont Jones has increasingly become an offensive force for the Gaels, now averaging 16.2 points per game. This is an increase from the 9.7 points per game he had last year playing for Arizona's Elite Eight team. After a disappointing performance at St. Peter's, "Momo" put in extra gym time to work on his shooting. His effort was rewarded with a 43-point performance against Canisius, when he hit seven of 12 three-point shots. In other recent games, he has switched to a pull-up jumper in the lane; against Nevada, he drove under players to get to the basket. 
Sophomore small forwards Sean Armand and Randy Dezouvre have both been giving Iona extra offense. Armand is the best three-point shooter on team, making over 47 percent of his threes. He totaled 22 points against Rider and 25 in Iona's loss at Loyola two weeks ago. Dezouvre has shown good hands, rebounding, holding passes from the guards and making clutch shots. The senior from Montreal had 17 points last week against Nevada. Dezourve has been splitting time with junior Taaj Ridley at the four position. Ridley has a field-goal percentage of 52.5; but Coach Clues would like to see him improve his rebounding, which stands at 4.3 per game, third on the team.
A special event at the game will be a halftime award presentation to Iona graduate and former player Stanley Hill, from the class of '59. He will receive the Trailblazer Award by the athletics department for his presence on the 1956-57 Gael team that the University of Mississippi refused to play because Hill was African-American. The two schools were scheduled to play in a tournament in Owensboro, Kentucky, when the Ole Miss coach Bonnie Graham refused to let his team play the integrated Iona team.
According to the release issued by Iona, Graham had the support of the university president and the state governor on his stand. The Iona coach, Jim McDermott, refused to take Hill out of the lineup. The Gaels were awarded a forfeit and several of the Mississippi players went to the hotel Iona was staying at to offer apologies.
In 2001, when Iona played Mississippi in the first round of the NCAA tournament, the Ole Miss officially and visibly apologized to Hill and Iona for the actions taken over 40 years before. Hill was invited to attend an Ole Miss practice and to sit with university officials for the first half of the NCAA game. Hill went on from college basketball to have a distinguished career as a New York labor leader.
Sometimes sports does make a positive difference. Thank goodness our country has come so far since the segregated times of the 1950s. Sports was a contributor to this change. Stanley Hill is part of that story.
Ken Kraetzer covers Iona basketball and West Point football for WVOX 1460 AM in New Rochelle, NY and Sons of the American Legion radio. His Twitter address is @SAL50NYRadio.